Why Barack Obama Doesn't Speak To His Half-Brother Anymore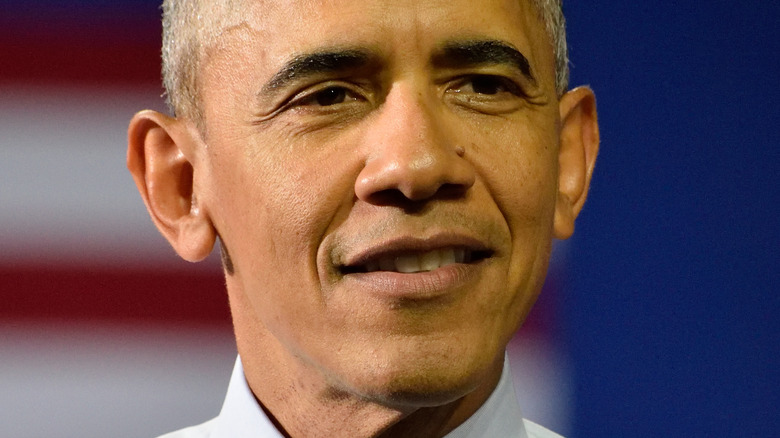 Shutterstock
From Alec and Stephen Baldwin to Liam and Noel Gallagher, brotherly feuds are just as much a thing among the rich and famous as they are among regular folk. But what about family feuds related to a certain former president? Yes, you heard that right. One of our former presidents is reportedly giving his brother the cold shoulder — just like Nick and Aaron Carter, minus the restraining order. 
President Barack Obama is known for being a family man, but even he can't escape family drama. Obama has multiple half-siblings, including his older half-brother, Abon'go Malik Obama. Although they grew up continents apart, with Malik born and raised in Kenya, the brothers were once extremely close, to the point where they were each other's best men at their weddings, per The Washington Post. But their once-close bond no longer exists, and they're no longer on speaking terms. 
Here's why Barack Obama doesn't speak to his half-brother anymore.
Barack Obama took issue with a charity his brother started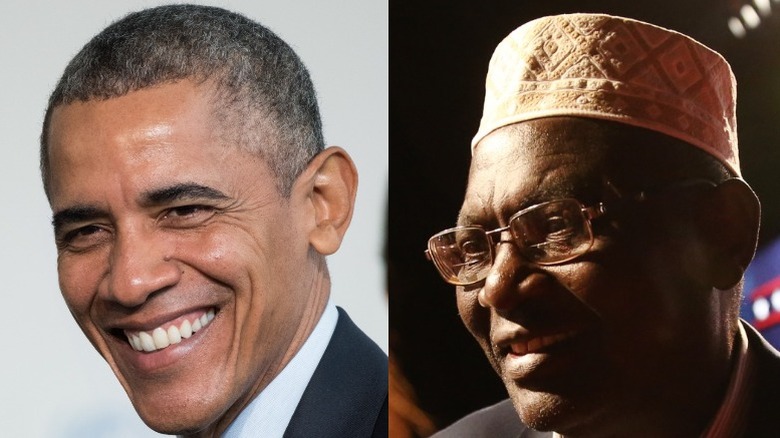 Bloomberg/Getty & Shutterstock
Money, love, and just pure jealousy have been the causes of some major sibling rivalries in history. But for President Barack Obama and Malik Obama, it was something a little different that caused the two brothers to fall out.
Since leaving office, President Obama has focused on his philanthropic work, in particular with his nonprofit organization, The Obama Foundation. However, Malik Obama founded his own charity, the Barack H. Obama Foundation, which he named after their father. Wanting to make a difference in his family's village in Kenya, Malik Obama founded the Virginia-based organization in 2008, per HuffPost. 
According to Malik, his brother wasn't too forthcoming about the creation of the organization, as he was concerned about the confusion that could arise from the foundation having a name so similar to his. Speaking to "The Hidden Truth Show with Jim Breslo" in 2019, he said, "[Barack] told me if I don't shut it down, he's going to cut me off."
Barack Obama wanted no part in the questionable charity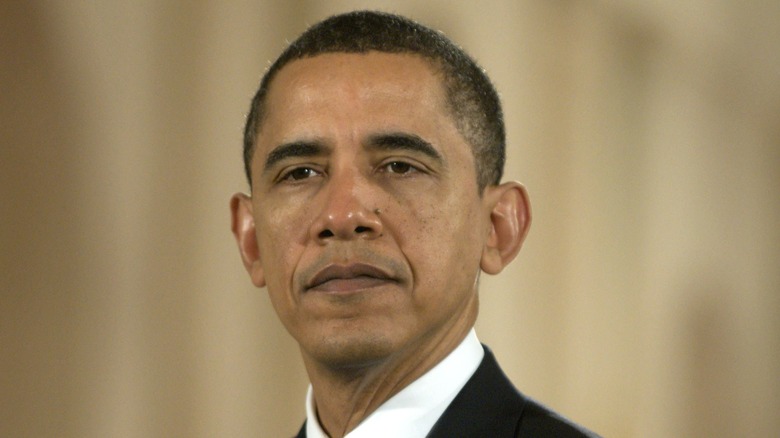 Shutterstock
While The Barack H. Obama Foundation was set up with the intention to improve the lives of those in Malik Obama's native Kenya, it soon came under controversy in 2011. The New York Post revealed that it was "an off-the-books American charity" that was neither registered in Virginia, as was claimed, nor had tax-exempt status from the IRS. "My brother didn't help me at all," Malik told the New York Post, talking about the foundation. "He wanted me to shut it down when I set it up. He hasn't supported me at all."
It wasn't long after this all became public knowledge that the foundation was granted a 501(c) organization status in 2013, per The Washington Post. But that still drew ire from conservative charities, and some suggested to the Post that the Barack H. Obama Foundation's paperwork was processed faster than other charities' by the IRS.
With Barack Obama in the most powerful political seat in the world, a link to a dodgy charity wouldn't have been a good look. Naturally, the sketchy situation led to a rift between the brothers. But here's hoping for a future reconciliation between the two.