The Real Reason Tom Selleck Couldn't Play Indiana Jones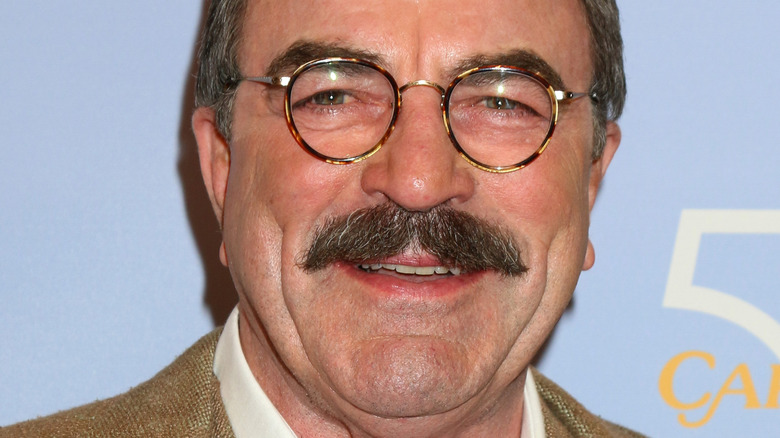 Shutterstock
Tom Selleck is the kind of actor who has enjoyed a long and successful career in the entertainment industry. Over the years, you have very likely seen him in movies like 1987's "Three Men and a Baby" as well as its 1990 sequel "Three Men and a Little Lady."  Per IMDb, he also took on both starring and supporting roles in 1992's "Mr. Baseball" and 1997's "In & Out," respectively. Of course, he's done more than just take on big-screen gigs.
If you're a fan of '90s TV shows, then you likely recognize Selleck as Monica's (arguably controversial) boyfriend Dr. Richard Burke from "Friends." That's not to mention his work on "Boston Legal," "Las Vegas," and "Blue Bloods." Clearly, Selleck is willing and able to tackle whatever kind of acting gig that sparks his interest. In April 2020, he talked to People about what he's accomplished as an actor, saying, "I'm proud of my work, I still love what I do." He also added that he's "been enormously fortunate."
While Selleck is clearly happy with how his career has turned, the fact is that he also could have played one of the most iconic and popular characters ever to hit movie screens: Indiana Jones. However, there was a major obstacle that was standing in the star's way. Read on to find out what that was.
There was a conflict with Tom Selleck's hit TV show
Can you imagine Tom Selleck as the ancient artifact-hunting, villain-fighting, lady-romancing professor Indiana Jones? Because the actor almost played the beloved character. So, what stopped him? Well, according to CBS, while he auditioned for the part while meeting with both Steven Spielberg and George Lucas — the powerhouse pair of pros who were behind the film — he wasn't able to accept the job because he was already committed to star in "Magnum, P.I."
Indeed, the popular series about a private investigator who solves cases in Oahu, Hawaii, ran from 1980 until 1988, according to IMDb. "Indiana Jones and the Raiders of the Lost Ark" came out in 1981, "Indiana Jones and the Temple of Doom" was released in 1984, and "Indiana Jones and the Last Crusade" hit screens in 1989. Of course, there was also 2008's "Indiana Jones and the Kingdom of the Crystal Skull," but that was way after the scheduling situation. 
As you surely know, Harrison Ford — who has also had a long and lucrative career in Hollywood — ended up playing Indiana Jones. As for Selleck, he enjoyed major success with his show before doing something unexpected.
Tom Selleck quit 'Magnum P.I.' while it was still super-popular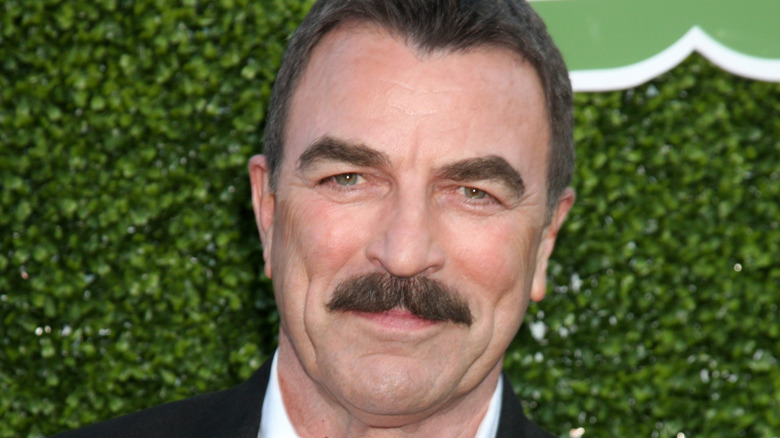 Shutterstock
Sticking with "Magnum, P.I." certainly paid off for Tom Selleck. Along with a hefty list of nominations, the actor's work on the show earned him a Primetime Emmy Award for Outstanding Lead Actor in a Drama Series, a Golden Globe for Best Performance by an Actor in a Television Drama Series, and four People's Choice Awards. He was also honored with a spot on the Hollywood Walk of Fame in 1986.
However, while "Magnum, P.I." was still one of the hottest shows on television, Selleck stepped back from the spotlight. "I knew intellectually what it would mean in terms of being a public person, but until you've lived it, there's no way to understand it," he told People in 2020. "I had a feeling of, 'I don't think I'm cut out for this.'"
Selleck noted that he didn't quit the show because he "didn't like it" or "was tired of it," but was instead "tired from it." He also noted, "I wanted a three-dimensional life because I didn't have one." There's also the fact that, as time went on, he "didn't like what [he] was being offered" when it came to new opportunities. However, he did end up returning to the screen, which is why we're still lucky enough to see what he has to bring to each of his roles.