Out Of Every Mariah Carey Jennifer Lopez Diss, One Stands Above The Rest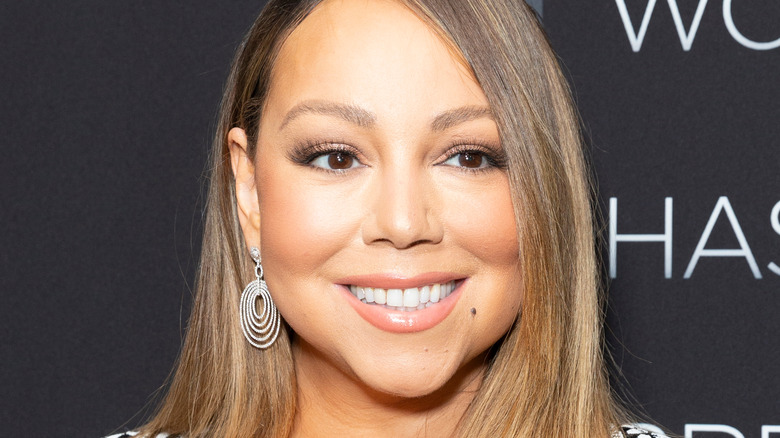 Shutterstock
Jennifer Lopez and Mariah Carey are two undeniable divas — in the best sense of the word. With both boasting chart-topping singles, legendary red carpet looks and commanding stage presences, the two seemingly exist in the same stratosphere of fabulousness. So why is there lingering tension between them? The two megastars' apparent feud was still possibly raging in January 2021. As J.Lo performed her 8-minute "Dick Clark's New Year's Rockin' Eve with Ryan Seacrest" set on New Year's Eve 2020 in the backdrop, Andy Cohen and Anderson Cooper interviewed Carey virtually for CNN. "What's going on in the background? I'm hearing music," Carey asked suddenly with a straight face before issuing a light chuckle. "Yeah, we got J.Lo behind us, actually," Cohen said before abruptly changing the subject.
Twitter immediately chalked this up as shade toward the "Jenny From the Block" singer, with one user quipping, "Mariah hearing J.Lo in the background is the perfect conclusion to 2020." Another wrote in amused wonderment, "I love that @MariahCarey still doesn't know J Lo even when her music is playing like noise in the background." 
With that hilarious comment, we've arrived at one of the greatest instances of diva-on-diva "shade" thrown in the meme era. Keep reading for Carey's J.Lo diss to end all disses. 
Mariah Carey's iconic shade reportedly started over music samples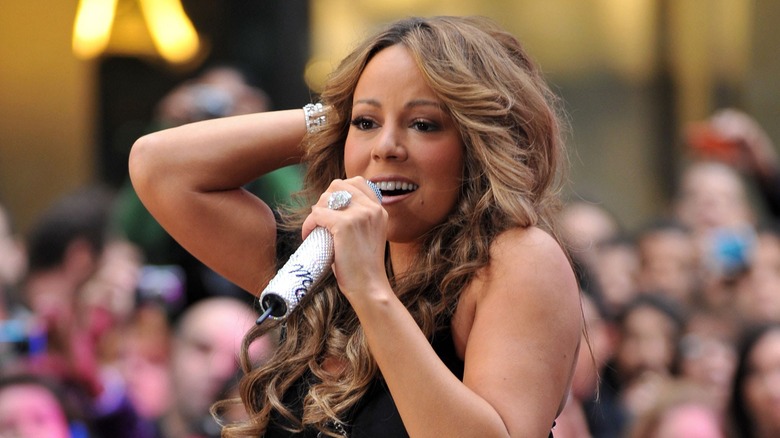 Shutterstock
Mariah Carey made her feelings for Jennifer Lopez clear in a 2000s German television interview that would grip the world's imagination. After gushing "I love Beyoncé. Great singer, great writer... Very sweet as well," she was asked about Lopez. Her response? "I don't know her." With a Cheshire Cat smile and shake of the head, the viral meme and GIF that has endured a whole decade was born. 
Though many have speculated about the origins of Carey's ignorance, the singer's 2020 memoir "The Meaning of Mariah Carey" laid it out from the horse's mouth. Via Hollywood Life, Carey attributed the drama to her 1998 divorce from then-Sony Records executive Tommy Mottola. With the release of Carey's musical drama "Glitter" in 2001, Carey accused Mottola of intentionally botching the film's soundtrack. "Much of what went wrong with 'Glitter' led back to Tommy. He was angry about the divorce and my departure from Sony, and he used all his power and connections to punish me," the chanteuse explained. When Mottola heard that Carey wanted to sample Yellow Magic Orchestra's 1978 "Firecracker" on the lead track, "Loverboy," Mottola allegedly hurried to hand the sample first to "another female entertainer on their label (whom I don't know)," Carey quipped. The song the sample appeared on? Lopez's massive hit, "I'm Real," also released in 2001.  
Carey ended her chapter mentioning the feud with the unmistakable reference, "I'm real."
Jennifer Lopez's "thing" is acting, says Mariah Carey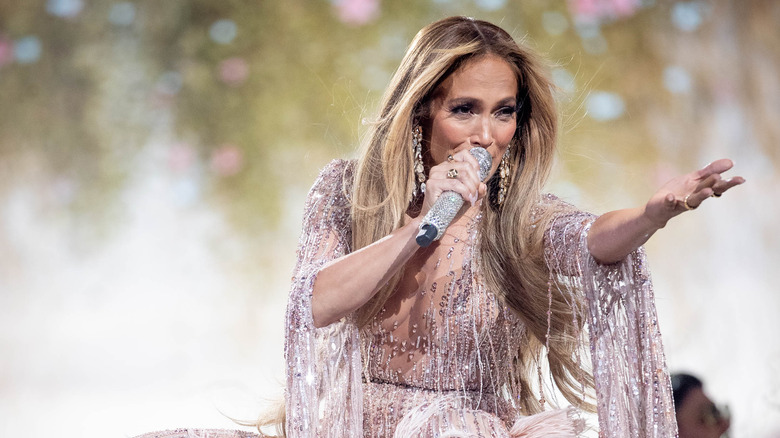 Emma Mcintyre/Getty Images
In a less-famous but equally-entertaining instance of Mariah Carey on Jennifer Lopez shade, a December 2002 interview with Larry King on CNN showed Carey fully serving up the dry barbs toward Lopez. When asked by King, "Does all the attention Jennifer Lopez gets, does that bother — Is there rivalries, by the way, in this business?" Carey responded ever so subtly, "There are rivalries, but I don't think she has anything to do with me. I mean, my whole thing is singing, writing songs." (To date, Carey has written or co-written all of her songs, excepting covers, per Buzzfeed. You do the math.)
When King pointed out that Lopez was also well-known for her acting, Carey seemed to agree pointedly. "Yes," she concurred. "And you know, I've been doing this, you know, my whole life. Singing is first and foremost, a God-given talent that I'm grateful for. Her thing is something different."
Thirdly, in Carey speaking about her well-received role in Mira Sorvino's 2002 indie film "WiseGirls," she humbly offered, "It was a great learning experience for me" before tossing in the throwaway comment, "It taught me that... you go and do things that are going to be creatively challenging. Not get caught up in the world that you don't know much about." Oof... sounds shady indeed to us!