This Is What Amal Clooney Does For A Living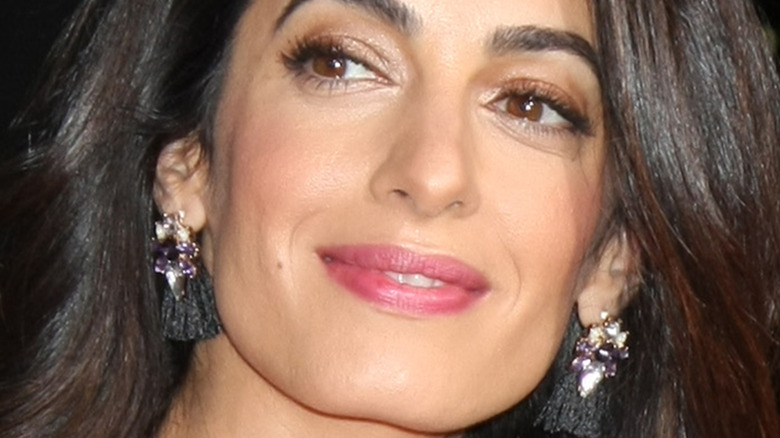 Shutterstock
It's easy to think by viewing a picture that Amal Clooney is just the beautiful wife of actor George Clooney. The thing is, there is a lot you don't know about this gorgeous woman. If you were to meet Amal, you might not know that she was just 2-years-old when her parents escaped with her to England from war-torn Lebanon, per Biography. But that isn't even the most interesting thing about this energetic and outgoing woman. With how good she is at her job, you'd never guess that she almost didn't follow through with her passion, Vogue reported.
Her iconic husband is certainly a fan. "She's the professional and I'm the amateur. I get to see someone at the absolute top of their game doing their job better than anyone I've ever seen," he gushed about her to Vogue. So, what does Amal do for a living and how did she build such an impressive career? Keep scrolling to find out.
Amal Clooney studied at prestigious schools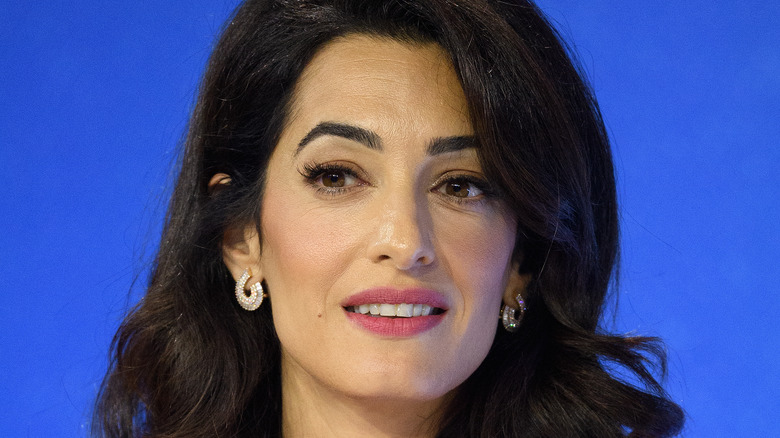 Leon Neal/Getty Images
Amal Clooney was educated at both St. Hughes College in Oxford, England, and the New York School of Law, according to Biography. She started her law career upon her passage of the New York Bar in 2002. Amal pursued her interest in human rights, and focused her career on helping both people and companies fight for their basic rights. 
During an interview with Vogue, Amal introduced her friend, Nadia Murad, who is a young Yazidi woman who became a symbol of the Yazidi community — a community targeted by militant group ISIS. In 2016, Amal spent months interviewing other Yazidi refugees to build a case to take to the floor of the United Nations. Her stance in defense of the Yazidi community was one that left little to wonder as to how she felt the U.N. should act. "I am ashamed, as a supporter of the United Nations, that states are failing to prevent or even punish genocide because they find that their own interests get in the way," she said.
Amal now works for Doughty Street Chambers as a barrister with a reputation of excellence in her civil liberties work. She has refocused her career on both international public and criminal law. Outside of her law profession, Amal is also a trusted advisor and has lectured at prestigious institutions like the University of London and The Hague Academy for International Law. 
Amal Clooney has the 'working mom' thing down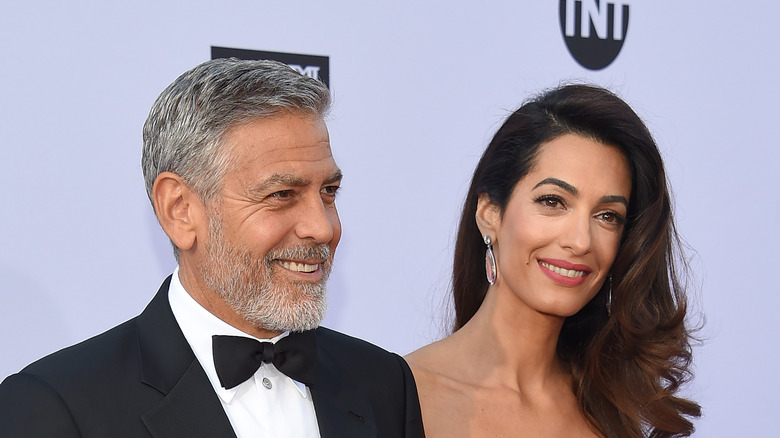 Shutterstock
Amal Clooney, in addition to being a fantastic lawyer and wife to actor George Clooney, is also the mother of twins. Ella and Alexander Clooney, who turned four in June, turned the once-renowned bachelor into not just a husband, but a father as well. The doting mom and her husband are adamant about keeping their personal life out of the spotlight. However, every once in a while, we are graced with an adorable picture or an interview question that gives us a peek into George and Amal's relationship. 
Like all working mothers, managing the balancing act of work and life is always a trial. But Amal takes it in stride, according to her interview with Vogue. "Between six and eight in the morning we get to have them in our bed — I don't schedule any calls before eight. When I was nursing, it was much more complicated, because there are two. I had all manner of weird cushions and pillows and machines," she said of her special time with her kids.
While Amal and George continue with their careers, it's easy to see that the truth about their marriage and relationship lies in their ability to keep work and life impossibly mixed and yet equally balanced.