Inside Paulina Porizkova's Troubled Love Life
Paulina Porizkova isn't afraid to wear her heart on her sleeve on social media. The Czechoslovakian supermodel often shares intimate details about her personal life on Instagram, and she appeared to be completely heartbroken in a photo that she posted on August 12.
Porizkova's eyes were red as if she'd been crying. While she usually receives praise for her makeup-free photos, she shared a second post revealing that some of her friends had deemed her a "narcissist" for getting emotional on the 'gram. However, the tearful selfie did visually represent the pain and betrayal she was feeling, so it was more real and raw than the perfect, staged celeb posts that we're so used to seeing. "Trust after being betrayed seems as far fetched as being shot into space," Porizkova wrote. "Correction. It's easier to see myself shot into space at this moment." Her words suggested that someone she cared about deeply had broken her trust, and this was making it difficult for her to trust others. "When you've been betrayed- promised something, only to have that promise broken without your participation — you were blindsided," she continued. "You trusted someone you loved, and now all love is suspect."
Porizkova didn't reveal whether her post was aimed at anyone in particular, but Page Six pointed out that she and "The Social Network" screenwriter Aaron Sorkin called it quits in July after dating for three months. However, he's not the only potential culprit for her heartbreak.
Did Aaron Sorkin and Paulina Porizkova part on bad terms?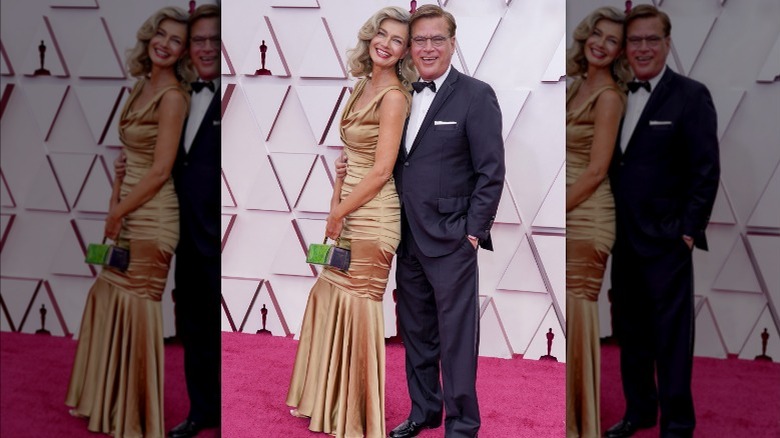 Pool/Getty Images
Aaron Sorkin and Paulina Porizkova made their relationship red carpet official at the Academy Awards in April. She attended the event in a glamorous ruched gown that almost perfectly matched the color of the golden awards that were doled out. However, instead of focusing on how amazing she looked, some headlines celebrated the (lack of) age difference between Sorkin and Porizkova — she's 56, and he's 60. "Paulina Porizkova and Aaron Sorkin Are Your Hot New Age-Appropriate Couple," read Vulture's headline about their pairing.
Porizkova was not a fan of how the press reacted to her new relationship. "This surprise in the media at my date dating ME is a little disheartening," she wrote on Instagram. "Talk about ageism." Porizkova's followers love her for her posts about aging and her decision to do so naturally and unfiltered, so it's not surprising that she decided to call the media out. 
A few weeks later, she got candid about why she and Sorkin split up, explaining that they were just too different. All the praise she heaped on him made it seem like there were no hard feelings. "He helped heal me and reclaim myself," she wrote. She also described him as "brilliant and witty and funny and sexy." So while she didn't like the way the media treated their relationship, she had nothing but love for her ex.
Paulina Porizkova's shocking discovery after her late husband's death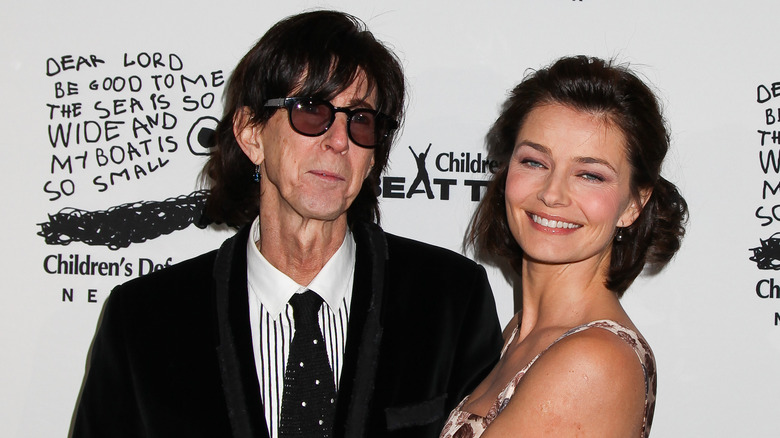 Shutterstock
In 1984, a then-19-year-old Paulina Porizkova was cast in the music video for The Cars' song "Drive" (via CBS News). Frontman Ric Ocasek, who was 21 years her senior, was instantly smitten and left his wife at the time for the Sports Illustrated Swimsuit model (via Entertainment Weekly). They were wed in 1989 and had two sons together.
The couple's romantic relationship ended in 2017, but they resided in the same home up until Ocasek's death in 2019. As reported by Page Six, Porizkova was the one who discovered his body. After his death, she learned that he had written her out of his will. Ocasek explained his actions by writing, "She has abandoned me." However, Porizkova told Yahoo! Life that her husband was the one who lost interest in her. "I was never very clear on what happened, like why I suddenly became invisible to my husband — that was never explained to me, and that's one of the reasons our marriage couldn't move forward and couldn't remain," she said.
Porizkova is now using dating apps to look for companionship and has been on a few dates, so she clearly isn't letting her negative experiences discourage her too much. "So what does one do when you want to stay open, but the wind of betrayal keeps slamming the door?" she wrote in her August 12 Instagram post. "I guess -maybe – walk outside and brave the weather?"