Which Of Pauley Perrette's Tattoos Were Faked For Her NCIS Role?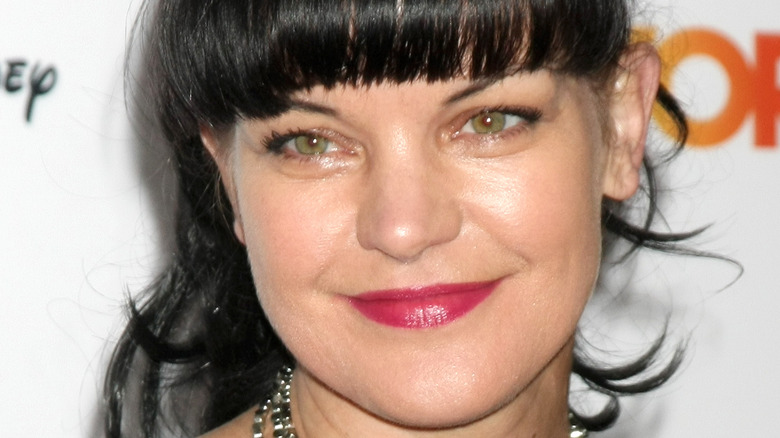 Shutterstock
Pauley Perrette's "NCIS" character Abby Sciuto might be gone, but she certainly hasn't been forgotten by fans of the CBS procedural. The forensic scientist's goth aesthetic made her stand out on the show, and her ink was an integral part of her edgy look (more on that in a bit).
Tuning in to see what Sciuto was wearing was just as fun as watching the "NCIS" team use their sophisticated equipment to solve the crime of the week at breakneck speed. She rocked rhinestone-studded hair bows in her signature black pigtails, sported spiked chokers, and tromped around the lab in combat boots. Much like her character, Perrette used to have a pretty wild personal style and even fronted a punk rock band. She revealed that she admired the quirky caffeine fiend by describing her as "a character I want to be when I 'grow up'" in a 2017 tweet. 
However, while the actor and the fictional character might seem like kindred spirits, Perrette didn't create Sciuto. She gave that credit to "NCIS" creator Don Bellisario, who wanted the lab rat to defy stereotypes. "With Abby, he wanted to take an alternative-style person with tattoos and make her someone who is happy, totally put together, and successful," she told TV Guide in 2007 (via Buddy TV). "All the script said about her was: black hair, caffeinated, and smart." The tattoos were another touch that helped showcase Sciuto's individuality, and some of them were the real deal.
Pauley Perrette only had two temporary tattoos applied to play Abby Sciuto
Pauley Perrette's own impressive collection of ink was incorporated into Abby Sciuto's look, so she didn't have to endure hours in the makeup artist's chair having her pieces covered up. Instead, transfers were actually used to add two tattoos to her body. The spiderweb on her neck is probably her most recognizable one. "The producers wanted tattoos that were visible no matter what I was wearing," she explained during a 2013 Parade interview.
In 2013, Perrette took to Twitter to share the inspiration for the ink. She had some say in what both of her temporary tats looked like, and she decided to pay homage to a friend, punk rocker Texas Terri, by replicating the large web tattoo on the singer's chest in a smaller size. The second fake piece is a massive cross that Sciuto sports on her back. She tweeted that it was also her idea, and explained that the design is meaningful to her because she's a "Church Kid." 
Still, Perrette didn't enjoy having her removable ink applied, especially the neck piece. "I hate the tattoo. It's sticky," she said in a 2008 behind-the-scenes video. "Later on in the day, it gets all gummy and sticky, depending on the weather, or depending on what I'm doing, or depending on how many people try to touch it. And sometimes we have to take the whole thing off again and put it back on again."
What are some of Pauley Perrette's real tattoos?
Pauley Perrette said that she disliked the spiderweb transfer so much that she was "trying to get the writers to write an episode where Abby gets her neck tattoo removed." However, when it comes to her own permanent ink, she's clearly proud of her collection. She often shows off her tats on Twitter and shares the stories behind them. 
The actor has multiple date tattoos with repeating numerals — she got her "XII XII XII" ink on 12/12/12, and her "11 11 11" piece on November 11, 2011. She also has a "10 10 10" "binary" tattoo, three nines intertwined to create a cyclone-like symbol, and "3 interlocking '8's or infinity signs."
The "R.I.P." on Perrette's left inner forearm pays tribute to late musician Kurt Cobain, and the stick angels on her back represent her mother and grandmother. She tweeted that the "Let It God" tattoo on her right wrist used to read "Let It Go" before a friend suggested that she add the "d" at the end (Sorry, Princess Elsa), and it's not her only religious ink. "On the inside of my ring finger, on my left hand, I have the numbers 12:21," she told Parade in 2013. "That's my favorite bible verse, Romans 12:21, which is, 'Don't be overcome by evil, but overcome evil with good.'"