The True Meaning Behind 'Baddest' By Yung Bleu, Chris Brown & 2 Chainz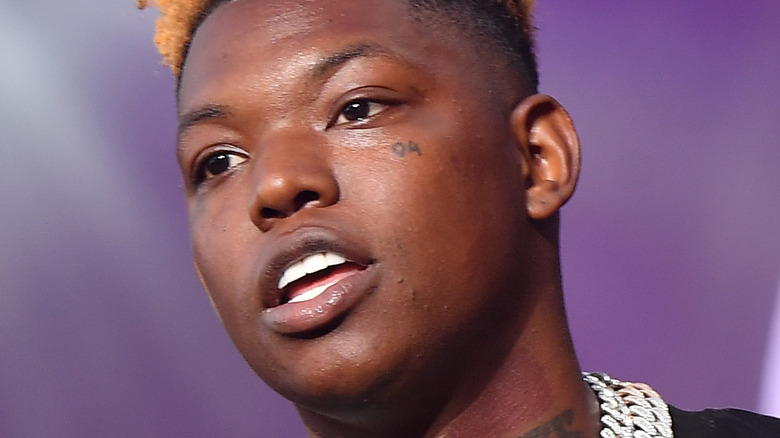 Paras Griffin/Getty Images
Yung Bleu's "Baddest," featuring Chris Brown and 2 Chainz, is a top contender for song of the summer. Released on June 11, 2021, "Baddest" entered the Billboard Hot 100 Chart at No. 87, earning Yung Bleu his second Hot 100 entry (and Brown's 105th entry). In October 2020, the Alabama native released his Drake-assisted track "You're Mines Still," which peaked at No. 52 on the Hot 100. 
To further support the release of "Baddest," Yung Bleu dropped an official music video on July 7, starring collaborators Brown and 2 Chainz. Directed by Edgar Esteves, the visuals see the trio celebrating being back outside with an impromptu block party, featuring dancers and onlookers. Not long after the "Baddest" video dropped, fans flocked to social media to show their excitement. 
"Yung bleu and Chris brown went crazy on that 'baddest,'" one fan tweeted. "I wish Yung Bleu decided to drip 'Baddest' earlier this summer!! Omfgg this song is such a vibe," another one wrote. At the time of writing, the song's music video counts over 22.5 million views on YouTube, so the song is definitely doing numbers. But what's "Baddest" all about? Let's find out below.
Yung Bleu and Chris Brown invite the 'Baddest' girls over to party
Produced by Hitmaka, OG Parker, Romano, and Mike Woods, "Baddest" sees Yung Bleu singing about an unknown woman, who he seemingly met while she was on a night out with her girls. "N***a blowin' up your phone, you ain't thinkin' 'bout him / She just wanna turn up with her girls, get the stress off," Bleu sings (via Genius). Later in the same verse, Bleu then invites said girl over to his bachelor pad for some late-night fun. "We can link after the club, I got a penthouse / Second 'til I shoot it, it comes so fast, I made her get down."
Then, Bleu's boasts about his boo's new plastic surgery. "She got new a** and new ti****s, she a ten now (Yeah) / She got new a** and new ti****s, she a ten now (Toni) / Sexy motherf****r." Chris Brown, meanwhile, tells his love interest to invite her friends for an impromptu party. "Need you to bring all of your friends and let's f*** it up / I know you ain't been touched enough / I know you ain't the only one." 
Rapper 2 Chainz even promises everyone a great time by offering party drugs, including weed and mushrooms. "I bought a couple zips / I brought some Molly and some shrooms, you think we flew here / Oh, we gon' really trip." Still, despite the song's theme, it's unlikely that Bleu's lyrics were inspired by recent events. Scroll on to read why.
Despite the lyrics, Yung Bleu is in a happy relationship
Judging by Yung Bleu's social media, it looks like his "Baddest" lyrics were just for entertainment purposes. The Alabama rapper seems to be in a committed relationship with his girlfriend, Tiemeria, and the two share a child together. In March 2020, Bleu took to Twitter to announce the pregnancy news, joking about canceling his girl's plans. "Hot girl summer canceled for u," he wrote, sharing a clip from the doctor's office. "Pregnant girl summer! Another win for the hot boys now go to bed."
More recently, on August 11, 2021, Bleu wrote a sweet appreciation post for Tiemeria, sharing an older picture of them. "I'm laying here watching u sleep just thinking, looking at old pics," the Instagram caption reads. "Long as I got you we can do anything ain saw a flaw in you yet 6 years sometimes I go lookin for s**t thinking U too good to be true," he continued. "SMH ..I know god sent u to heal me all I ever needed was real love I dnt no why I be fighting it .. [heart emoji] @tiemeriad."
In the past, Bleu even made fun of his girlfriend for taking his lyrics too seriously. "My gf so insecure I can't even make a song lol," he tweeted in March 2018. "she gone call me the other day and say 'oh do sometimes it be like that huh? u calling b*****s 3 in the morning like I need u huh.'"