The Truth About Jason Momoa And Emilia Clarke's Relationship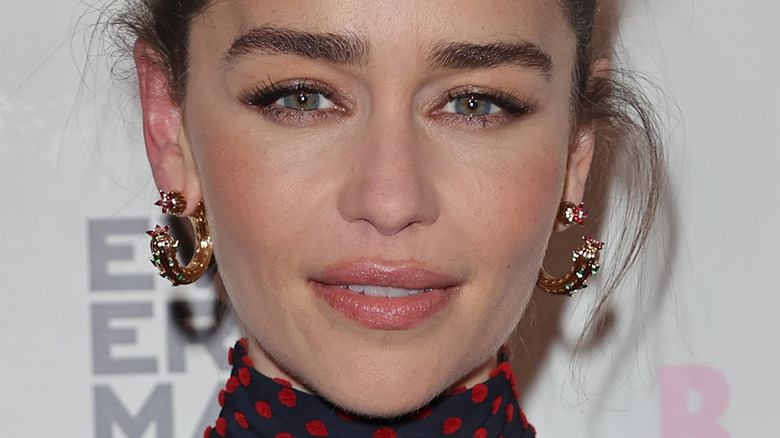 David M. Benett/Getty Images
Jason Momoa and Emilia Clarke may have had a dysfunctional relationship on "Game of Thrones" — but off-set, they're each other's "sun and stars." Momoa and Clarke played on-screen couple Daenerys Targaryen and Khal Drogo on the hit HBO series back in 2011. While "Game of Thrones" ran for eight seasons, ending in 2019, Momoa's time on the show was relatively short-lived. The 42-year-old only starred in the show's first season as his character was killed off, something which apparently left him "completely in debt," per InStyle.
But despite struggling to find work following his "Game of Thrones" departure, it's obvious there's no bad blood between Momoa and his castmates. Momoa recently attended a "Game of Thrones" reunion party to celebrate the show's co-creator, David Benioff's, birthday, per Entertainment Weekly. And it seems as if Momoa spent plenty of time with his former TV wife at the big bash.
The pair's relationship has only gone from strength-to-strength since the show finished with a few fun photos literally representing that ... as Momoa was seen sweeping Clarke off her feet. 
Jason Momoa catches up with Emilia Clarke every time he's in London
We certainly "GOT" what we wanted on August 15 when Jason Momoa and Emilia Clarke were spotted laughing together at a reunion party. Both actors uploaded Instagram posts, with one photo even seeing Momoa show off his "Aquaman" strength, holding the "moon" of his life. Clarke humorously wrote, "When your sun and stars rolls into town you check that he can still bench press a Khaleesi," while Momoa said, he will "love her [Clarke] forever."
Peter Dinklage, their former co-star, expressed his excitement of seeing the two together, commenting the hands up, heart, and fire emojis. Fans also showed their appreciation, with one writing, "Everytime i see yall together my heart melts." While the pandemic may have kept Khal Drogo away from his Khaleesi a little longer than usual, apparently the duo make a concerted effort to catch up at least once a year, per E! News.
It's unclear where the latest "GoT" reunion was, but it likely was London, given Momoa has been shooting the "Aquaman" sequel there. And the British capital seems like their main meet-up base. Momoa, who lives in Los Angeles, told "The Graham Norton Show" in 2019, "Every time I come to England, I call [her]." Over the years, they've celebrated birthdays in London and appeared on talk shows there too. They've also crossed the English Channel to meet up at Paris Fashion Week. Despite any romance rumors, they've always maintained their love is purely platonic. 
Jason Momoa took care of Emilia Clarke while filming together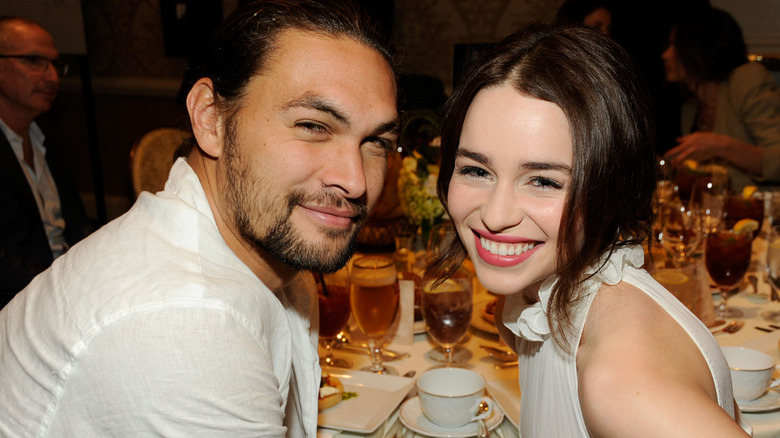 Frazer Harrison/Getty Images
Jason Momoa may have told Graham Norton he goes "crazy" whenever he sees Emilia Clarke, but sadly for fans, it's not the kind of head-over-heels love. However, the pair has always talked highly of each other, supported one another professionally — Clarke reportedly paid for her own "Aquaman" ticket — and even been there during times of need.
Momoa praised Clarke for being "brave" and "trying to raise awareness" after she opened up about her life-threatening brain aneurysms. Even during their early "Game of Thrones" days, Momoa apparently stood up for her. Clarke revealed on "Armchair Expert with Dax Shepard" that Momoa was "wonderful," as he made her feel comfortable shooting sex scenes when intimacy coaches weren't the norm."It was definitely hard, which is why the scenes, when I got to do them with Jason were wonderful because he was like, 'No, sweetie, this is not okay,' and I was like, 'Oh.'" Clarke was just 23 and fresh out of drama school when she scored the role-of-a-lifetime. "He took care of me, he really did, in an environment where I didn't know I needed to be taken care of. It's only now that I realize how fortunate I was with that."
Despite always having each other's back, Momoa has been in a relationship with wife Lisa Bonet since 2005, whom he shares two kids with. Clarke has even been spotted hanging out with the pair, with Momoa sharing an Instagram captioned, "Me and my QUEENS." We love to see it.