How Game Of Thrones Impacted Kit Harington In A Negative Way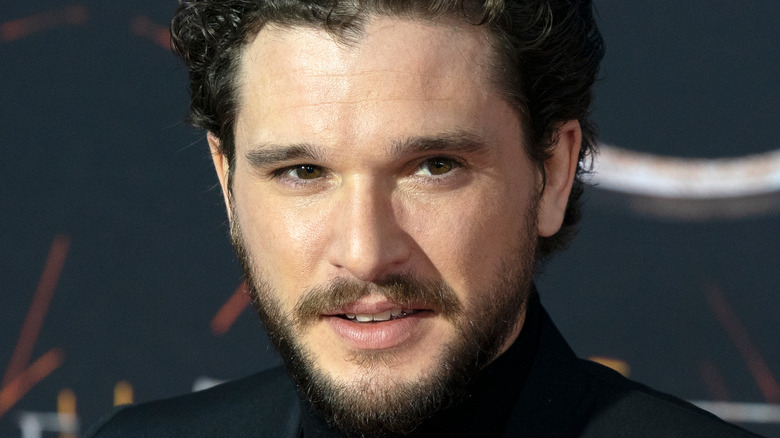 Shutterstock
Actor Kit Harington is opening up about the impact "Game of Thrones" took on him, per The Hollywood Reporter. Harington, who played Jon Snow for eight years, has been keeping a low profile since the "Game of Thrones" finale in May 2019. Harington became an international star at 25 and met his wife because of the HBO series. In a 2017 interview with Esquire, Harington talked about his life after "Game of Thrones" ended. Harington said, "I'll enjoy the madness quieting a bit," Harington says. "I'd like a few years of relative obscurity."
In 2019, Variety called Harington "among the most speculated-about stars on Earth." Receiving that level of scrutiny would take a toll on anyone, and Harington was relatively young, having been just 24 when he took the role. And the British actor has made many changes in his personal life over the past couple of years. Harington and his former co-star Rose Leslie married in Scotland at her family's castle in June 2018. The next year, there was a global frenzy about the final season of GoT. In March 2021, Leslie and Harington welcomed their first child but did not reveal the baby's name, per The Sun.
Harington has moved on, but the impact after playing the role of Jon Snow impacted the actor in a negative way. Keep scrolling to find out more about how "Game of Thrones" affected Harington.
Kit Harington says Game of Thrones "directly" led to his mental health issues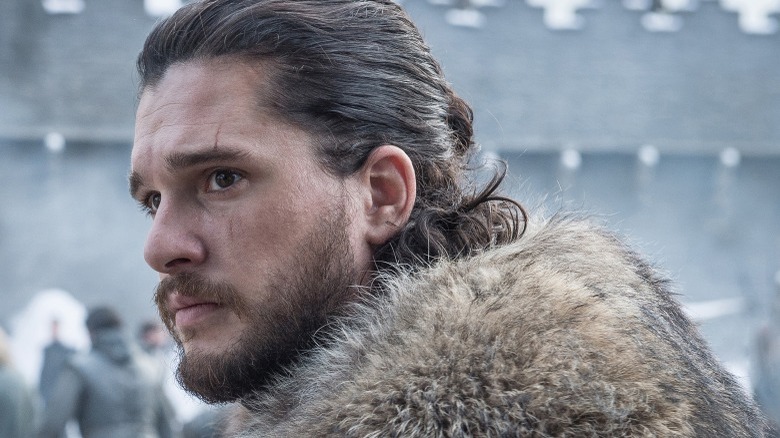 Helen Sloan/HBO
Per The Hollywood Reporter, Kit Harington revealed that the epic HBO series took a toll on his mental health, and he had to take a year off after "Game of Thrones" ended. THR reported that during an interview on SiriusXM's "The Jess Cagle Show," Harington said that playing Jon Snow on the violent and intense HBO series "directly" broke him down in real life. Harington said, "I went through some mental health difficulties after 'Thrones,' and during the end of 'Thrones,' to be honest. I think it was directly due to the nature of the show and what I had been doing for years."
In May 2019, Page Six reported that Harington checked into "luxury rehab" for stress and alcohol use ahead of the "Game of Thrones" series finale. The end of the HBO epic series "really hit him hard," sources told Page Six. Harington checked into Connecticut rehab Privé-Swiss almost a month before the final episode of "Game of Thrones" aired.
During his interview on "The Jess Cagle Show," Harington revealed that he needed a break from acting after playing Jon Snow to focus on his mental health. Harington said, "I think I took a sort of break after 'Thrones' where I said, 'I don't want to work for a year. I want to really kind of concentrate on myself,'" he said (via E! News). "I'm really happy I did that."
Kit Harington's mental health statements are backed by research
"Game of Thrones" star Kit Harington's mental health issues are back by science — research indicates that acting changes the brain. Aeon reported that research papers published in 2019 indicate concrete evidence that actors' sense of self is changed profoundly by their characters. Harington was 24 when he joined the "Game of Thrones" cast. Harington's character, Jon Snow, was the brooding bastard son of Ned Stark, played by Sean Bean. Harington played Snow for eight years, a role that was physically and emotionally draining.
In addition, Harington shot to worldwide fame playing Snow. In the Season 5 finale of "Game of Thrones," Jon Snow died. And for a year after the final episode, the GoT team misled the media and fans about Snow's fate. Harington told Variety in 2019 that the international spotlight on Snow's fate, led him to start therapy. Harington said, "I had felt very unsafe, and I wasn't talking to anyone."
A 2014 article in The Atlantic explained how an actor's job to "inhabit the reality of a fictional character" can cause harm. Researcher Thalia Goldstein explained to the outlet that "psychology, cognitive science, and theater are all trying to do the same thing, which is understand why people do the things they do." Goldstein, an assistant professor of psychology at Pace University, says that research in psychology suggests that actors may "experience emotional aftereffects from performing."