Inside Todd Chrisley's Relationship With His Granddaughter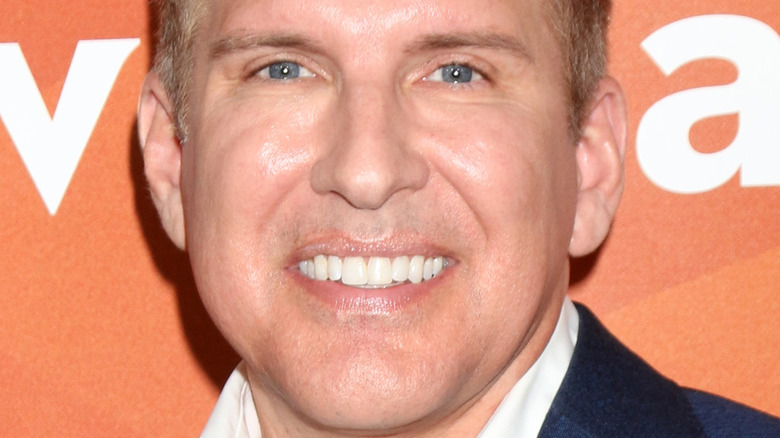 Shutterstock
When reality show "Chrisley Knows Best" first premiered on USA Network in 2014, viewers got to learn the ins and outs of the Southern-based Chrisley family's daily lives. The primary cast consists of the father, Todd, and his wife, Julie, who allow cameras into their lives as they navigate raising three children: Savannah, Chase, and Grayson. However, in addition to the portrayal of the immediate Chrisley family, Todd's mother, Nanny Faye, and granddaughter, Chloe, also make frequent appearances.
Throughout the seasons, audiences have seen Todd and Julie practically raise Chloe as their own in their household, leading many to wonder how that came to be. Off-screen, the couple actually has two older children (who are biologically Todd's from his first marriage): daughter Lindsie and son Kyle, who do not appear on the series. Chloe was born to Kyle and Amber Johnson, but has been in Todd's care since at least 2014 due to Amber and Kyle's personal hardships, and in 2016, he reportedly got full custody, per E! News. 
Todd and the rest of his family have loved Chloe as if she was one of their own children. Here is a look inside Todd Chrisley's relationship with Chloe.
Todd Chrisley didn't know Chloe existed until after she was born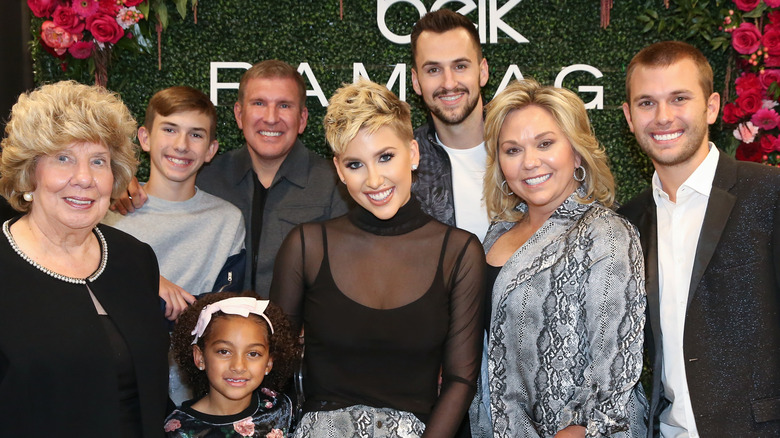 Terry Wyatt/Getty Images
According to the Tennessean, "Chrisley Knows Best" star Todd Chrisley was unaware he had a granddaughter until he received a call from his son's former partner, Amber Johnson. Todd, along with his wife Julie, took Chloe in to live with them when she was still under 1 year old.
Todd told the publication about his relationship with Chloe and what it's like raising her in 2018. "Chloe calls me 'Papa' sometimes and she calls me 'Dad' sometimes. And she calls Julie 'Mimi' or 'Mama,'" he shared. "Through our child psychologist, they told us not to correct that. Let her find her own natural rhythm. Let her relate to us on the terms that she chooses to relate to us on ... Now she looks at us like, Daddy, Mama. But she knows who her parents are. And so, she knows the difference. But she knows that she lives with us, and that we're the ones who take care of her every day."
Todd then shared some of his dearest moments with Chloe, like talking to her about how her day is every day. While he clearly loves his granddaughter, raising her hasn't been all smiles. 
Todd and Julie Chrisley have struggled to protect their granddaughter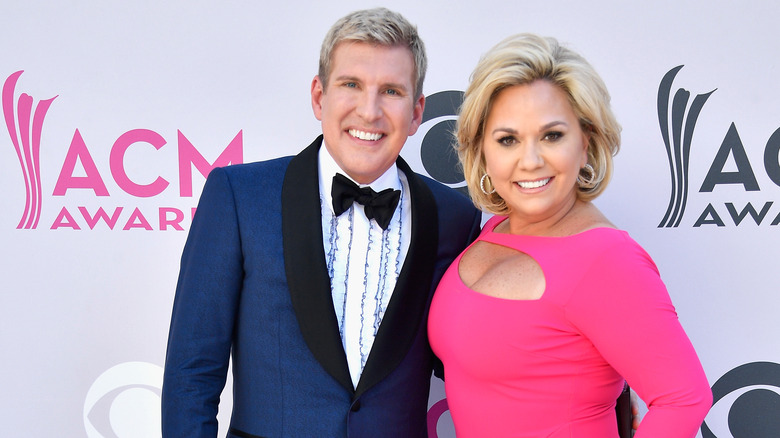 Frazer Harrison/Getty Images
Due to the public nature of reality television, Todd and Julie Chrisley of "Chrisley Knows Best" have struggled with the negativity on social media — particularly with the unjust comments about their granddaughter Chloe. The couple has frequently spoken out about anonymous hate on the internet.
Julie called online trolls out when talking to Page Six in January. "I can deal with just about anything, but the things that people have said about her on social media are absolutely unfathomable. It breaks my heart and it makes me realize just how far we as a country still have to go," she said. "The things that people will say because they're sitting behind a keyboard in a basement bedroom somewhere is just unbelievable."
Around the time of George Floyd's death in 2020, Todd and Julie's daughter, Savannah, took to Instagram to speak out about how her parents are trying to guide Chloe to keep her safe. "My dad and I sat and had a lengthy conversation about it and how we were heartbroken and scared for Chloe's future," she wrote. "We live in a world where we have to teach her to be EXTRA cautious around police officers because the color of her skin.. IT HAS TO STOP!!!" Despite their worries, it's clear the Chrisley family simply wants to give Chloe the best life possible.