How Tucker Carlson Really Spends His Millions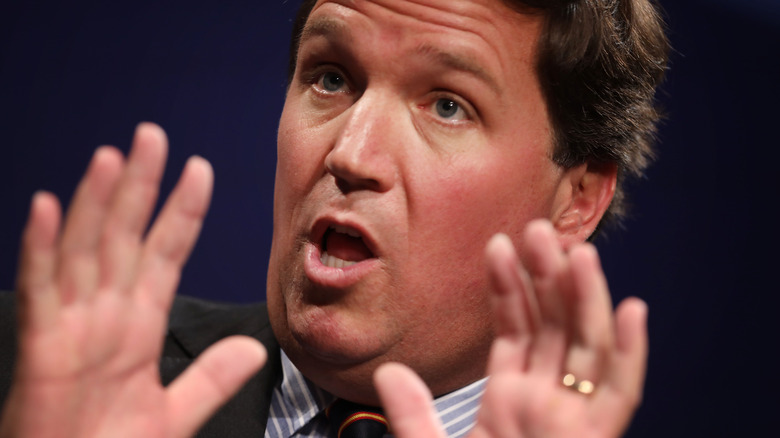 Chip Somodevilla/Getty Images
While Fox News host and conservative pundit Tucker Carlson might be loathed by the left and beloved by the right, it's safe to say that either way, Carlson is still taking it all to the bank. As the premiere talking head on his show "Tucker Carlson Tonight," the crown jewel of the network owned by Rupert Murdoch, Carlson's program at the time of this writing consistently ranks as one of the most-watched in the U.S. Part of this may have to do with his propensity for fueling controversy, much of which incorporates smear campaigns against liberals, some of whom he brings on air to do so, as well as incorporating racist, homophobic, and xenophobic rhetoric on-air. 
Despite the many ways in which this has the potential to perpetrate harm against marginalized communities, it's a formula that works for the network, as evidenced by Carlson's paycheck. As CNN noted in 2020, Carlson brought home $10 million as his salary that year to add to his amassed wealth: a total of $30 million overall. So what does Tucker Carlson spend his millions on? Read on after the jump to find out.
What are Tucker Carlson's biggest purchases?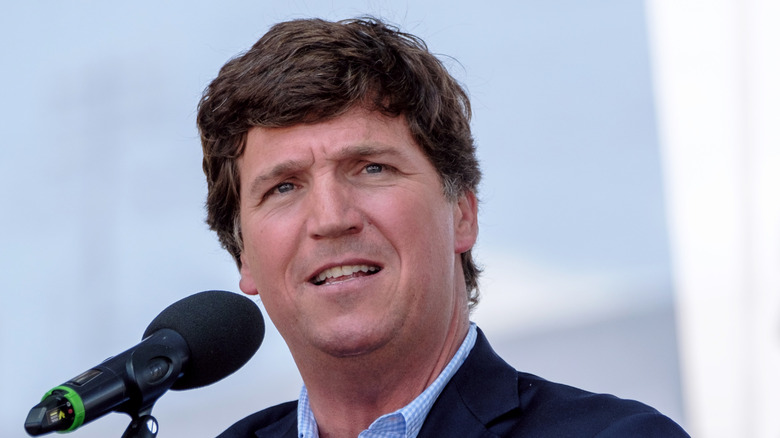 Janos Kummer/Getty Images
According to Celebrity Net Worth, most of Tucker Carlson's biggest expenditures are exactly what you'd expect: on real estate. Over the past decade or so, Carlson has purchased four mansions, each worth well over a million dollars. Per the site, Carlson moved out of a $4 million residence located in Washington, D.C. to move into a $2 million home in the city's Kent neighborhood. Six years later, the house was put on the market and sold for $2.04 million in November 2017, with Carlson and his family moving into a $3.895 million a few months earlier in July. In 2020, Carlson once again traded spaces by selling that house for slightly more than it was worth, buying a place in Gasparilla Island, Florida, for $2.9 million. 
But even though Tucker Carlson's millions seem to be at no danger of being cut off any time soon, is there a different way that his money reflects another type of capital he controls?
The capital Tucker Carlson spends isn't always monetary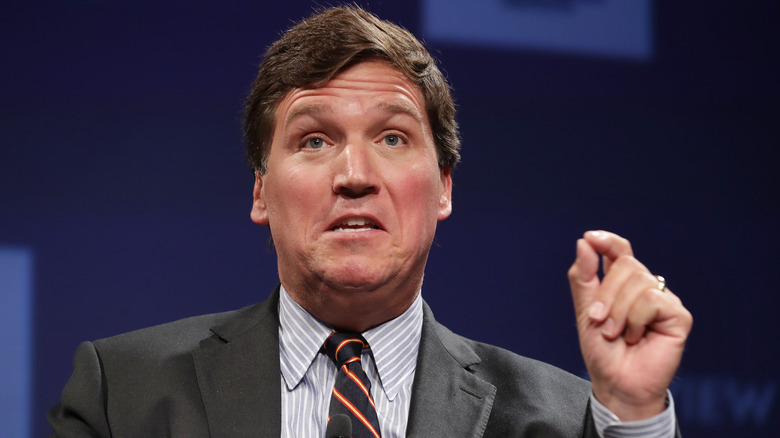 Chip Somodevilla/Getty Images
In a way, one could argue that Tucker Carlson spends his millions by continuing to rake more in for the network that hosts his show, continuously one of the top programs rated in the U.S. on cable. As author and CNN reporter Brian Stelter wrote in 2020, his bankable status doesn't just give him a monetary income, but an income in capital at clout at Fox News, which he spends by being able to say almost whatever he wants during his hour-long segment.
Stelter, who also wrote and published a book in 2020 titled "Hoax: Donald Trump, Fox News, and the Dangerous Distortion of Truth," explained it this way: "Fox profits through subscriber fees and advertising sales. Carlson's program has turned off many advertisers, due to a litany of scandals and offensive segments, but he still garners support from some key sponsors." Stetler cited examples of Carlson run amok within the past few years, among which include defending then-17-year-old Kyle Rittenhouse for crossing state lines to allegedly, intentionally shoot peaceful protestors at a Black Lives Matter protest — two of whom were killed — along with spewing anti-immigrant screeds and calling white supremacy, in his words, a "hoax."
Even with his controversial opinions, it seems like Carlson is raking in the dough — and remaining a popular head at his network.