The Truth About Lizzo And Drake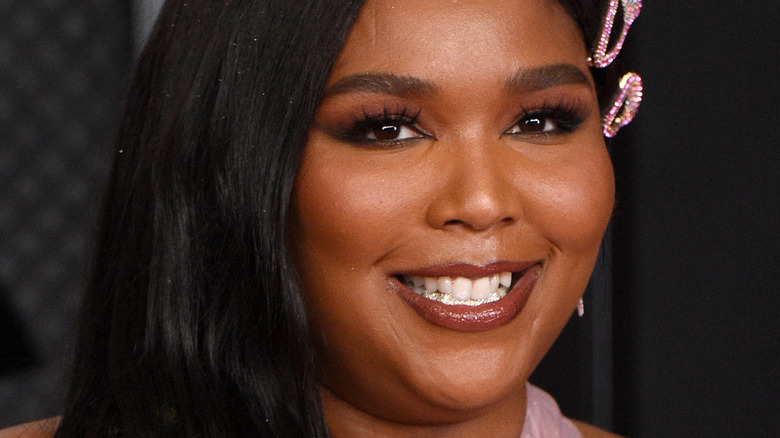 Kevin Mazur/Getty Images
On August 13, Lizzo marked her musical comeback with "Rumors" featuring Cardi B — her first single release in two years. Accompanied by a "Hercules"-inspired music video, the catchy new song sees Lizzo and Cardi listing (and confirming) some of the juiciest gossip around their respective lives. In the first verse, for example, Lizzo playfully sings about her dating rumors. "All the rumors are true, yeah / What ya heard, that's true, yeah / I f*** him and you, yeah," she vamps (via Genius). Meanwhile, Cardi confirms some of her cosmetic procedures, while bragging about how much money she used to make as a dancer. "Fake a**, fake boobs, yeah / Made a million at Sue's, yeah / Y'all be runnin' with fake news, yeah." 
Just one day after "Rumors" dropped, the song debuted at the top of Spotify's U.S. chart with over 1.5 million streams (via Chart Data). And judging by all the online reactions, it's easy to see why. "This is why you have to love Lizzo. Always keeping it real. Keep them bothered. So proud of her," one fan wrote under the music video's comments. "the rumours are TRUE... now let us out the HOUSE so I can MOVE to this certified BOP," another one joked. "I'm living for this Hercules divas theme!" a third fan commented. 
However, there is one particular reference in the song that has fans going wild ... and it involves Drake. Scroll on for all the dirt.
Lizzo thought shouting out Drake would be 'so funny to say'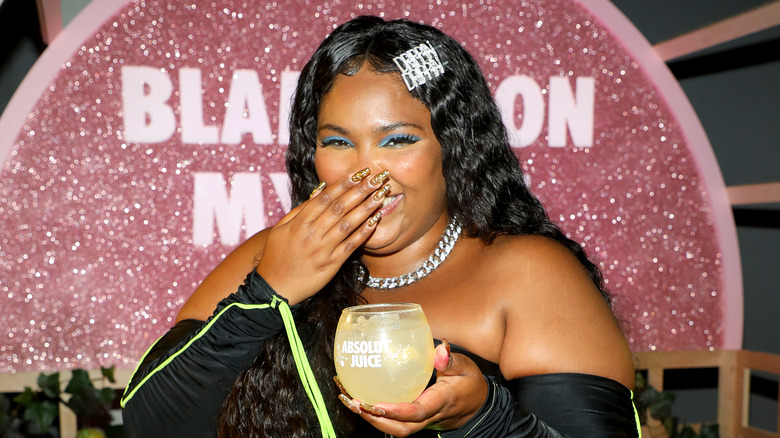 Alexander Tamargo/Getty Images
On "Rumors," Lizzo also joked about not having gotten intimate (yet) with her crush, Drake. "My smoothie cleanse and my diet," Lizzo sings in the first verse (via Genius). "No, I ain't f*** Drake yet (Ha)." Of course, the playful line didn't go unnoticed, as fans immediately took to Twitter to share their thoughts. "When Lizzo said 'no I didn't f*ck Drake.....yet' I felt that," one fan tweeted. "more songs should make clear whether or not the main artist has fucked drake yet. nicki and lizzo are on to something...." another one thinks.
Meanwhile, others hope that Lizzo might encourage Drake and Kanye West to release their respective albums. "If she got that 'Release Your Album Box', get Kanye next, he need a big girl and a black woman..." one person wrote. Lizzo joined in on the Twitter convos, too, sending yet another flirty message to the Canadian star. "Hey big head @Drake," she typed. "He betta say hey back PERIODT," an eager fan replied.
In an August interview with Apple Music's Zane Lowe, Lizzo explained the Drake reference. "You know what I haven't manifested yet? F*****g Drake," she laughed. "I just thought it would be so funny to say." She continued, "You know, and I just feel like women, there's so many times where girls' names get dropped in songs 'cause they're fine." Lizzo's "Rumors" line isn't her first attempt at bagging Drake, though. Read more below.
Lizzo first slid into Drake's DMs a while ago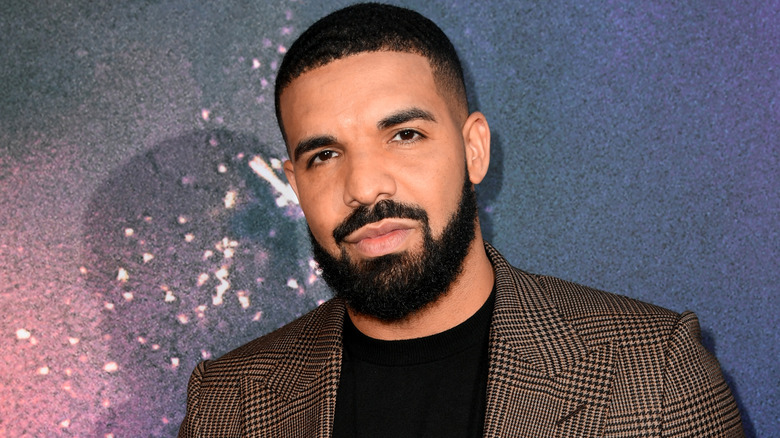 Kevin Winter/Getty Images
As it turns out, this isn't the first time Lizzo has tried to shoot her shot at Drake. During a 2019 interview with "Busy Tonight" (per E! News), the "Truth Hurts" singer revealed that she used to DM her celebrity crushes before she got famous. After host Busy Philipps asked for more details, Lizzo spilled that one of the said celebrities was none other than Drake. 
"I slid into Drake's DMs, but it was bold," Lizzo recalled. "I was drunk and I was just like, 'Let's just see if this motherf***** can sing,'" she laughed. "And I sent him a DM ... this was a while ago." However, Drake never responded ... though he probably never even saw the DM, since Lizzo hit "unsend" before he could follow her back. "And then I unsent it, and then he followed me after that," she said.
In her recent interview with Apple Music, Lizzo explained that she and Drake are actually on good terms. "I have a small relationship with him," she told host Zane Lowe. "He is very cool." Who knows — Lizzo may actually get to go on a date with Drake. In fact, Lizzo seems to be his type, if his rap lyrics are anything to go by. "Yeah, that's right, I like my girls BBW [Big Beautiful Women]," the Canadian star rapped on Nicki Minaj's "Only" in 2014 (via Genius). Guess we'll just have to wait and see!