How Does Kim Kardashian Really Feel About Tristan Thompson?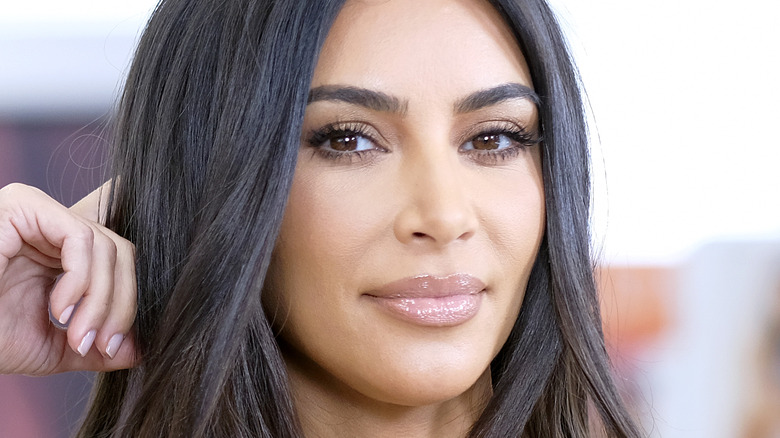 Dimitrios Kambouris/Getty Images
The relationship between the Kardashian-Jenner clan and Tristan Thompson has been volatile over the past couple of years, to say the least. The public paid a lot of attention to the family dynamics after news broke that the basketball player had cheated on Khloé Kardashian with Jordyn Woods, who was at the time best friends with her little sister Kylie Jenner, at a party at his house. As People reported then, Kim Kardashian was the one who was angriest at Thompson. "Kim is the one who is really upset about this. She's livid. She's so angry, and she's 100 percent on Khloé's side," an unnamed source told the magazine.
Kim was also the one who took immediate steps to soothe her sister following the scandal. According to the report, Kim arranged a trip to Palm Springs, California, with Khloé and her best friend, Malika Haqq, in an effort to take her sister's mind off the whole thing. Kim also showed her anger publicly by unfollowing the Instagram accounts of both Thompson and Woods, who had been close to the whole family, as People pointed out.
But a lot has happened since then between Khloé and Thompson, who have a daughter together, True, born in April 2018, just months before the scandal. Through it all, Khloé has counted with the support of her big sister, who has developed a relationship of her own with the father of her niece. Keep reading to find out how Kim really feels about Thompson.
Kim Kardashian continues to support Tristan Thompson
On August 14, 2021, a week after Tristan Thompson was unexpectedly acquired by the Sacramento Kings, he took to his Instagram page to share a photo of himself standing next to a work of art, which he paired with a message about growth. "Some people will judge you for changing. Some people will celebrate you for growing. Choose your circle wisely," he wrote. Among those who showed support for his positive mindset was his ex Khloé Kardashian's sister Kim Kardashian. "Jamaican Canadian Prophet," she wrote, as E! Online pointed out.
This isn't the first time Kim publicly shows that she has affection for Thompson. She showed it even after Khloé and Thompson broke up following the cheating scandal involving Jordyn Woods. In March 2020, Kim took to Twitter to show that she was proud of the work Thompson was putting into becoming more mature. "I actually LOVE Tristan now like a brother FR! We totally bonded and worked through our issues and love him," she wrote.
She did it again in January 2020 when she attended a basketball game between Thompson's Cleveland Cavaliers and the Los Angeles Lakers. Even though rumors described Kim booing her sister's ex-boyfriend, she firmly denied the accusations, according to E! Online. "I just hated the reports that were like, 'Kim is booing Tristan...' I was literally up going, 'Go, Tristan! Woo! Go, Tristan, Go!'" she said on an episode of "Keeping Up With the Kardashians" (via E! Online).
Kim Kardashian understands Tristan Thompson will always be in their lives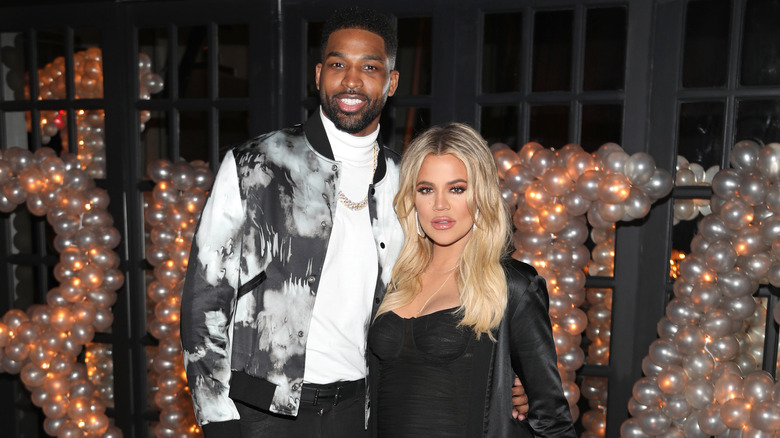 Jerritt Clark/Getty Images
Khloé Kardashian and Tristan Thompson gave their relationship another shot following his hookup with Jordyn Woods. In the summer of 2020, after more than a year apart, the couple rekindled their relationship, People reported at the time. They split again in June 2021, as Page Six reported. But even during the months they weren't together before reconnecting and in the months that followed as well, Khloé and Thompson have showed they are dedicated to having a friendly relationship for True's sake.
Khloé's family appears to be on the same page. According to E! Online, Kim Kardashian understands that, in spite of what happened in the past, Thompson will always be the father of Khloé's child. "Tristan is True's dad. So regardless of whatever, he's connected for life, we can't change that," she told friends in an episode of "Keeping Up with the Kardashians" (via E! Online). 
That's also the attitude Khloé has steadily maintained since the very beginning. Even when she gave birth just days after a video surfaced reportedly showing Thompson with another woman, she allowed him to be in the delivery room, according to Insider. "Regardless of what Tristan did to me, I was never going to take that moment away from True or Tristan. She should not be punished for his actions. He is her father and they both deserve to love one another as deeply as They possibly can," she wrote on Twitter.