Inside James Corden And Anna Wintour's Odd Friendship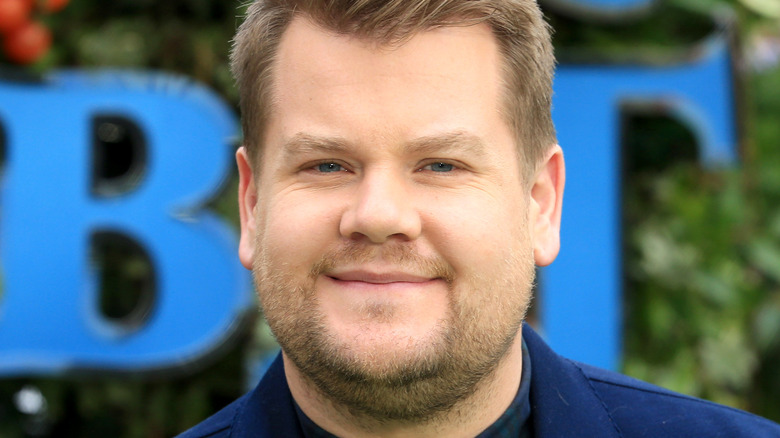 Cubankite/Shutterstock
Ever since James Corden travelled across the pond to start his late night hosting career, he's become quite the household name. Known for singing in cars and getting his guests to divulge their juiciest secrets to avoid eating unfamiliar delicacies, Corden has acquired quite the list of celebrity friends. From former One Direction band-member Harry Styles to Prince Harry, Corden can boast some famous pals. But there's one famous friend with whom Corden has formed an unexpectedly close relationship over the years. We'll give you a hint; she's a pretty big name in fashion.
Queen of the fashion world Anna Wintour is most likely not the first person you'd expect to be the best of chums with James Corden. Yet the pair are very close friends despite navigating very different circles in the world of showbiz. So how did the singing late-night show host and the Vogue editor in chief bond so well? Here are all the details about Corden and Wintour's odd friendship.
A Broadway musical sparked the beginning of this unlikely friendship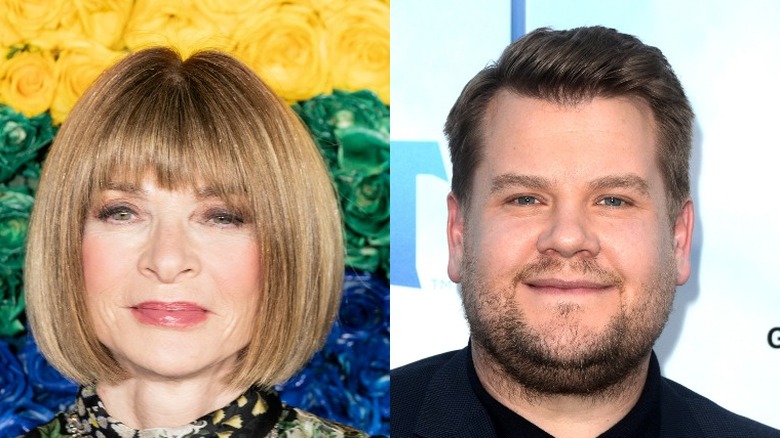 Kathy Hutchins & Lev Radin/Shutterstock
Let's rewind back to 2011. In the fashion world, this was the year Kate Middleton walked down the aisle in her iconic Alexander McQueen gown, per Vogue. In the theatre world, it was the year Lin Manuel-Miranda's debut "In the Heights" came to the end of its Broadway run. For James Corden, it was the year he would cement himself in the theatre scene with his lead performance in "One Man, Two Guvnors," a role which would later win him the Tony Award for Best Actor.
During the show's initial West End run, Anna Wintour sent Corden a card before one of his performances. The card read: "To James. From your biggest fan and most avid stalker." When the show transferred to Broadway in 2012, the duo solidified their friendship. "We used to go for lunch every month when I was doing a play in New York," Corden told heatworld. "I speak to her fairly frequently. I just really, really like her. We get on very well and she's amazing and incredibly supportive. She doesn't take herself seriously at all," he added. "She is just the best company ever in the world. You're never ever not in awe of her but for the most ordinary reasons." So basically, these two go way back! 
Anna Wintour helped secure James Corden's late-night spot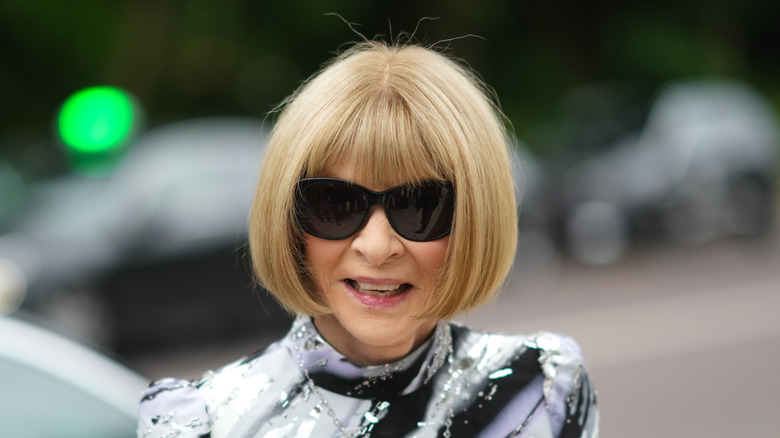 Edward Berthelot/Getty Images
While Anna Wintour has had an influence on the careers of many fashion designers and models, her influence has crossed over to the TV world too. In 2014, Wintour convinced Les Moonves, then-president of CBS, to hire Corden to replace Craig Ferguson as "The Late Late Show's" next host, per Vulture. Speaking to Page Six about Corden's appointment, Moonves said, "Ninety-five percent of people didn't know who I was talking about. The only people who did were either Brits or people who knew him from the Broadway theater scene. When I mentioned it to Anna Wintour, she was over the moon — she thought I'd gotten Johnny Carson back."
It's a gesture Corden has certainly had a lot of gratitude for, as his career has gone from strength to strength since becoming the host of the late-night talk show in 2015. The following year, Wintour held a pre-Tonys dinner for her friend who was hosting the awards show that year. After Wintour introduced him to guests, Corden emotionally thanked her for the help she had in amplifying his career. "How can I ever repay what you've done for me, Anna?," he said, according to Vogue. "You should see these suits I'm wearing." On the Tonys red carpet the next day, he revealed that Wintour had chosen "everything I'm wearing tonight." 
Corden's friendship with Wintour is proof that opposites really do attract!