This Is James Corden's Favorite Carpool Karaoke Guest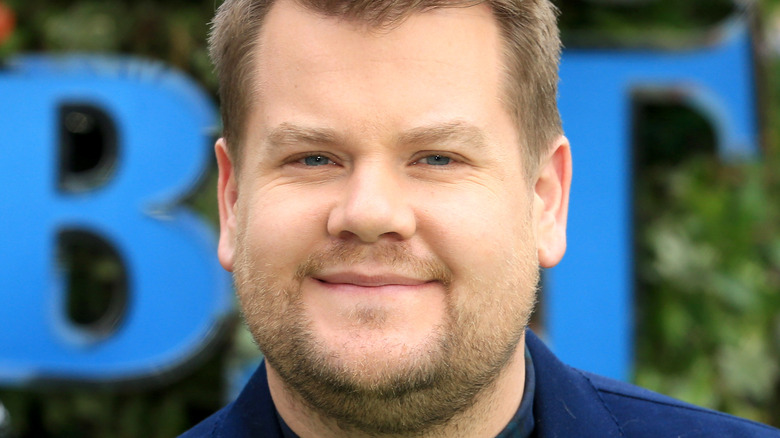 Shutterstock
James Corden's "Carpool Karaoke" is incredibly popular because everyone sings in the car! If you haven't watched "Carpool Karaoke," it's a segment on "The Late Late Show With James Corden," where the host drives around in a car, singing with world-famous guests. Corden has sung in his car with Stevie Wonder, Adele, Celine Dion, Paul McCartney, and many more. On YouTube alone, "Carpool Karaoke" with Adele has been watched over 238 million times.
One of the sweetest "Carpool Karaoke" sessions was when Wonder called Corden's wife, Julia, singing his hit "I Just Called to Say I Love You" to her. Wonder customized the lyrics singing, "I Just Called to Say James Loves You," and we cried Corden cried. But that's not the end of the story.
During a June 1, 2021, chat on "The Ellen Show," Corden spilled more details about Wonder's call to his wife. Corden told Ellen DeGeneres, "My wife, Julia, was actually in a bathroom stall at a restaurant when her phone rang. So I had this gorgeous image of her just overwhelmed with emotion but she was just literally in a toilet at a restaurant." We thought we couldn't love Corden more, but we were wrong.
The British television host has not been able to film new episodes since March 2020 due to COVID-19 restrictions. According to Deadline, Corden isn't sure when the beloved segment will be back. So in the meantime, let's talk about his favorite guest on the segment.
James Corden's favorite Carpool Karaoke guest was Paul McCartney
James Corden's favorite "Carpool Karaoke" guest was Paul McCartney because ... he's Paul McCartney. In a May 2021 interview with OK! Magazine, Corden confessed that the former Beatle was his all-time favorite "Carpool Karaoke" guest. The legendary singer and songwriter sang along with Corden in Liverpool, a place that's dear to McCartney.
Corden told OK! Magazine, "It was really difficult getting it over the line. We pitched it to him, and he said, 'I'm in, I can't wait.'" But the television host explained that McCartney got cold feet but ended up having a blast doing "Carpool Karaoke." Corden told the outlet that he realized the singing segment had become a phenomenon when first lady Michelle Obama's office contacted him.
Corden explained to OK!, "When Michelle Obama's office got in touch and said she'd like to do it, that's a moment when you go, 'Oh, OK. Our show may have achieved something.'" We're crossing our fingers we get to see it soon.