The Truth About Channing Tatum And Sandra Bullock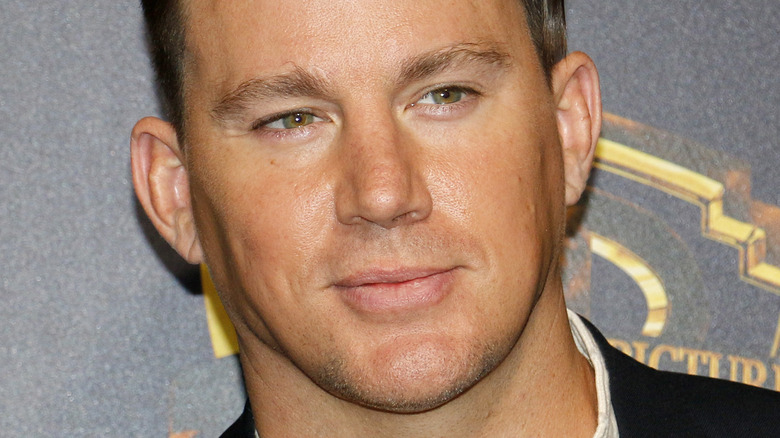 Tinseltown/Shutterstock
Channing Tatum celebrated wrapping his upcoming movie with Sandra Bullock with a classic ritual. Or at least, classic for him. The "Step Up" actor took to Instagram to share a selfie after getting his signature buzz-cut as a means of noting the end of yet another film. Tatum previously claimed doing so was "a bit of a ritual" following each of his films to let "the character go," as he shared on Instagram after finishing another film in 2020.
"And just like that... our 1st Charlie yells 'and that's a wrap'... and [I] feel myself coming back and the hair starts coming off," the actor wrote in the most recent August buzzcut post. "And now time... time for all the things. Mine time. Getting back to me before the next creative adventure into someone and somewhere else. I'm so happy and easy right now. Breathing and gonna indulge in this life I've been blessed with. Be easy." We love this ritual for you! 
The movie in question is the Sandra Bullock-produced "The Lost City of D," which the "Blind Side" actor also stars in. Turns out, while on set for their romance adventure film, Bullock and Tatum found quite the friendship. Read on for more!
Channing Tatum and Sandra Bullock had a fun on-set prank moment
Just days after his ritual post-movie haircut, Channing Tatum returned to Instagram to share his love for the cast and crew of his upcoming film "The Lost City of D," and gave a special shoutout to, who else but, his co-star Sandra Bullock. "Well that's a wrap on #LostCityOfD," wrote Tatum. "I love this movie so much I don't have words. I also don't have words for how special Sandy Bullock is. We definitely were made in the same lab and share a brain at times. I love you girl. And as you can see I'll ride your coattails anywhere anytime forever." Aw!
Included in the slideshow post was a behind-the-scenes clip of Tatum hoisting up Bullock in his arms and jumping into a tank of water on set. Tatum's sweet message is on full display as the actor kissed Bullock on the cheek a few times upon emerging from the water and yelling at the crew to join them. It looks like they had fun on set during this prank moment and we're so glad these two are friends. But here's more on how that almost didn't happen.
Another star almost appeared across Sandra Bullock instead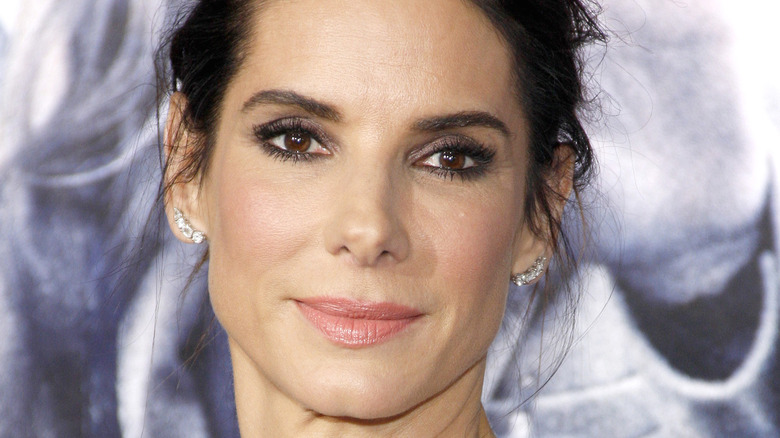 Tinseltown/Shutterstock
Sandra Bullock and Channing Tatum are starring in "The Lost City of D" as a romance novelist and book cover model, respectively. The film is set to premier in 2022 and includes other A-list stars like Daniel Radcliffe, Oscar Nunez, Patti Harrison, and a cameo from Brad Pitt, according to People. But that almost wasn't the case. People first reported that "The Lost City of D" was rumored to star Ryan Reynolds, making it the Bullock and Reynolds's first time co-starring in a film since "The Proposal" in 2009. If that had happened, we would have loved the reunion moment, but missed out on this Tatum/Bullock friendship!
To prepare for his role as a book-cover model, Tatum went through an intense diet and exercise regime after gaining all too relatable quarantine pounds. "For the first week or two weeks, I definitely was just drinking beers and riding dirt bikes but I was like, 'I can't do this for two months. This is bad,'" said Tatum on "The Tonight Show" back in May. "And then, me and my buddy, we just went really, really hard. We just started training every day. And it was great — I mean, I came out a completely new person."
The workouts proved beneficial for the actor, and we're glad Tatum made the cut so we could get this great friendship content.