The Truth About Megan Rapinoe And Hope Solo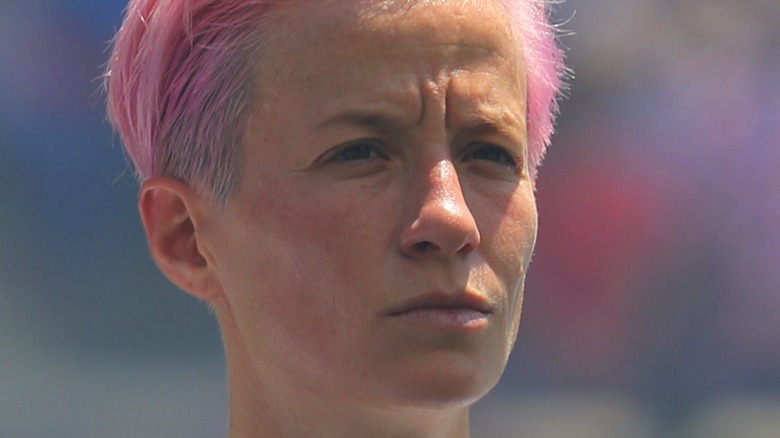 Leonard Zhukovsky/Shutterstock
US Women's Soccer player Megan Rapinoe and her former teammate Hope Solo have made headlines once again. Speaking on the podcast "All Of US," Solo explained her views on Rapinoe's political stances, specifically kneeling during the National Anthem, following the example of Colin Kaepernick in 2016. "I think the kneeling thing can be very divisive. I've seen Megan Rapinoe almost bully players into kneeling because she really wants to stand up for something in her particular way," Solo said (via Daily Mail). However, she did add: "But it's our right as Americans to do it whatever way we're comfortable with and I think that's really hard being on the main stage right now with so many political issues for athletes." 
However, many sports fans took to social media following Solo's bullying allegations, pointing out that Solo's last game with her team was at the 2016 Olympic Games in Rio — before Rapinoe was the first women's soccer player to take a knee. Timothy Burke, a former writer for Deadspin, alleged on Twitter that "This is a completely fabricated story." 
Regardless of Solo's claims, the two players also have a long history of rivaling one another, including both Solo and Rapinoe being nominated for 2015's national women's soccer player award. Neither athlete is a stranger to public controversy, either. Here is the truth about each of these players' pasts — and their relationship with each other.
Megan Rapinoe and Hope Solo have feuded before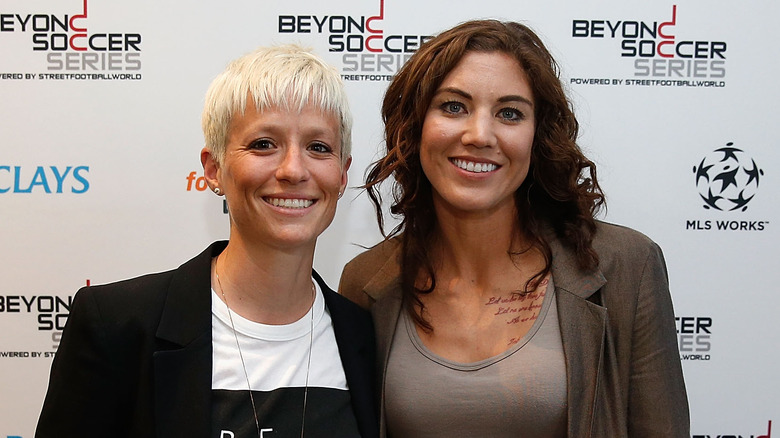 Lachlan Cunningham/Getty Images
Before former US Women's Soccer star Hope Solo came forward with bullying allegations, the athlete had already butted heads with Megan Rapinoe in public.
During the Rio Olympics, Solo controversially called the Swedish team "a bunch of cowards" after their victory over the US team. At the time, Rapinoe shared thoughts about her teammate in an interview with NBC Sports (via The Guardian) saying she was "really disappointed, to be honest." Rapinoe went on, "That's not our team, that's not what this team has always been, that's not what this team will be in the future." Rapinoe opined that Solo wasn't particularly gracious, adding "we have this incredible platform, let's do something good with it. Let's be badass, let's be fierce, let's be competitive."
It wasn't the last time that former teammates Solo and Rapinoe clashed with each other. In March, Solo spoke with Be In Sports about a deal the Women's soccer team signed for equal pay. She was especially critical of the deal Rapinoe allegedly persuaded other players to sign. "Megan [Rapinoe] led the team into signing a less-than-equal Collective Bargaining Agreement (CBA). We were so close to achieving equal pay in 2016; it was offered to us, we were about to sign the contract with the Equal Employment Opportunity Commission," Solo said. "But Megan Rapinoe and the leaders of that team signed a less-than-equal CBA, which is concerning for the overall class action suit and the overall fight."
Hope Solo and Megan Rapinoe have both had their own controversies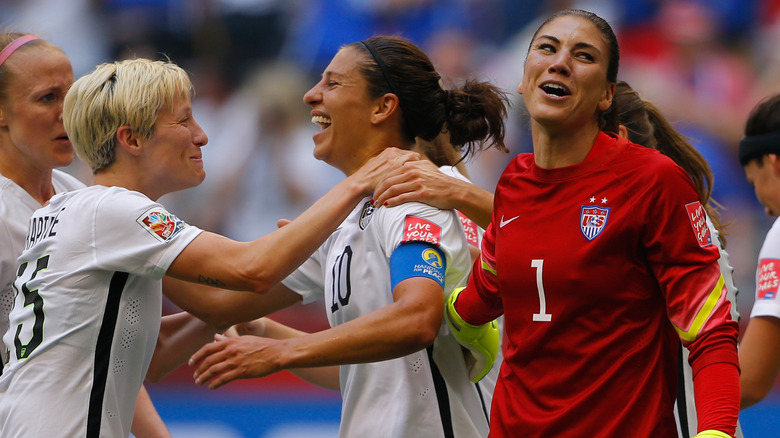 Kevin C. Cox/Getty Images
Before her former teammate Megan Rapinoe made global news for taking a knee in 2016, US Women's soccer player Hope Solo had her contract terminated. Solo's first suspension was for thirty days in 2015, after being involved in a DUI with her husband. Solo had also been facing "two counts of fourth-degree assault" towards her sister and nephew, according to The Washington Post stemming from a June 2014 arrest. It wasn't until 2018 that the case was totally dismissed, at which point the athlete spoke out on Facebook in an attempt to clear the air. "The harm caused to me, my family and my career has been immeasurable," Solo wrote, promising to pursue her own legal action in response. "...these four years have been a testament to my personal resolve. I remained focused on creating positive change around things I care most about with people who truly know and support me."
Rapinoe is no stranger to controversy of her own. The athlete teamed up with Subway as their celebrity spokesperson, appearing in commercials for them. However, due to Rapinoe's frequent activism regarding racism and gender equality, Subway franchise owners in conservative states are pushing for company executives to pull the advertisements, according to the New York Post. In June, she also faced backlash after Twitter users discovered a controversial tweet from 2011. Per The Sun, the tweet was divisive amongst the internet, with some calling for Victoria's Secret to pull their partnership with Rapinoe.