What We Know About Britney Spears And Jason Trawick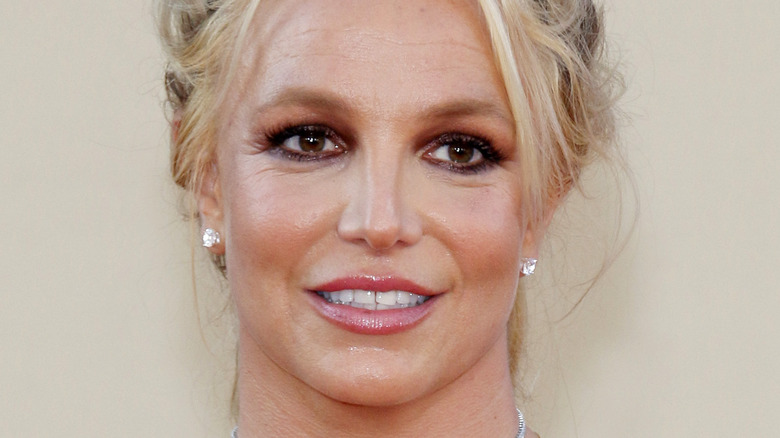 Tinseltown/Shutterstock
Britney Spears has been making headlines throughout 2021, and not necessarily for the right reasons. In June, the "Baby One More Time" singer appeared in court to reveal the disturbing details of the conservatorship she's been under for more than a decade. Per USA Today, her father, Jamie Spears, stepped down as her sole conservator in 2019, but has remained in control of her finances. According to the outlet, he was replaced by Jodi Montgomery, who is in charge of the pop star's security, visitors, and medical treatment.
Since the February release of the New York Times documentary "Framing Britney Spears," Britney's fans have taken to social media in support of her desire to control her own life. And the singer's bombshell revelations in the June hearing only added more fuel to the fire. Claiming that she's not allowed to marry her boyfriend Sam Asghari, Britney advocated for her own right to wed and have a baby. "I have an IUD inside of myself right now so I don't get pregnant," she said, via USA Today. Speaking of her potential future husband, more news broke on August 17 about Britney's romantic life that has fans shocked. Keep reading to find out everything we know about Britney and her ex Jason Trawick so far.
New info points to Britney Spears and Jason Trawick potentially being married at one point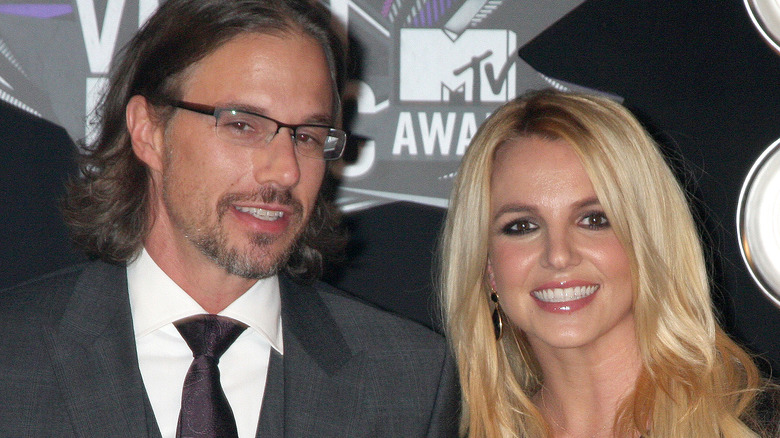 Kathy Hutchins/Shutterstock
Britney Spears fans know that she was previously engaged to talent agent Jason Trawick in 2011. According to People, the pair broke it off in January 2013 after sources claimed they "wanted different things." Those close to the duo maintained that Spears wanted Trawick "home with her twenty-four/seven" and that she wanted "to grow her family," both points of contention. But as far as anyone was aware, Spears and Trawick never officially made it down the aisle before splitting up ... or did they?
New evidence recently came to light via a podcast called "Toxic: The Britney Spears Story" that suggests Spears and Trawick did marry after all. Per Page Six, the show's co-hosts Tess Barker and Babs Gray unearthed a $9,150 payment in an accounting report regarding the singer's conservatorship battle that was itemized as a "consultation [on] dissolution of marriage." The lump sum was dated October 2012, at which point we know Spears was still with Trawick. "My assumption would be that those were legal services that were rendered directly for [Spears'] benefit and nobody else's," estate specialist Austin Bertrand speculated in the podcast episode, adding, "'Dissolution of marriage' only means one thing, which is divorce." Page Six reports that more details listed the payment as "conservatee's legal fees," which were made out to the "law offices of Alexandra Leichter," a Beverly Hills-based legal firm. Hmmm.
Fans are theorizing about Britney Spears' possible marriage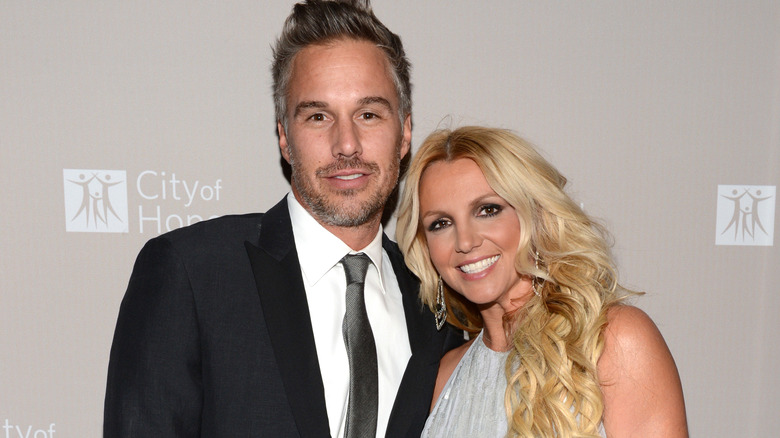 Michael Kovac/Getty Images
It didn't take long for the Twittersphere to light up with reactions. News of Britney Spears' possible marriage sparked fresh interest in a Twitter thread from March 2021, which outlined all the payments made to Alexandra Leichter in 2012, including the incriminating October sum. "In the 2012 accounting, under 'Britney's legal fees,' there are 3 payments to Alexandra Leichter for Jul, Aug, Sept 2012, 2 redacted and 1 of them marked as 'Consultation on Dissolution of Marriage,'" the tweet read. "Note that it is dissolution and not divorce." Estate specialist Austin Bertrand offered his own take on the August 17 episode of "Toxic: The Britney Spears Story," stating that he believes "it looks like they missed a redaction."
If the marriage to Jason Trawick did take place, it would have been Spears' third wedding. The "Toxic" singer was infamously married to Jason Alexander for a mere 55 hours in January 2004 and wed Kevin Federline (with whom she had sons Sean Preston and Jayden James) in October 2004. They split in July 2007, which marked the beginning of Spears' complicated emotional struggle and eventual conservatorship. So, if she gets her wish and is able to marry current boyfriend Sam Asghari, will the fourth time be the charm? Only time will tell.