Out Of Every Cardi B Candace Owens Diss, One Stands Above The Rest
Kathy Hutchins/Shutterstock
Whenever two strong personalities clash, there are bound to be fireworks. This is certainly true of conservative activist Candace Owens and rapper Cardi B, both powerhouse women straddling opposite sides of the political spectrum. A former stripper who grew up in the Bronx, Cardi isn't one to worry about ruffling any feathers. Per Vox, the "Bodak Yellow" singer copped to her controversial past when an Instagram video resurfaced in 2019 that showed her speaking out about her time stripping, when she'd drug men and steal from them. Cardi later apologized on Instagram in a since-deleted post, saying, "I made the choices I did at the time because I had very limited options." The shocking revelation subsequently lit up social media and caused many users to clamor for her cancellation.
Now, Owens may not have the checkered past that Cardi does, but she's no stranger to causing some controversy of her own. When singer Harry Styles graced the cover of Vogue's November 2020 issue in a Gucci gown — making a bold statement that was praised by many — Owens promptly took offense. "There is no society that can exist without strong men," she tweeted, adding, "bring back manly men." Styles' fan base immediately defended him, and Styles himself later threw some shade Owens' way.
It's safe to say, both Owens and Cardi B aren't afraid to speak their minds — and because of that, they've traded plenty of zingers. But which one stands out the most?
Cardi B and Candace Owens feuded on social media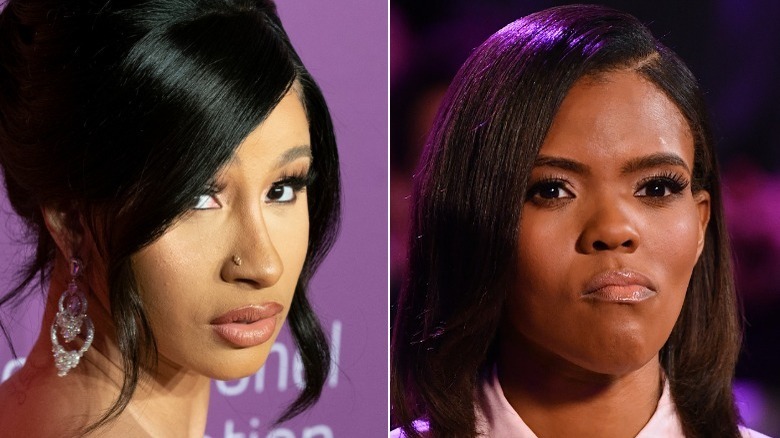 Shutterstock, Jason Davis/Getty Images
Things came to a head between Cardi B and Candace Owens in September 2020, as their differing political beliefs caused friction in the lead-up to the presidential election. Cardi was annoyed when Owens called her out on "The Ben Shapiro Show" for "pandering" to Black American voters by sitting down with Joe Biden to talk politics in August 2020. Owens also mocked Cardi for being "illiterate," and pointed to her "Okurr" catchphrase for proof. Cardi was adamant on Twitter about her right to use her platform however she wanted ... and things spiraled from there.
After the ladies fired barbs back and forth on social media, Owens posted an Instagram video where she took aim at Cardi's hit song, "WAP." She slammed, "You continually keep saying you have a No. 1 song. It means sh*t. Nobody cares about a song about your 'wet a** p***y.'" Ouch! Owens seemed to feel confident that she'd gotten in the last word as she followed up with a tweet that declared she'd "broke @iamcardib." 
But did she really? Or was Cardi simply biding her time? Because things spilled over between both women just a few months later, and once again, Cardi's song "WAP" was at the center of the feud.
Candace Owens threatened to take legal action against Cardi B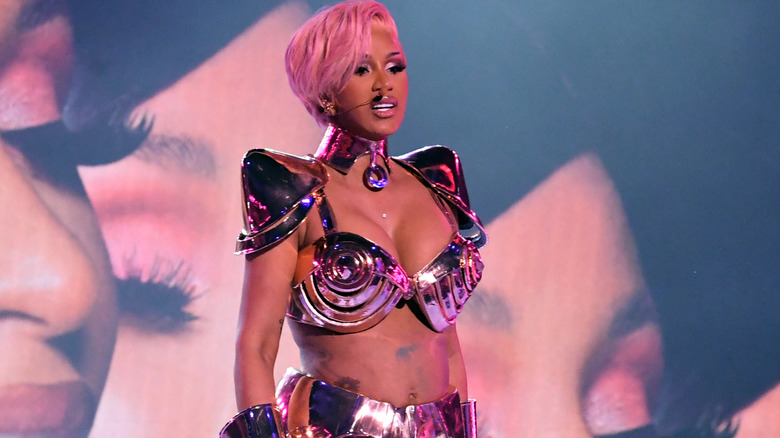 Kevin Winter/Getty Images
In March 2021, Cardi B's raunchy performance of "WAP" at the Grammys sparked immediate backlash, with Candace Owens leading the charge against the rapper. The right-wing commentator appeared on an episode of "Tucker Carlson Tonight" in which she said that the racy content was leading to "a weakening of American society." When Cardi took to Twitter to leverage the segment as a means of promoting the song, Owens' gloves really came off. "You are a cancer cell to culture," she tweeted at Cardi. "Young black girls are having their minds poisoned by what you are trying to package and sell to them as 'empowerment.'" Yikes.
But from there, the war of words got nastier. Next, Cardi shared a doctored and since-deleted tweet, per Politifact, alleging that Owens' husband cheated on her with her brother. It was a low blow, and Owens was quick to debunk the photoshopped tweet and images, before attacking Cardi's own relationship with rapper husband Offset. (At the time, the couple appeared to have hit a rough spot since Cardi filed for divorce in September 2020, per Harper's Bazaar. As of this writing, they have since reconciled, and the "WAP" star is expecting her second child.) Owens also threatened to get her lawyers involved in the wake of Cardi's doctored photo. "Just spoke with my family," she tweeted. "I am 100% suing Cardi for that nonsense." 
These two clearly aren't burying the hatchet anytime soon.