The Real Meaning Behind Lorde's Mood Ring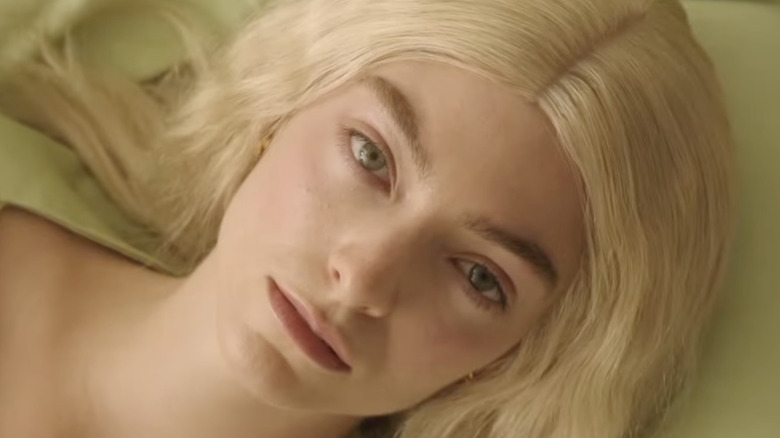 Lorde/YouTube
A mood ring may be a beloved '70s trend, but it's also the title of Lorde's latest single. The third track released from her highly anticipated album, "Solar Power," the song showcases Lorde's sultry vocals against an ethereal beat and is sure to please fans who've been waiting years for new Lorde to drop.
After taking a four-year hiatus, the New Zealand native is just days away from releasing her fourth album. The singer is reuniting with her frequent collaborator, producer Jack Antonoff, but recently spoke to The New York Times about her annoyance with the media's assumption of Antonoff's influence on her work. "I haven't made a Jack Antonoff record. I've made a Lorde record and he's helped me make it and very much deferred to me on production and arrangement" she said, clarifying that this album is very much hers. "Jack would agree with this. To give him that amount of credit is frankly insulting."
The previously released singles from the upcoming "Solar Power" — the titular track and "Stoned at the Nail Salon" — are both songs that reflect Lorde's personal journey. How does "Mood Ring" compare?
Mood Ring's lyrics may be a bit perplexing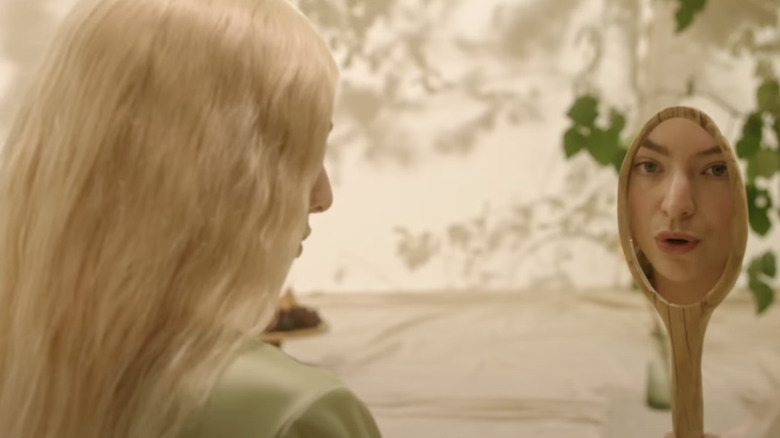 Lorde/YouTube
Listeners may have to listen to "Mood Ring" a few times to grasp its actual meaning. Judging by the first verse, it would seem the song has to do with Lorde finding herself in a dark, unhappy place. "Now all of my oceans have riptides / Can't seem to find what's wrong/ The whole world is letting me down," Lorde sings. As the chorus goes on, the singer expresses her disconnect with her inner self. "I can't feel a thing / I keep looking at my mood ring / Tell me how I'm feeling / Floating away, floating away," she says. But combined with the pre-chorus, the song's meaning becomes less straightforward: "Ladies, begin your sun salutations / Transcendental in your meditations / You can burn sage, and I'll cleanse the crystals / We can get high, but only if the wind blows."
Rather than focusing on her despair or mentioning heartbreak, the lyrics begin to revolve around the realm of self-help and pseudo-spiritual practices like using crystals for healing purposes. And as the song continues, it gets even clearer that Lorde is probably poking fun at some wellness trends like when she references astrology, like when she sings, "Pluto in Scorpio generation (love and light)."
Still, it seems like the singer knew the lyrics may go over the head of some of her listeners as she released a statement along with the track clarifying its meaning.
Catchy bop, satirical take or both?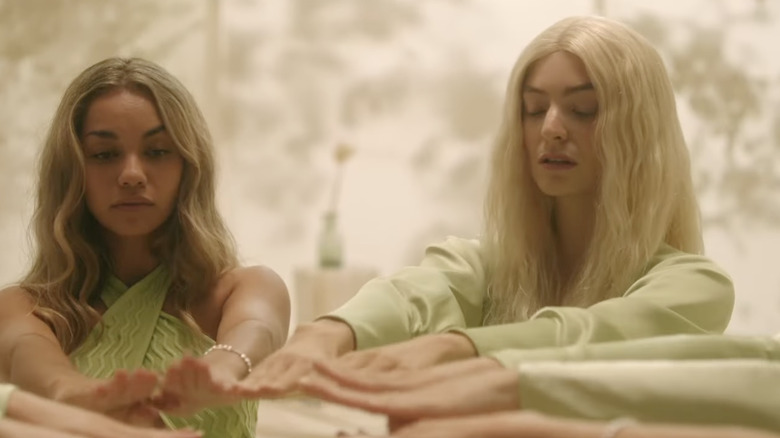 Lorde/YouTube
In a press statement, Lorde said that her intent for "Mood Ring" was for the song to be a satirical take on the current wellness culture. And according to Nylon, the track specifically targets the white and extremely wealthy take on healthy living, which includes Gwyneth Paltrow's Goop and the brand's new-age-y products. I mean who could forget the infamous "This Smells like my Vagina" candles?
"One thing that occurred to me as a major parallel between that time and our time is our wellness culture and our culture of spirituality, pseudo-spirituality, wellness, pseudo-wellness. Things like eating a macro-biotic vegan diet or burning sage, keeping crystals, reading tarot cards or your horoscope," Lorde explained of the song, via NME. "... So this is kind of my extremely satirical look at all of those vibes." The singer also added that she had a ton of fun working on "Mood Ring," which makes sense as the track has a very playful air to it. A bop and a sharp social commentary all mixed into one, "Mood Ring" might be the perfect summer track.