What Did Alex Rodriguez Really Think About His Breakup With Jennifer Lopez?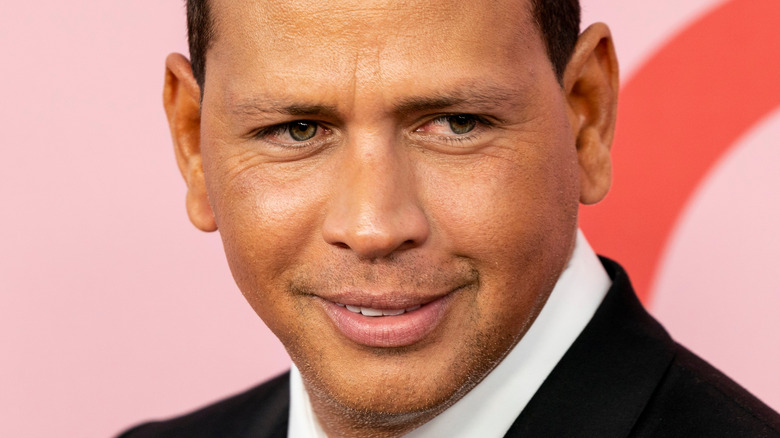 Ovidiu Hrubaru/Shutterstock
From the outside, Alex Rodriguez and Jennifer Lopez seemed to have a fairy-tale romance. He's arguably the most famous face of the New York Yankees' franchise, while she's the global megastar who brought us timeless hits with "Jenny from the Block," "Love Don't Cost A Thing" and "On The Floor." After both split with their respective partners, a relationship seemed written in the stars, and in 2017, fans rejoiced when People reported they were dating. Later that same year, Rodriguez appeared on "The Ellen DeGeneres Show" to explain how he and Lopez had reconnected. "Someone taps me on the shoulder, and I turn around ... and it's Jennifer, but she's dressed up as Harlee from 'Shades of Blue,'" he told the host. "It took me about four or five seconds [to recognize her]. ... We basically had a small chit-chat...and she says, 'You have my number, reach out.' And I went home that night and reached out."
The couple dated for four years, got engaged, and blended their respective families, but ultimately split in March 2021. Per Page Six, Lopez was "embarrassed" by rumors that A-Rod had cheated on her with "Southern Charm" star Madison LeCroy. Since the breakup, she's coped by reconciling with former flame Ben Affleck, while Page Six reported the MLB star was spending time with a "bevy of bikini-clad women" on his yacht as of July. Now, Rodriguez is speaking out about his breakup with J.Lo — but what does he have to say?
Alex Rodriguez is 'grateful' for Jennifer Lopez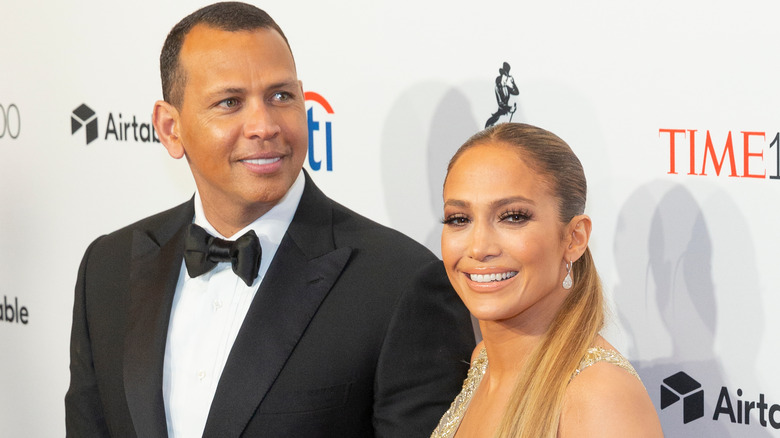 lev radin/Shutterstock
Following the break-up, Jennifer Lopez has been moving full steam ahead by diving into things with Ben Affleck. Meanwhile, Alex Rodriguez has taken time to grieve the end of his relationship with the "Para Ti" singer. Back in April, he posted a sad tribute to his ex-fiancee on his Instagram story, sharing old photos of Lopez while Coldplay's "Fix You" played in the background. But in August, Lopez hinted that she might be over A-Rod for good after she purged all traces of him from her Instagram page. The power move came just after 'Bennifer' went Insta-official with a steamy set of pictures, so the timing of the social media cleansing makes sense.
As of this writing, Rodriguez's feed still features Lopez. It seems he's determined to take the high road, and his August 17 interview with Entertainment Tonight reflects this sentiment. The athlete said that he and his two girls are "grateful" and "thankful" for the "incredible life" they all shared with Lopez. So, what's next? "Now we have the opportunity to take that and move forward and say, 'You know what? We're so grateful for the last five years, how do we make the next five years better because of lessons learned?'" he mused. Rodriguez added that despite the heartbreak, he's "in a great place. I'm so grateful for where God ... has really put me, and I'm really looking forward. Mostly to see how my girls keep developing."
Alex Rodriguez was upset about Jennifer Lopez and Ben Affleck's relationship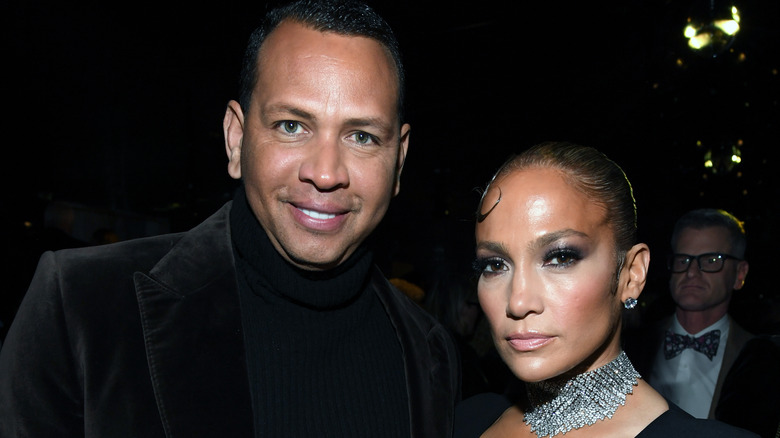 Kevin Mazur/Getty Images
Though Alex Rodriguez's Entertainment Tonight interview shows his maturity, such a well-adjusted outlook has perhaps been a long time coming. After all, the demise of his engagement to Jennifer Lopez was fraught with tension after rumors swirled that he'd been unfaithful with "Southern Charm" star Madison LeCroy. And while this was never confirmed, the rumors alone were too much for Lopez. As a source told Elle: "Whether or not he has cheated doesn't matter. She won't tolerate the fear of it in the air between them."
Though their romance crashed and burned, Rodriguez reportedly believed that they would eventually be able to work through their differences and reconcile, per E! News. That belief made news of her relationship with Ben Affleck even more painful. "A-Rod is shocked that J.Lo has moved on," a source told the outlet in May. "He truly thought they would be able to make it work and reconnect. He has been reaching out to J.Lo trying to meet with her and she has been very short with him." Reacting to her attitude, E! News also reported that the former Yankees slugger was "upset." Furthermore, the insider clarified that "[Lopez is] not interested in rekindling anything with A-Rod and is done." Yep, her IG purge sends this same message, too!