What Really Happened Between Kelly Clarkson And Justin Guarini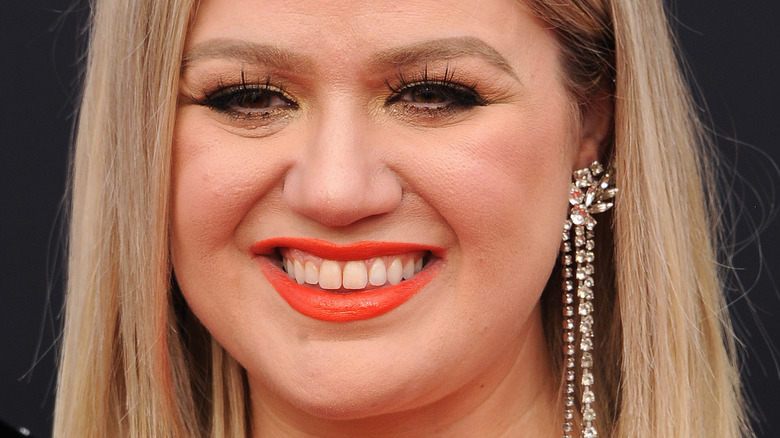 Tinseltown/Shutterstock
Kelly Clarkson's journey to stardom started on the first season of "American Idol." Throughout the years, the hit singing talent show gave us many voices to remember, but Clarkson's was one that really stood out — especially because she won its inaugural season. 
When Clarkson won the first "American Idol" competition in 2002, she was 20 years old and worked as a waiter in Fort Worth, Texas. Years later, she'd reflect on that period of her life, feeling blessed and fulfilled. "18 years ago today was the finale of the first season of 'American Idol' and it changed my life! I'm still hustlin 18 years later because I know I am blessed to have the opportunities and I still love my purpose!" Clarkson wrote on Twitter on September 4, 2020. She also asked fans to find their purpose and seek out whatever keeps the "fire in [them] burning."
Clarkson beat Justin Guarani for the title of "American Idol" and went on to release her debut album, which included the song "A Moment Like This," which she recorded with RCA Records. As anticipated, the tune went on to top the Billboard Hot 100 and stayed there for two weeks after its release, per Billboard. But her professional debut wasn't the only thing that was talked about. Rumor had it that there was something going on between Kelly and Guarini while they were on "American Idol." So what exactly happened between the two singers? Read on to learn what really happened between Kelly Clarkson and Justin Guarini.
Kelly Clarkson and Justin Guarini did have a fling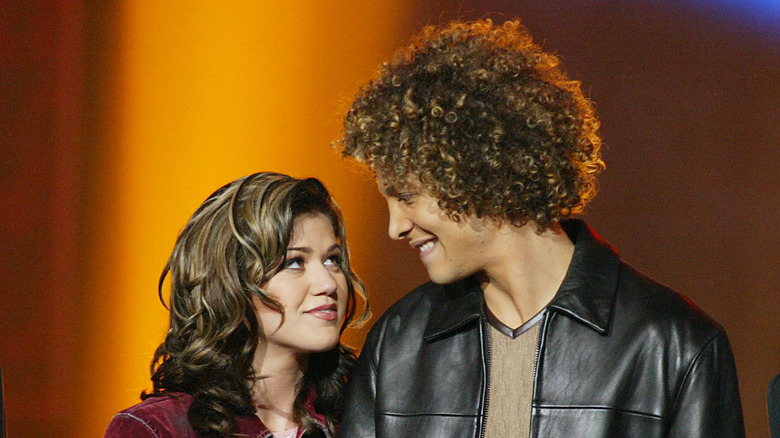 Kevin Winter/Getty Images
Kelly Clarkson's winning moment on "American Idol" was certainly special. She and Justin Guarini stood close to each and held hands as they awaited the results to be read, and hugged each other when they were. Clarkson and Guarini did have chemistry, and years later in 2014, Guarini even admitted to that.
Per E! News, Guarini spoke about his connection with Clarkson during his stage show "Lovesick" in New Hope, Pennsylvania. The singer revealed that his romance with Clarkson started on the set of the 2003 musical comedy "From Justin to Kelly." However, things didn't really work out between them, as Clarkson's career was soaring. However, Clarkson wasn't the only love interest Guarini had his eyes set on. Per E! News, he revealed he had a thing for Tamara Gray, the contestant who came in fourth on the show.
Up until the time he finally admitted to romancing Clarkson, Guarini had been quite shy about his association with her. In 2012, he spoke to Yahoo! Entertainment about the rumors around his relationship with Clarkson. "Yeah, there was a rumor, definitely. We've just always been such good friends. Um, man, it was weird; she was like my sister on the show, and then you know, we made a movie together ... I'd say, we had a good time," he told the outlet.
Kelly Clarkson has now found a 'confident' space in her life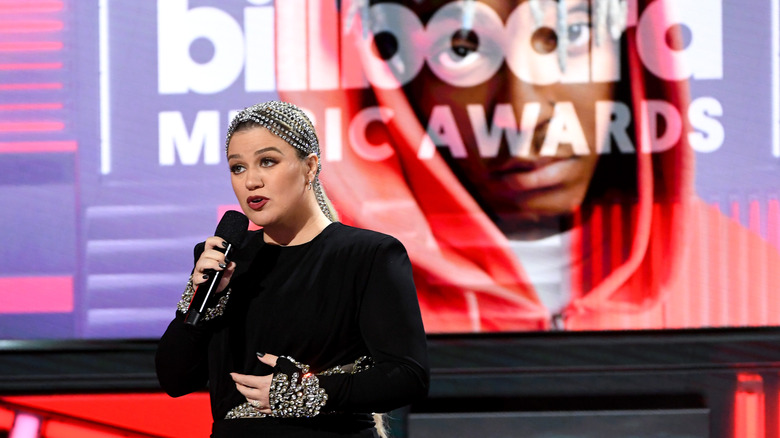 Kevin Winter/Getty Images
Kelly Clarkson's relationship with Justin Guarini was short-lived, and she went on to focus on her career. In 2011, the "American Idol" alum began dating her manager Brandon Blackstock. They then announced their engagement in December 2012. The two walked down the aisle and welcomed two children in the following years, per CBS News.
However, things did not work between the two, and Clarkson filed for a divorce from Blackstock in June 2020. "They clashed on so many levels, and being in quarantine together [during the coronavirus pandemic] heightened their problems to the point of no return," a source told Us Weekly about the reason behind the split. "Brandon's very laid-back, whereas Kelly's pretty high-strung," the source added.
The divorce and custody drama turned out to be quite messy, but it worked out for Clarkson, who was finally awarded primary custody of her children. Now, Clarkson feels "extremely confident" as she awaits for her divorce with Blackstock to be finalized, per a Us Weekly source. The source added that the singer can "enjoy her success without feeling shamed" after her split.