Mike Richards Confirms What We Suspected All Along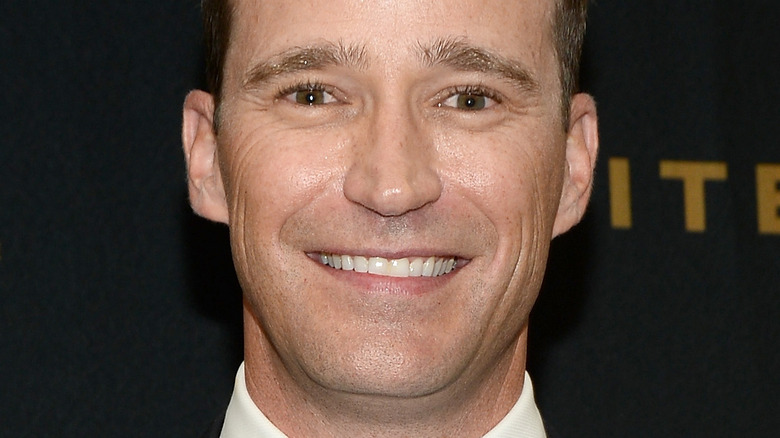 Matt Winkelmeyer/Getty Images
Mike Richards' reputation is in "jeopardy" yet again after a resurfaced podcast revealed the television host making numerous derogatory comments. Richards was controversially named the syndicated host of "Jeopardy!" in August, succeeding the late Alex Trebek who tragically died of pancreatic cancer in November 2020, per The New York Times. Fans have been vetting their fury on Twitter ever since news broke, slamming Sony for not only selecting the game show's executive producer as host, but also one who has previously been accused of pregnancy discrimination, per Variety. 
The Sony-backed program reportedly had an extensive list of candidates, including fan-favorite "Jeopardy!" guest hosts like LeVar Burton and David Faber, but ended up hiring internally (per The Hollywood Reporter). In a statement, Sony Pictures said they took the "decision incredibly seriously," but they could not look past Richard's "unique talent" ... even though the 46-year-old reportedly led the talent search.
Back in 2010, Richards was implicated in multiple discrimination lawsuits whilst working as co-executive producer for "The Price is Right," per The Hollywood Reporter. Notably, former showmodel Brandi Cochran was awarded $8.5 million in compensatory and punitive damages after alleging she was not allowed to return to work after taking time off for her pregnancy. At the time, it was considered a "landmark verdict." And now, Richards' latest scandal seems to demonstrate more of his early sexist (and ableist) views.
Here's what Mike Richards said about women and the disabled
In his eleventh hour, the new "Jeopardy!" host has found himself doing some serious damage control. Mike Richards is set to begin filming the long-running game show's next season on Thursday, but revelations from an "offensive" podcast may hinder production. On August 18, The Ringer published a damning exposé on the television executive turned host's former podcast, "The Randumb Show." According to the publication, Richards "repeatedly used offensive language and disparaged women's bodies" throughout episodes recorded between 2013 and 2014.
During one segment, he complained that swimsuits make women look "really frumpy and overweight," that they "dress like a hooker" on Halloween and even called his co-host a "booth slut." He also recounted a story about a former "The Price is Right" employee who had taken up baking: "We said that we were going to have to saw her out of her room because she was going to be so giant that she wouldn't be able to fit out the door." 
Richards also reportedly referred to the disabled as the "R-Word" and used a derogatory term for little people. Meanwhile, he championed "the average white-guy host" in a bid to recognize he too could one day be a television presenter. "Jeff Probst had a daytime talk show, which I was cheering for because I like, you know, the average white-guy host," he said. "I cheer for him to succeed because I feel like through his success I could have some success hosting."
Mike Richards apologized for his podcast comments
Mike Richards has now removed all episodes of "The Randumb Show," calling its content "unacceptable." The new "Jeopardy!" host also issued an apology to multiple outlets on August 18 — just hours after The Ringer published its piece. "It is humbling to confront a terribly embarrassing moment of misjudgment, thoughtlessness, and insensitivity," he began. Richards acknowledged that, while the podcast was made "nearly a decade ago ... there is no excuse, of course, for the comments I made on this podcast and I am deeply sorry." He has since deleted the podcast and said, although they were "attempts to be funny and provocative," they still have no place in society. 
"My responsibilities today as a father, husband, and a public personality who speaks to many people through my role on television means I have substantial and serious obligations as a role model, and I intend to live up to them." According to The Hollywood Reporter, Sony executives reportedly said they were previously unaware of the podcast and had no further comments.