Ant Anstead Had This To Say About His Romance With Renee Zellweger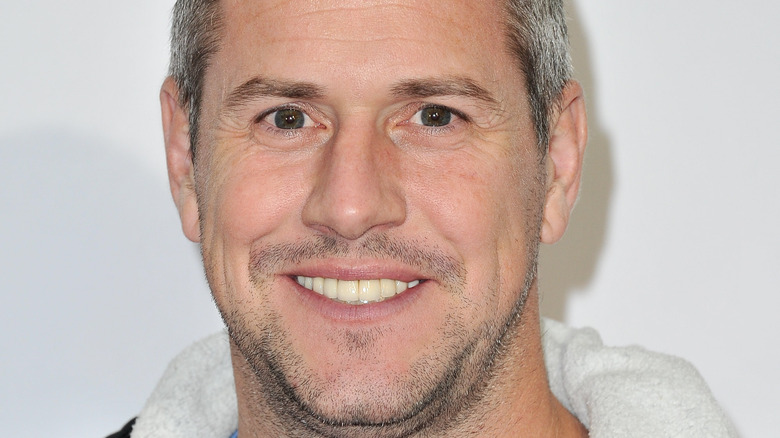 Allen Berezovsky/Getty Images
It's no secret Ant Anstead and Renée Zellweger have been sharing a little love recently. Rumors of a romance between the "Celebrity IOU: Joyride" co-host and Hollywood A-lister began circulating in early July after the pair canoodled in California. According to Page Six, Zellweger and Anstead were first seen together on the balcony of his new Laguna Beach home. Just days later, they were snapped on a bike ride before publicly packing on the PDA while at Home Depot. However, Us Weekly reported the pair may have began dating back in June — just after Anstead finalized his divorce to Christina Haack.
Anstead announced his separation to the "Flip or Flop" star in September 2020, just a year after welcoming their son Hudson and almost two years of marriage. At the time, Anstead — who is also father to teenagers Amelie and Archie — suggested Haack may have instigated the split during an emotional Instagram post, writing, "I have remained silent while holding on to hope. I never gave up on us. I pray Christina's decision brings her happiness." Anstead and Haack were reportedly granted joint legal and physical custody of Hudson.
After what seems to be an amicable divorce, insiders told Us Weekly that Anstead is "excited about life and excited in general" now that he's with Zellweger. "They each feel like they've finally met their soulmate." While the 42-year-old is known to be "more private" than his ex-wife Haack (she's already showing off social media shots with new boyfriend Joshua Hall), Anstead finally fessed up on their relationship status. 
Ant Anstead says he and Renee Zellweger have been an item 'for a while now'
Both literal and metaphorical sparks flew when Renée Zellweger guest-starred on Ant Anstead's hit car show earlier this year. The British television host met Zellweger while filming his latest Discovery+ docuseries "Celebrity IOU: Joyride," which also included appearances from Octavia Spencer, James Marsden, and Mary J. Blige, per E! News. But clearly no celeb made a bigger impression on Anstead than the "Bridget Jones's Diary" star. During their episode together, she reportedly showed off her "adventurous side," while taking one of their fast cars for a spin. 
While appearing on E! News' "Daily Pop" show, Anstead cooly and coyly addressed relationship rumors after he was asked whether they "were dating." While he didn't provide a lot of details, he seemingly confirmed they've been together for some time. "Everybody knows that Renée and I have become quite close because we kept it secret for a while and now, unfortunately, some pictures were taken and put out there," he explained. "But it was a real pleasure to work with her. She's a super pro and she can weld." Anstead and Zellweger's romance was also further emphasized when his "Joyride" co-host Cristy Lee joked, "I mean, honestly I'm disappointed, because I thought her and I were going to start dating afterwards. I was like, 'Wait, Ant, what?'"
Despite Zellweger remaining tight-lipped as a "very private person" herself — something, which Anstead "love[s] about her" — apparently she's quite the mechanic. Fixing cars and hearts, one day at a time.