The Truth About Amber Rose And Alexander Edwards' Relationship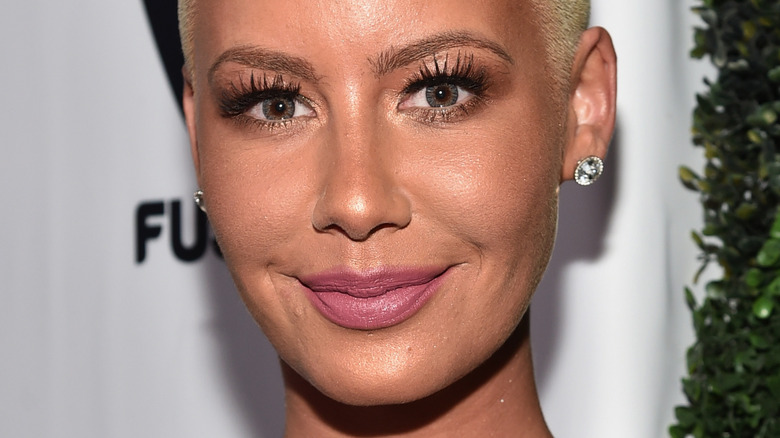 Alberto E. Rodriguez/Getty Images
Amber Rose has dated her fair share of famous men since finding her way in Hollywood. The model's most high-profile relationship was undoubtedly with Kanye West, who she dated from 2008 to 2010, but she was also married to Wiz Khalifa for a little over a year in 2013. Per Life & Style, she was linked to Nick Simmons — KISS singer Gene Simmons' son — before dating Machine Gun Kelly in 2015, followed by "Dancing With the Stars" pro Val Chmerkovskiy and rapper 21 Savage in 2017. 
One year after 21 Savage, she got into a relationship with music executive Alexander "AE" Edwards — and it seemed like she may have found her Mr. Right. However, on August 18, she shared a message that might suggest otherwise. "I'm tired of being mentally and emotionally abused by people that I love I've been suffering in silence for a long time and I can't take it anymore," she wrote via Instagram Stories (per Page Six). She went on to say that's why she's been so M.I.A lately, describing herself as "a shell of who I used to be." Rose continued, "But I refuse to let anyone damage me anymore. Family or not."
Sadly, it looks like she and Edwards have broken up. Scroll ahead to read Rose's statement, seemingly blasting him for crossing a line.
Amber Rose accused Alexander Edwards of cheating with multiple women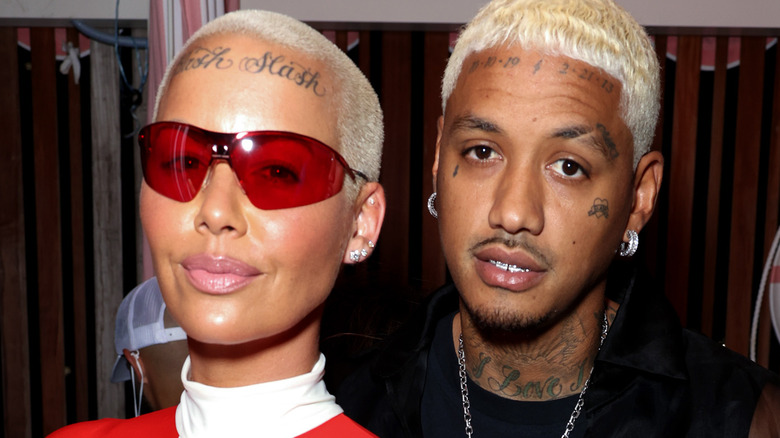 Alexander Tamargo/Getty Images
Amber Rose shared a scathing message seemingly accusing her partner, Alexandre Edwards, of cheating her on with at least 12 different people. "I'm tired of getting cheated on and being embarrassed behind the scenes," she wrote via her Instagram Stories August 18 (per Page Six). "All 12 of y'all bums (The ones that I know of there's probably more) can have him. Y'all very much knew he was in a relationship with a baby and y'all decided to f**k him anyway." The model added, "I saw all the texts and DM's. Y'all were well aware but y'all don't owe me any loyalty so it's whatever." All 12! Gosh.
Rose did not identify the individuals involved, explaining that she's "not in the business of ruining lives," but it seems like she knows exactly who they are. She also hinted that her relationship with Edwards is over. "I can't be the only one fighting for my family anymore. I've been so loyal and transparent but I haven't gotten the same energy in return," she wrote. "As for him ... The lack of loyalty and the disrespect is ridiculous and I'm done."
In the wake of Rose's cheating allegations, she has deleted most of her Instagram photos — all except one.
The potentially former couple share a son named Slash Electric
Amber Rose opened up about Alexander Edwards in early 2019 (per Complex), sharing via a now-deleted Instagram post that he "came into my life at a time where I've had enough of the narcissistic, cheating and abuse I've endured over the years from my previous relationships." She explained that though she was "damaged" and "pushed him away in the beginning" he continued to pursue her. She wrote, "He has talked me through everything while simultaneously loving me and working with me so I could overcome my fear of loving someone in the most healthiest way again. Thank you for all of ur love and support baby. I love you so much."
In the same heartfelt post, the model called the music executive her "best friend" and said he makes her a better person. A few months later, the couple announced they were expecting their first child — a baby boy — together. They welcomed Slash Electric in October (per E! News). Her son Sebastian with Wiz Khalifa, per People, can also be seen in the photo above. Hopefully, her next man won't hurt her in the way she's accusing.