The Real Reason Holly Madison Found The Playboy Lifestyle To Be Dangerous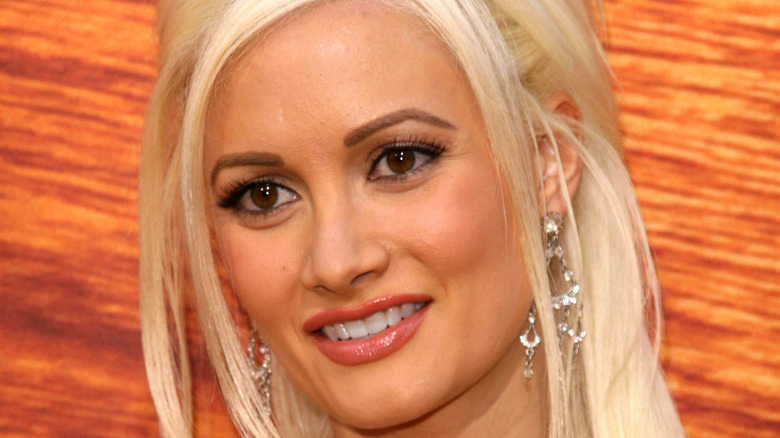 s_bukley/Shutterstock
Holly Madison was a member of Hugh Hefner's gaggle of bubbly blonde girlfriends back during the Playboy mansion's glory days. She, Bridget Marquardt, and Kendra Wilkinson helped glamourize Hefner's wild, hedonistic world, where gorgeous models rocked their birthday suits and partied with some of Hollywood's biggest celebrities.
The three women also made the Playboy mansion look almost homey on the E! reality series "The Girls Next Door." While Hef puttered around in his famous silk smoking jacket, they cooked, played with their pets, and kept themselves busy with renovation projects, like giving the mansion's outdated gym a makeover. Madison spent seven years living at the sprawling estate owned by the late magazine magnate, and she opened up about her awful experiences there for A&E's upcoming series "Secrets of Playboy," which is set to premiere in early 2022, E! News. The picture she painted in a promo for the show is nothing like the fun, idyllic atmosphere that fans saw on her old reality series. "I didn't realize that getting into the Playboy world was a dangerous choice," she stated. 
In 2020, Madison told People that her contented demeanor on "The Girls Next Door" belied how she really felt. "I was trying to sell this image of 'Oh everything is so great here,' but I was miserable inside," she revealed. So why was she so unhappy?
Holly Madison described Hugh Hefner's behavior as 'really gross'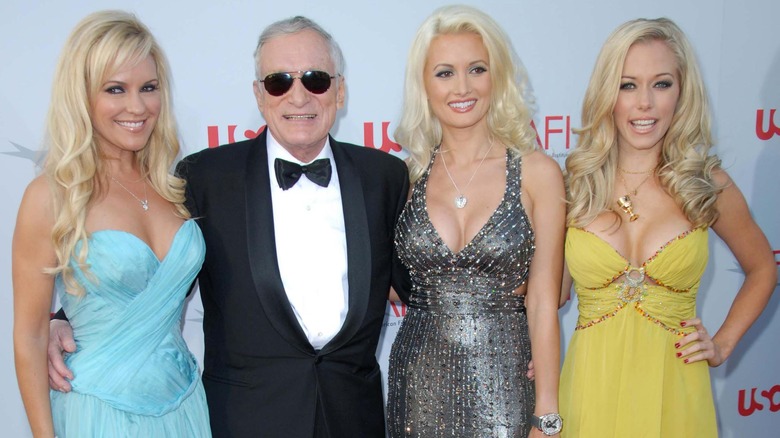 s_bukley/Shutterstock
Since her relationship with Hugh Hefner ended in 2008, Holly Madison has had plenty to say about their life together, and little of it is good. Some of her biggest revelations came in her 2015 memoir "Down the Rabbit Hole: Curious Adventures and Cautionary Tales of a Former Playboy Bunny." She was one of Hefner's girlfriends at a time when he was dating more than three women, and they were so competitive with one another that things would occasionally get physical. "I'd seen some girlfriends resort to throwing punches over things as trivial as someone cutting the bathroom line at a nightclub," she wrote, per People. In a Q&A video on her YouTube Channel, she accused Hefner of causing even more tension between them. "He would very much create double standards and different rules for the girls," she said. "It was designed so, I think, he could have a big ego and could feel fought over." She described the dynamic as "really gross."
Madison said that life at the mansion improved when "The Girls Next Door" started filming, but it still was far from ideal. Kendra Wilkinson and Bridget Marquardt eventually decided to move out and move on with their lives, and this is when she began to realize just how horribly Hefner was mistreating her. "During the end, I definitely recognized that he was verbally abusive, and that was what made me snap," she told BuzzFeed.
How Holly Madison and Hugh Hefner's relationship began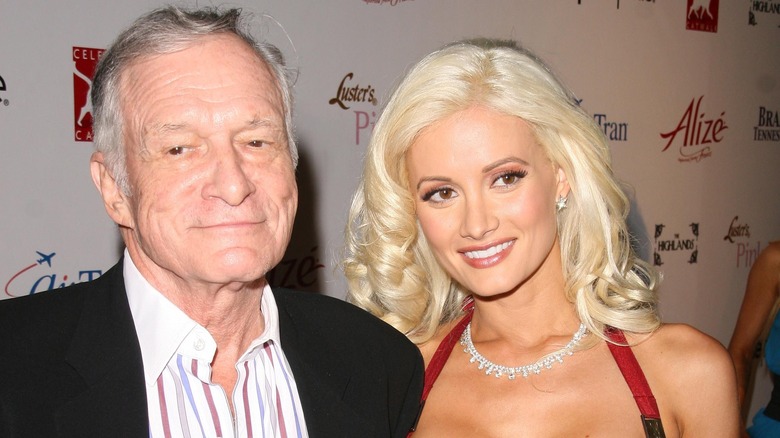 s_bukley/Shutterstock
During an April appearance on the "Call Her Daddy" podcast, Holly Madison opened up about her and Hugh Hefner's unconventional courtship. She revealed that she was first invited to the Playboy mansion by Hefner's physician, who took notice of her at an event she was attending in her capacity as a Hawaiian Tropic model. She went to a lingerie party at the mansion and got invited back for a series of smaller, more intimate soirées. Eventually, she asked Hefner if she could move into the mansion — but she had to have sex with him first. She doesn't look back fondly on that fateful night in 2001.
One of the first red flags came when Hefner offered Madison Quaaludes, which he called "thigh openers." The house rules were another sign that she was moving into a toxic environment. There was a 9:00 p.m. curfew, and participation in regular group sex was a requirement. Madison's situation got even worse when she grew depressed and was not allowed to see a therapist. "Drowning myself seemed like a logical way to escape the ridiculous life I was leading. I just couldn't take my misery anymore," she wrote in her book, per BuzzFeed. So why did she stay so long? "It's a very cult-like atmosphere anyway and you're manipulated to feel that way, but on top of it, my own kind of shame kept me there," she confessed. "I couldn't really imagine a life outside of there."