Here's What Erika Jayne Looks Like Without Makeup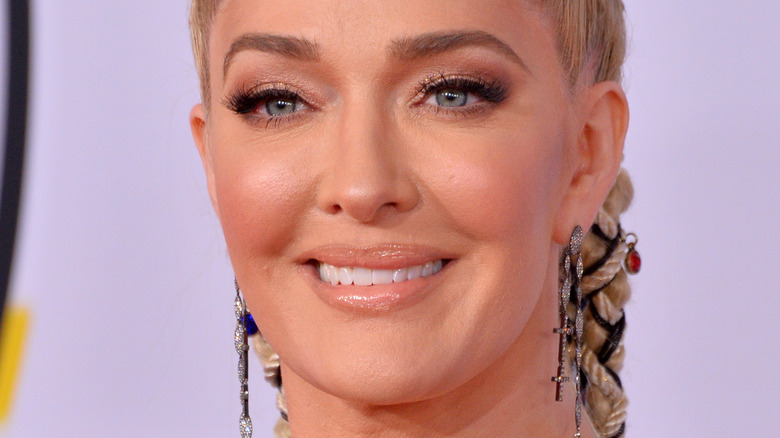 Shutterstock
"The Real Housewives of Beverly Hills" star Erika Jayne regularly makes it pretty clear that she feels very comfortable in her own skin. As both a reality television star and one of few pop stars at or over 50, for Erika, age is nothing but a number. She even told Interview Magazine back in 2018 that there has been a shift in the entertainment industry, especially when it comes to ageism. "There are no rules anymore. And if you believe that they are, then you'll be left out," she said.
That might be one of the reasons why Erika often likes to show off every side to her there is — the good, the bad, and the bare-faced. But then again, she does admit to spending a whopping $1,810 on her skincare routine to look as camera-ready as possible. Back in June, she told Glamour, "I'm a month away from turning 50, and to me, if your skin is in good condition, your hair is in good condition, your teeth are in good condition, it's more than aesthetics and grooming."
With that kind of confidence, Erika is one celebrity out there who doesn't mind showing the world how she looks the moment she wakes up in the morning — and yes the picture to prove it is quite surprising. Keep scrolling below!
Erika Jayne's beauty and skin care routine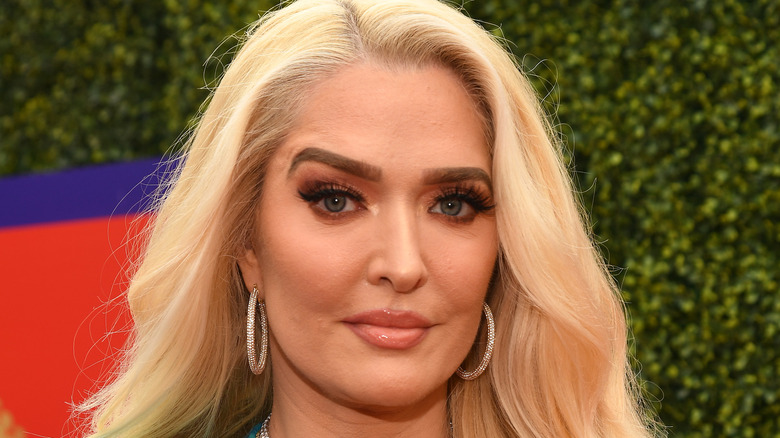 Kevin Mazur/2021 Mtv Movie And Tv Awards/Getty Images
Erika Jayne is someone who doesn't come cheap. The reality star has admitted in the past that she spends $40,000 a month on her clothes, shoes, and accessories, per People. She also told Glamour that she is fastidious when it comes to applying her sunscreen and making sure that her skin is in top shape all the time. "So many women think that skin care stops at their chin, and you've really got to take care of your neck and your whole décolleté because that shows age as well," she told the outlet.
That shouldn't come as a surprise seeing how she's got a camera in front of her face on most days. In the same interview, Erika also emphasized the importance of seeing a doctor for a yearly skin check. She told the site, "Make sure your dermatologist really checks all your moles and skin tags and things like that."
With that said, it's no wonder so many of her fans are shocked to see how her skin looks without any makeup on. Erika shared and embraced a photo of herself with not even a hint of mascara or foundation on, much to the surprise of her followers. 
Erika Jayne's no-makeup confidence
In 2019, Erika Jayne retweeted a photo from a fan that might have sounded like a diss, but for the reality star, it was a moment of pride. Sharing a photo of Erika with no makeup on (which you can see over on Twitter), the critic wrote, "The face you have to wear when Papa Tom cuts your allowance due to his lawsuits," in reference to her then-husband Tom Girardi and his legal trouble, with a no-makeup photo of Erika attached to boot. 
Yet, Erika didn't seem offended one bit as she fired back with, "Actually this is me after a facial with no makeup and no, I'm not ashamed to be 47." She then shared the response to her own Twitter.
This wasn't the first time that Erika was out and about without her glam squad. According to the Daily Mail, the "Real Housewives of Beverly Hills" star hit back at naysayers who criticized her looks when she was spotted at a gas station in Beverly Hills, Calif. with no makeup on and messy hair. She took to her Twitter account to defend herself with, "Goodnight Twitter, please bye in full glam when pumping gas. Apparently it's a big deal," along with a rolling eye emoji. Now that's a clap back we can get behind.