The Real Reason Soulja Boy Went To Jail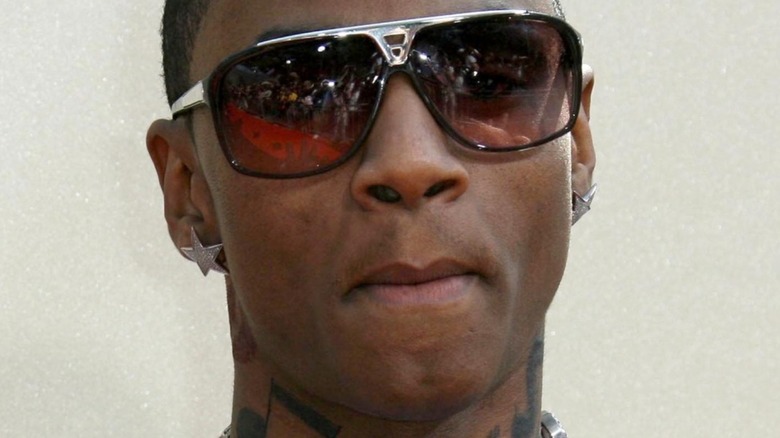 s_bukley/Shutterstock
Soulja Boy first burst onto the scene in 2007 with the smash hit single, "Crank That (Soulja Boy)." Arguably one of the first viral videos, the song — and accompanying dance — quickly put the then-16-year-old Soulja Boy on the map, creating a legacy lasting nearly a decade and a half running for the Chicago-born rapper. Alongside going viral, Soulja Boy (real name DeAndre Cortez Way) quickly made a name for himself with his brash attitude, timeless hits, and unapologetic behavior.
In line with his defiant antics and wild lifestyle, Soulja Boy has inevitably found himself in legal hot water on numerous occasions. In 2014, the rapper got arrested for alleged possession of a loaded gun, according to CNN, and just three years before, he got arrested for marijuana and firearm possession, TMZ reported. The rapper's most arrest in 2019, however, stemmed from a much different reason.
That ultimately begs the question — why was Soulja Boy arrested in 2019? Keep reading for the answer.
Soulja Boy allegedly violated his probation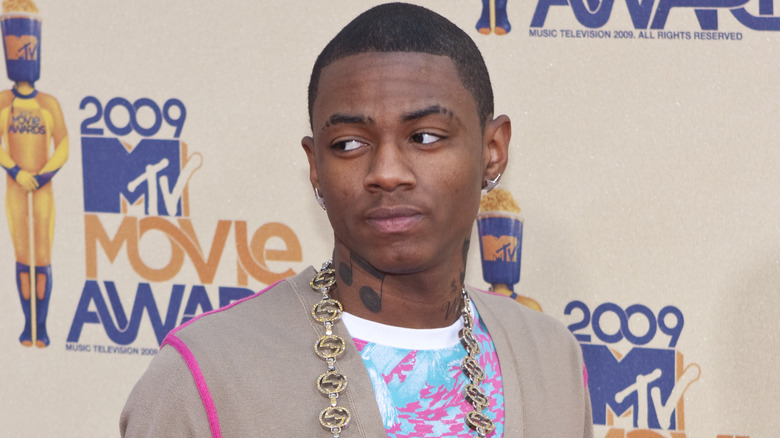 Dooley Productions/Shutterstock
In March 2019, Soulja Boy went to see his probation officer in a visit that would ultimately end with the rapper in handcuffs. Per TMZ, the rapper got arrested when police executed a search warrant on his home, allegedly finding ammunition in the process — a major violation of his probation. 
The rapper's probation stems from a 2014 arrest for firearm possession, where it was ruled that the rapper can no longer possess any form of guns or ammunition. He was ultimately sentenced to 240 days in jail (with 40 days credited) plus "265 days of community service," according to E! News. Fred Minassian, the rapper's attorney, expressed gratitude toward the judge, stating, "The judge initially indicated that he would be sentenced for two years. We're very grateful the judge sentenced him to 240 days." He entered prison in April 2019 and was released that July.
Though Soulja Boy avoided a lengthy sentence, one has to wonder — why exactly did police execute a search warrant on his home? Keep reading to find out.
Soulja Boy faced troubling claims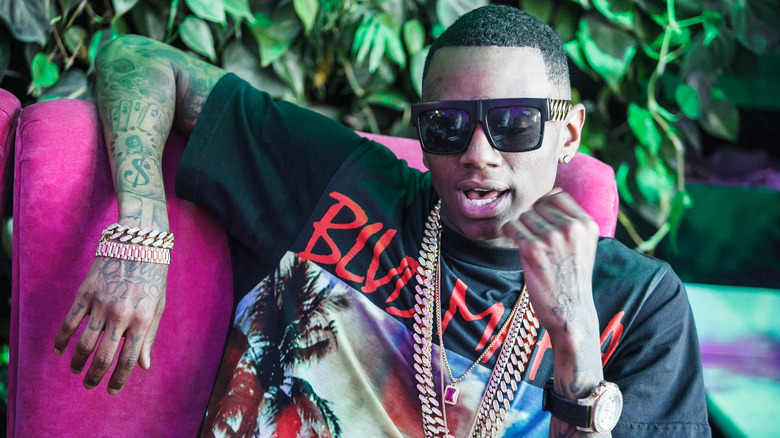 hurricanehank/Shutterstock
In addition to his arrests, Soulja Boy became embroiled in a bitter feud with Kayla Myers, an ex-lover of his, who claims she was the victim of false imprisonment alongside physical assault at the hands of the rap star in early 2019.
Sources claimed to TMZ that Soulja Boy allegedly "punched" and "kicked" Myers before being brought into his home and tied to a chair with an extension cord for six hours. In early 2020, more details were revealed about the alleged incident when Myers sued Soulja Boy for false imprisonment, battery, and assault. In her lawsuit, she claimed Soulja Boy kicked her and pointed a gun at her head, telling her she was going to die, before taking her inside and tying her up with duct tape. Myers alleged she was eventually let go by Soulja Boy's assistant — who only freed her after allegedly pressuring her to engage in sexual activity with him, which she claims she did. In March, Soulja Boy asked for the case to be dismissed, according to Radar Online.
As of this writing, the case has yet to be resolved.
If you or someone you know is dealing with domestic abuse, you can call the National Domestic Violence Hotline at 1−800−799−7233. You can also find more information, resources, and support at their website.
If you or anyone you know has been a victim of sexual assault, help is available. Visit the Rape, Abuse & Incest National Network website or contact RAINN's National Helpline at 1-800-656-HOPE (4673).