Here's What Marilyn Manson Really Looks Like Without Makeup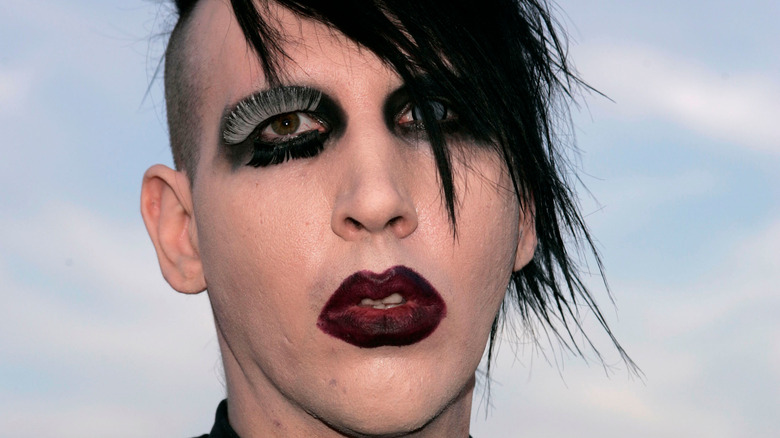 DFree/Shutterstock
Marilyn Manson, the ever-controversial shock rocker, made a name for himself in the 1990s with his oddly repulsive aesthetic, carefully constructed visuals, and his brash industrial metal sound. In addition to his on-stage persona, Manson is also known for troubling behavior in his personal life — including serious sexual assault allegations waged against him by former girlfriend Evan Rachel Wood, as well as other women. (Manson denies these allegations, though he later turned himself in for a lesser charge.)
But before fans knew about the abuse allegations, coming up in an era where bands like Nine Inch Nails were breaking through the mainstream, Manson's ascent to the top symbolized culture meeting chaos — creating a legion of fans who revered the artist despite his content's inherent morbidity.
With records like "Antichrist Superstar" and "Holy Wood (In the Shadow of the Valley of Death)," Manson cultivated a terrifying blend of horror-influenced visuals and freaky sonics. Known for always donning a face full of makeup and unconventional outfits, Manson's early career was defined by the artist never really breaking character. In fact, the artist was always spotted in his Manson getup for most of his early career to the point where nobody really knew what he looked like beneath the facade.
Peeling back the curtain
For years on end, fans have wanted to see what Marilyn Manson — real name Brian Hugh Warner — looked underneath the makeup. The music videos for iconic tracks such as "Tourniquet" and "The Beautiful People" always saw the rockstar sporting his stylistically androgynous attire, but as his career unfolded, so did his will to uphold the aesthetic of his early career.
But later, Manson was spotted without makeup several times. For instance, he went sans makeup in the indie comedy "Wrong Cops," a screenshot of which is pictured above. And in a 2016 interview with Nylon, Manson revealed that he began taking a step back with his makeup, opting for a "less is more" approach. "Lately I've mostly been wearing, I don't know if I'd call it a more masculine version of makeup, but it's less," Manson revealed at the time. The artist also discussed not wearing lipstick at times because "it looks like I got beat up in a Russian prison or something" and rocking eyeliner "because I shave my eyebrows and it brings out the strange shape of my head."
Interestingly enough, Manson noted that "People don't recognize me if I'm not wearing makeup or if I grow a goatee or something," allowing him to be more "chameleon-like" in public.
Marilyn Manson's mom would dress him up in wigs and lipstick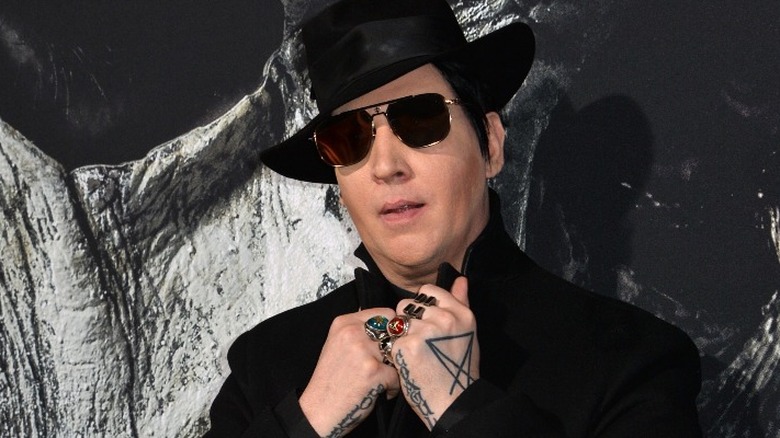 Featureflash Photo Agency/Shutterstock
In 2015, Manson spoke with Fader and revealed how he stumbled upon his oddball aesthetic from a young age. "My mom used to put her wigs and lipstick on me when I was little," Manson recalled. The singer also jarringly revealed that he has "one weird picture of me as a toddler with an unlit cigarette in my mouth, wearing her blond wig and a diaper, sitting on the couch."
In the interview, Manson cited KISS, David Bowie, and Alice Cooper as inspirations for his glam-rock getup and mentioned that "my fascination with makeup comes from me having a great imagination and not being able to contain it just to a piece of paper or a piece of music" — explaining the striking visual elements that always encapsulate Manson's music releases. He also noted that androgyny was never the goal and that he "​​wasn't trying to look like a girl," but he always attempted to "look worse." This goal was achieved through the shaving of his eyebrows and putting "lipstick on my teeth because it was always something that people didn't like to have."
Now, as Manson is making headlines and losing fans for the sexual abuse allegations against him, it looks like he can't be as "chameleon-like" as he once claimed to be without makeup.
If you or anyone you know has been a victim of sexual assault, help is available. Visit the Rape, Abuse & Incest National Network website or contact RAINN's National Helpline at 1-800-656-HOPE (4673).