The Real Reason Marilyn Manson Turned Himself In To The Authorities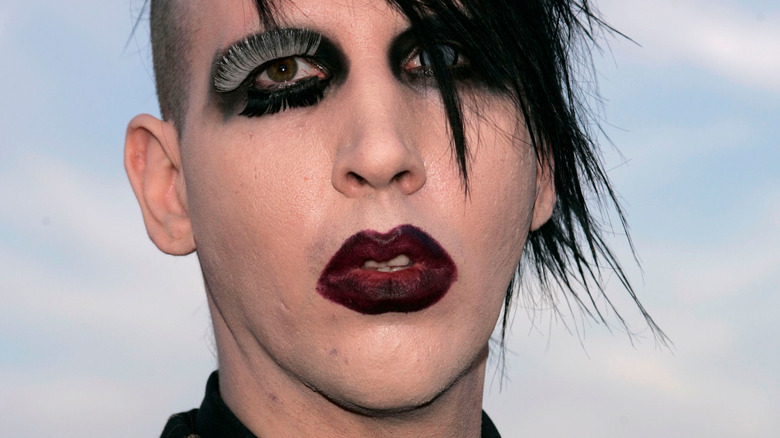 Shutterstock
Marilyn Manson is known for pushing the envelope. And while the rocker has been at the center of plenty of headlines throughout his life, many of them have been pretty negative in recent years, including some incredibly serious allegations against him. In February, actor Evan Rachel Wood took to Instagram to drop a bombshell allegation against the singer. "I was brainwashed and manipulated into submission. I am done living in fear of retaliation, slander, or blackmail," she wrote about her relationship with Manson. "I am here to expose this dangerous man and call out the many industries that have enabled him, before he ruins any more lives. I stand with the many victims who will no longer be silent." The post received a lot of attention from fans, who flooded in with support. 
Manson took to his own Instagram account to deny the claims against him, stating that he has done nothing wrong in any of them. "My intimate relationships have always been entirely consensual with like-minded partners. Regardless of how – and why – others are now choosing to misinterpret the past, that is the truth." Since Wood came forward, several other women also have followed in her footsteps (via Pitchfork). Another one of Manson's girlfriends alleged that the rocker "raped and threatened to kill her," per the outlet, in a chilling report. This is some serious stuff. 
Keep scrolling to find out what other type of legal trouble Manson got himself into.
Marilyn Manson turned himself in on smaller yet still disturbing charges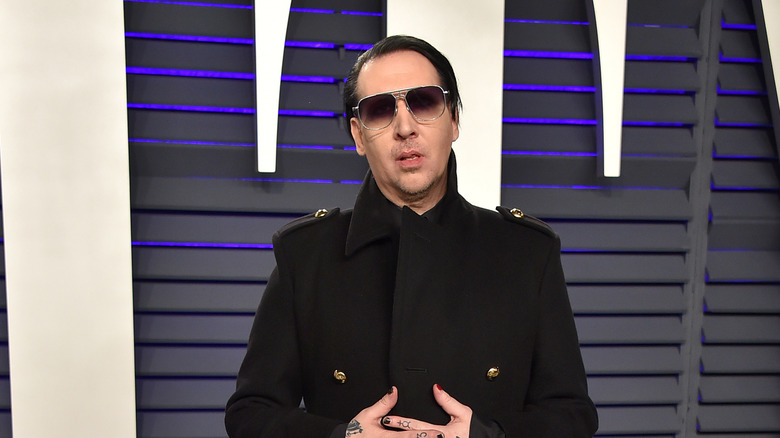 Shutterstock
Marilyn Manson has turned himself in on smaller charges dating back to an event in 2019. According to People, New Hampshire police charged the singer with "two Class A misdemeanor simple assault charges" after a disgusting incident with a camerawoman at one of his concerts. "He was spitting everywhere, and one time it got on her camera so she wiped it off and looked semi-irritated," a source shared to People. "I think her final straw is he got on the floor, got within 2-3 feet of her and hacked a giant snot rocket at her, not the camera. She was pissed off and disgusted so she stormed off, and he just laughed." Um, how awful?
Though the Gilford Police filed the charges in New Hampshire, Manson went to the police station in Hollywood, Calif. after striking a plea deal with the Gilford Police, per People. They released him on the same day without bail. The Gilford police were happy that Manson turned himself in, but Manson's attorney, Howard King, still denies that claims against his client, even calling them "ludicrous." He shared that Manson does like to be "provocative on stage," but disagrees with the claims."This misdemeanor claim was pursued after we received a demand from a venue videographer for more than $35,000 after a small amount of spit came into contact with their arm. After we asked for evidence of any alleged damages, we never received a reply."
If you or anyone you know has been a victim of sexual assault, help is available. Visit the Rape, Abuse & Incest National Network website or contact RAINN's National Helpline at 1-800-656-HOPE (4673).