How Did Britney Spears And Sam Asghari Really Meet?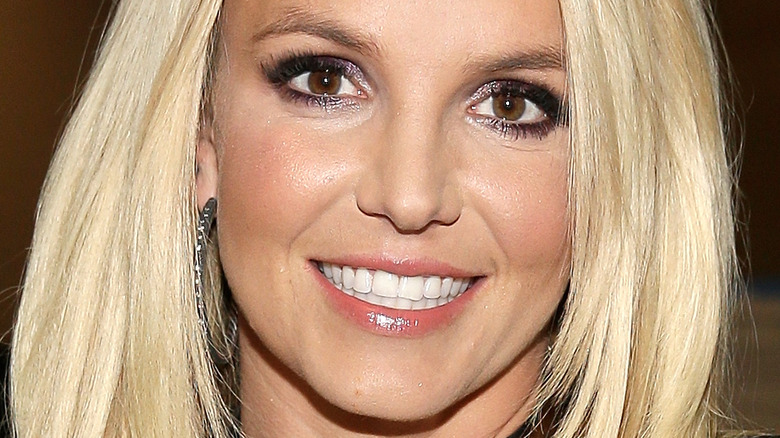 Isaac Brekken/Getty Images
Britney Spears and Sam Asghari have been dating since 2016. Although they aren't engaged, the two appear to be very much in love, and seem to really enjoy spending time together. Over the past few years, Spears and Asghari have traveled the world together, whether it be taking a vacation in Maui, Hawaii, which just happens to be their favorite vacation destination, or exploring Japan when Asghari visited Spears during the Asian leg of her international tour in 2017, according to People magazine, these two know how to have fun.
In 2020, Spears and Asghari were forced to alter their day-to-day lives during the quarantine portion of the coronavirus pandemic. They would, however, go on hikes and spend time outdoors, socially distanced from others, as evidenced by their respective Instagram posts. Flash forward to 2021, and Spears has been fighting for freedom from her conservatorship, making two virtual court appearances, and speaking out about what she's been going through over the past several years of her life. Asghari is said to be a huge support system for Spears, according to Page Six. "He helps boost her confidence and assures her that everything will go well," a source told the outlet back in June.
So, how did Spears really meet this guy that supports her and makes her so happy? Keep reading to find out.
Britney Spears hired Sam Asghari for a music video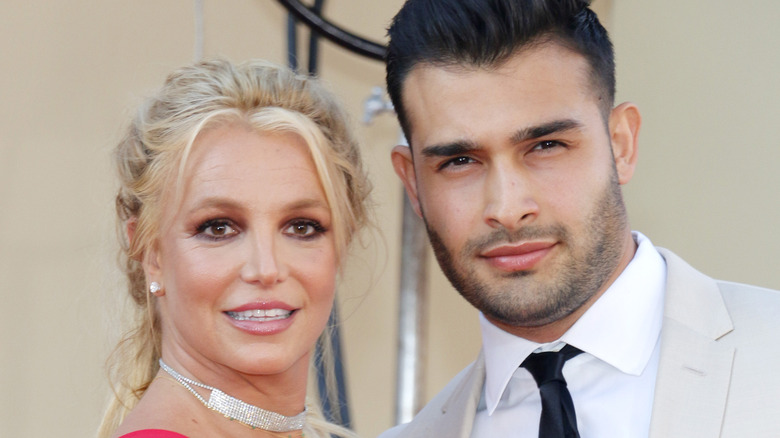 Tinseltown/Shutterstock
As fate would have it, Sam Asghari was looking for work in 2016, and he ended up scoring the role of the sexy stud in Britney Spears' music video for "Slumber Party," getting to meet one of the biggest pop stars in the world. Asghari told Entertainment Tonight that Spears hand picked him for the role based solely on his photos. "It was a direct book. A good friend of mine was working on the music video at the time. They told the casting director to cast this guy and then they sent my pictures to [Britney] and she picked it. 'I want this guy' — and so that's how it was," Asghari told the outlet. Little did he know that he would end up falling in love! 
Asghari and Spears would flirt a bit on set, with Asghari cracking jokes — as he told Men's Health in 2018 — and Spears eventually asked him out for sushi, and everything just fell into place. The couple made things Instagram official on New Year's Eve that same year, according to Us Weekly. From that point forward, they have made several appearances together, including awards shows, exclusive parties, movie premieres, and more. Asghari has attended several of Spears' shows in Las Vegas, and, although Spears is no longer performing due to an indefinite work hiatus, it's clear that Asghari is her number one fan.
Britney Spears and Sam Asghari want a family together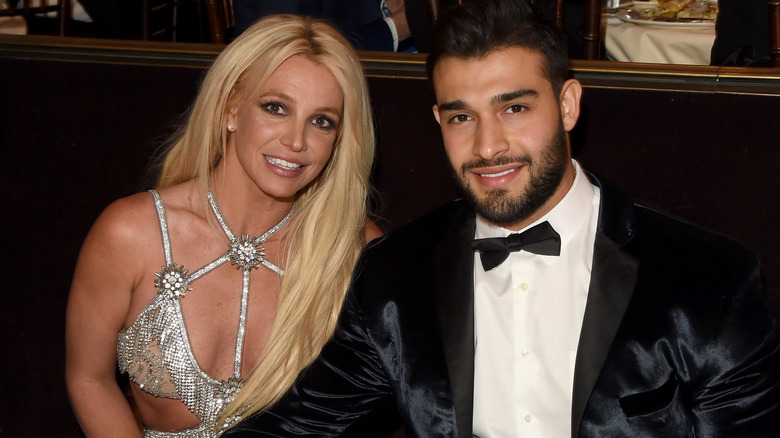 J. Merritt/Getty Images
Things with Britney Spears' conservatorship have been complicated, and that has affected her personal life over the years. During a virtual court appearance on June 23, Spears told Los Angeles Supreme Court Judge Brenda Penny that she wanted to get married and have a baby — but that she wasn't allowed to. "I was told right now on the conservatorship. I'm not able to get married or have a baby I have an [IUD] inside of myself right now so I don't get pregnant. I wanted to take the [IUD] out so I could start trying to have another baby," Spears said, according to court transcripts provided by CNN.
Spears' boyfriend appears to be on the same page. "I want to take my career to the next step when it comes to acting. I want to take my relationship to the next step, as well. I don't mind becoming a father. I want to be a young dad," Sam Asghari told Forbes back in March. Fans hope that Spears and Asghari are able to get married and have children if that's what they want to do together. For the time being, however, Spears' conservatorship battle is a top priority; her case is set to resume in court in September, according to Vulture.