The Truth About Jimmy Kimmel's Feud With Matt Damon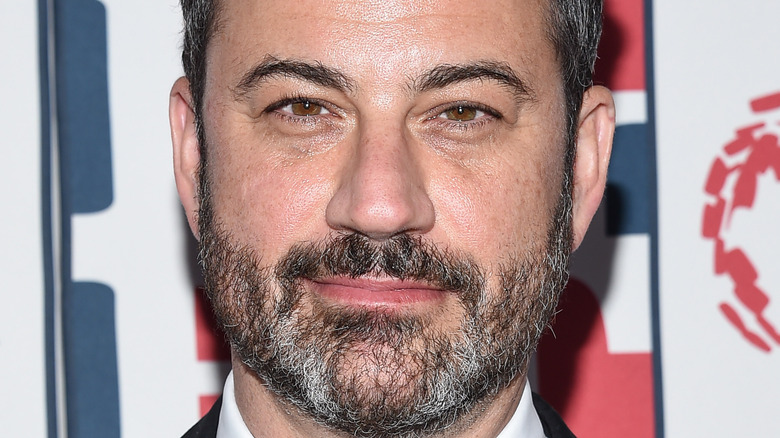 D Free/Shutterstock
If you're a fan of "Jimmy Kimmel Live!", then you've probably heard the phrase, "Apologies to Matt Damon, we ran out of time," more often than not. The line that usually closes out Jimmy Kimmel's late-night program has been a long-running joke for the host and the program since its inception in 2003 — which Kimmel claims to have been an improvised joke in the moment following a bad episode of his titular talk show.
And while the joke always manages to get a laugh out of the audience, many fans still have questions about the long-standing feud between the late-night talk show host and Damon nearly two decades later. Is it real? What exactly is the gripe between the two stars? Do these two actually hate each other?
Well, lucky for you, we have the scoop! Keep reading to find out more about the long-lasting feud between Jimmy Kimmel and Matt Damon.
The feud came 'out of thin air'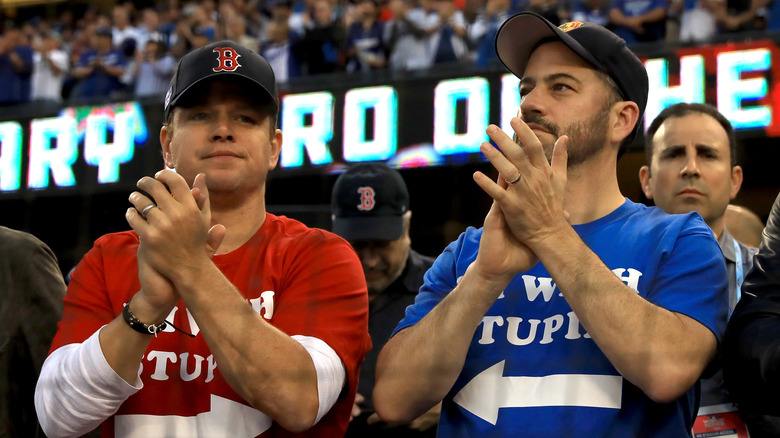 Sean M. Haffey/Getty Images
In a July interview with SiriusXM, Matt Damon opened up about the decades-long feud between him and Jimmy Kimmel and revealed in the process that it seemingly came out of nowhere. "Nobody was watching his show, that was the thing," Damon quipped, before revealing he was bombarded with calls from friends asking about his connection to Kimmel. Damon pointed out that at that point he "had never met Jimmy" and Kimmel "pulled his name out of thin air" on that fateful night in 2003.
Damon recalled the story of how the entire night transpired. "The way [Kimmel] told me the story ... he said, 'I had a ventriloquist and a guy in a gorilla suit as my guests,'" and "as a throwaway, 'My apologies to Matt Damon, we've ran out of time'" was born. The "Bourne Identity" star lamented that he could've used Brad Pitt's name instead and wondered if "maybe I had a movie out that week" as the reason Kimmel name-dropped him. "It changed the course of both of our lives. We've kept this feud going for, you know, it's gotta be 15 years now. We've had a lot of fun doing it," he added.
While Damon views the feud lightheartedly, many also wonder what Kimmel's take on the feud is. We have the answer below!
Why Jimmy Kimmel first joked about Matt Damon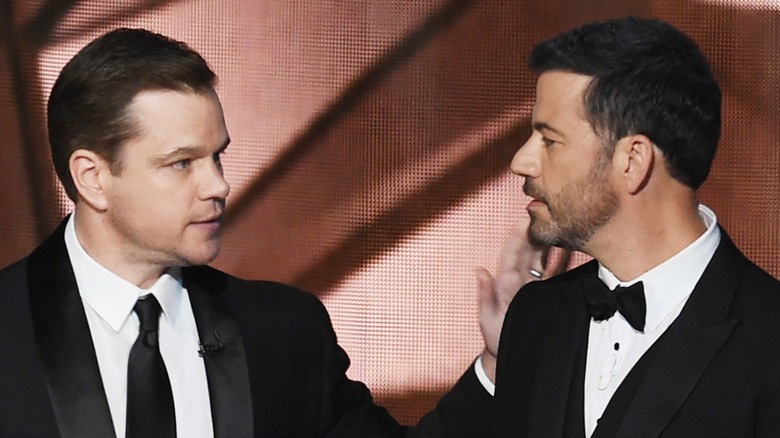 Kevin Winter/Getty Images
In a 2013 NPR interview, Jimmy Kimmel opened up further about the feud's roots. "We had a bad show ... The guests were bad, and I was feeling pretty bad about myself at the end of the program," he revealed. "For the amusement of one of our producers who was standing next to me," Kimmel recited the line and "[the producer] got a kick out of it ... so I just started doing it every night to amuse him." Kimmel was trying to think of an "A-list star" who they "would not bump" off the show and Matt Damon was the first that came to mind — indicating he thought highly of the actor at that moment.
The duo took it to a new level in 2015 when they lampooned the satirical feud into a "Jimmy Kimmel Live!" skit that saw the two go to couples therapy. In the skit, Damon and Kimmel sit down with a therapist while the actor laments about Kimmel's mistreatment for refusing to put him on the show every night, referencing the infamous joke.
"He promised me over a decade ago I was going to be able to be a guest on the show," Damon reflected, before noting, "Jimmy would say he's been nice enough to give me a room where I come and I wait every night." When asked if he ever considered not showing up, Damon deadpanned that he is scheduled to show up every night.