The Truth About Michael Weatherly's Feud With James Corden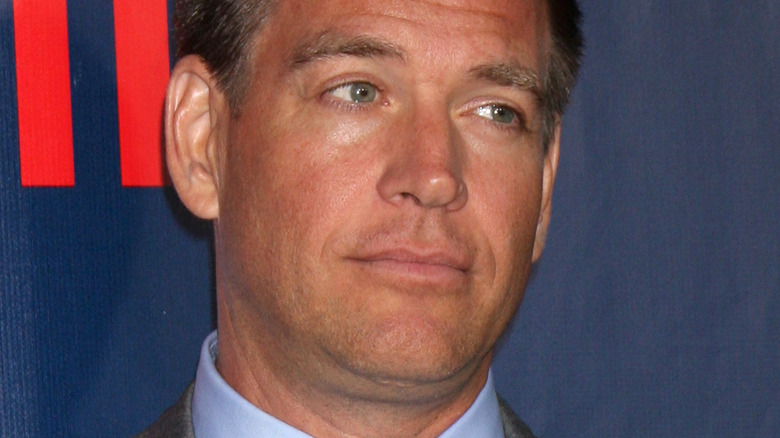 Kathy Hutchins/Shutterstock
Being an actor can mean portraying a character who's much different than you are in real life, and such is the case for Michael Weatherly. On television, the Hollywood star played the part of Special Agent Tony Dinozzo on "NCIS," working alongside a team of elite agents as they investigated crimes "ranging from murder and espionage to terrorism," per USA Network. Since his departure from "NCIS" in 2016, he's played the lead role on "Bull" as Dr. Jason Bull, the "charming and cocky founder of successful trial consulting firm Trial Analysis Corporation," Rotten Tomatoes states.
Unlike his more serious on-screen personas, Weatherly once earned the title of "jokester" on the set of "NCIS," as he's pulled pranks in real life. The actor's former co-star, Lauren Holly, once recalled the hilarious joke they played on colleague Mark Harmon for his birthday by ordering 150 shirts that read, "It's Mark Harmon's Birthday!" and passed them out to the cast and crew. 
While once chatting with Herald Extra (via Outsider), Holly said Weatherly was in charge of filling Harmon's trailer with streamers, balloons, and piñatas, and according to Holly, Weatherly put so much crepe paper that it was "three inches deep everywhere." Fortunately, Harmon "just loved" the gesture. In the past, Weatherly also been involved in some mischief with James Corden, specifically the time the two were in a public feud in 2016. Keep scrolling for the entire scoop on Weatherly's quarrel with Corden.
Michael Weatherly and James Corden started a funny prank war over billboards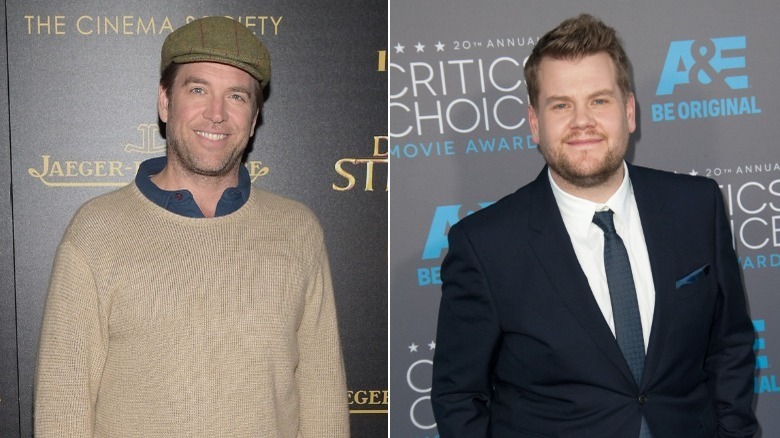 J. Kempin/Getty Images, Shutterstock
Michael Weatherly has stopped by James Corden's "The Late Late Show" on a few occasions throughout the years, but in 2016, the "Dark Angel" alum ticked off the TV host when he (jokingly) started a feud between the two. Having hosted his late-night talk show since it premiered in March 2015, Corden's face has appeared on both television and a billboard on the side of the studio building at CBS Television City in Los Angeles. However, that all changed when Weatherly was gearing up to debut his crime series "Bull."
At the time "Bull" premiered in September 2016, CBS reported the network "decided to go a different direction," and Corden's billboard was replaced with one featuring Weatherly. Because the TV star "just couldn't stand Michael's face smirking down at him every day," Corden "[took] matters into his own hands" and got back at Weatherly. "He and one of his writers, Nate Fernald, rappelled down the building to spray graffiti all over the 'Bull' billboard," per CBS.
Weatherly wasted no time retaliating against Corden, however, as he got his revenge on the U.K. native when he paid a visit to "The Late Late Show" shortly after. The actor, joined by his daughter, Olivia, vandalized one of the posters in the hallway by drawing glasses, wrinkles, and funny facial hair on Corden. The official Twitter account of "Bull" shared a GIF of the father-daughter pair at work with their sharpies. 
Michael Weatherly wasn't the only one to steal James Corden's billboard spot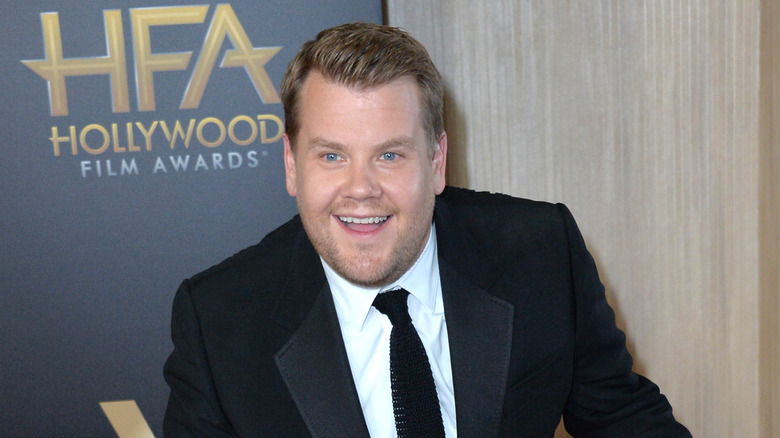 Featureflash Photo Agency/Shutterstock
Following Michael Weatherly's move in his comical-feud-slash-prank war with James Corden, the "Carpool Karaoke" star laid low and didn't strike back at the "NCIS" alum. However, Weatherly's "Bull" billboard saga wouldn't be the last time Corden would be fighting over his spot on the side of the CBS studio building. Just a year after Weatherly snagged the "Cats" actor's ad space, his billboard for "The Late Late Show" was replaced once again when CBS premiered "SEAL Team" in September 2017.
After discovering his show was no longer boasting on the building, and instead featured "SEAL Team" star David Boreanaz, Corden — joined by his reliable "wingman," Nate Fernald — retaliated once again by taking down the poster. At the time, Corden reflected on having his billboard replaced by Weatherly, saying he wouldn't let history repeat itself. "Fool me once, shame on you. Fool me twice ... ," the Golden Globe nominee quipped, per The Hollywood Reporter, before adding, "shame on you again."
Corden's hilarious "underground operation" to ruin the banner was a success, as he and Fernald spray-painted "The Late Show with James Corden" across the billboard, along with a mustache and glasses on Boreanaz's face. "Let's get back to the studio before the police show up. Screw you, 'SEAL Team,'" Corden joked as they completed their mission, per THR. It looks like Weatherly, Boreanaz, and everyone else at CBS learned not to mess with Corden's billboards!