What JonBenet Ramsey's Dad Has Been Up To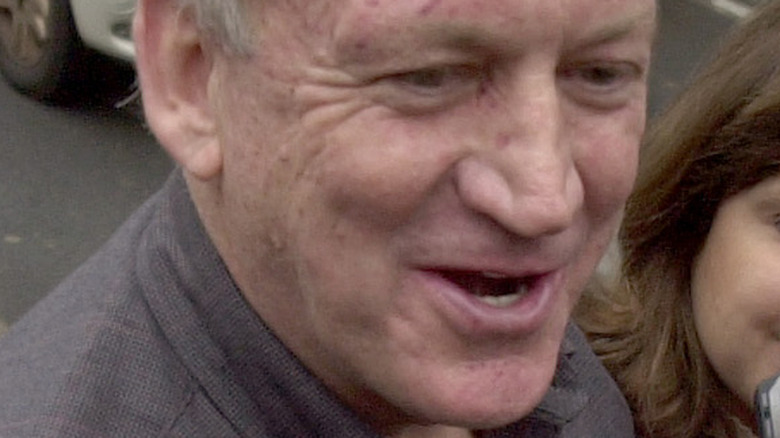 Erik S. Lesser/Getty Images
Even people born long after it happened know about the gruesome murder of JonBenét Ramsey, arguably the most famous American cold case. Crime Museum sums it up: The morning after Christmas Day 1996, John and Patsy Ramsey woke up to find that their 6-year-old daughter JonBenét was nowhere to be found. Instead, they found a long ransom note demanding $118,000 if they wanted to see their daughter again.
Hours later, John and a family friend found JonBenét's body in the basement. Immediately, John and Patsy became the primary persons of interest, though authorities never named them as suspects. It wasn't until 2008 that the Ramsey family was officially exonerated based on DNA evidence.
Despite the exoneration, some suspicion around the Ramseys still lingers. Patsy was the subject of a Lifetime documentary called "JonBenét's Mother: Victim or Killer" in 2016, per ABC News. That same year, CBS aired a documentary miniseries called "The Case Of: JonBenét Ramsey," which theorized that JonBenet's brother Burke killed her by accident and their parents covered it up. Former FBI agent Jim Clemente, who was involved in the case and appeared in the miniseries, called the Ramseys' exoneration "absurd," telling Cosmopolitan in 2016, "I have never, ever ... seen a case in which a DA has issued a letter exonerating somebody, period."
Patsy died of ovarian cancer in 2006, but John continues to go about his life. So, what has he been up to?
John Ramsey continues to advocate for justice for his daughter
John and Patsy Ramsey eventually moved from Colorado to Charlevoix, Michigan, where John ran for a seat in the statehouse in 2004, per NBC News. According to Michigan's Department of State, Ramsey narrowly lost his election bid, with Kevin Elsenheimer edging him out by just three percentage points.
In 2011, the National Enquirer reported that John had married a fashion designer named Jan Rousseaux. The two had met two years prior at the wedding of a mutual friend but didn't develop a relationship until a year later. The next year, the couple wed in a private ceremony in Charlevoix.
In early 2021, John appeared in another documentary about his daughter's death, "JonBenét Ramsey: What Really Happened?" and gave interviews around the time of its release. He told USA Today that he couldn't watch the whole documentary because it was simply too painful. "It's just hard to revisit that for me, quite frankly," he said. He also talked about how his family suffered due to their presumption of guilt on behalf of the police. "What the police did to our family is a massive miscarriage of justice, and it needs to be documented, it's history, it's the unfortunate truth," he said. "It shouldn't happen again. It shouldn't happen to another family." John said he hopes the new film will "keep the case alive" and eventually lead to justice.