Why Did A British TV Presenter Just Slam Meghan And Harry?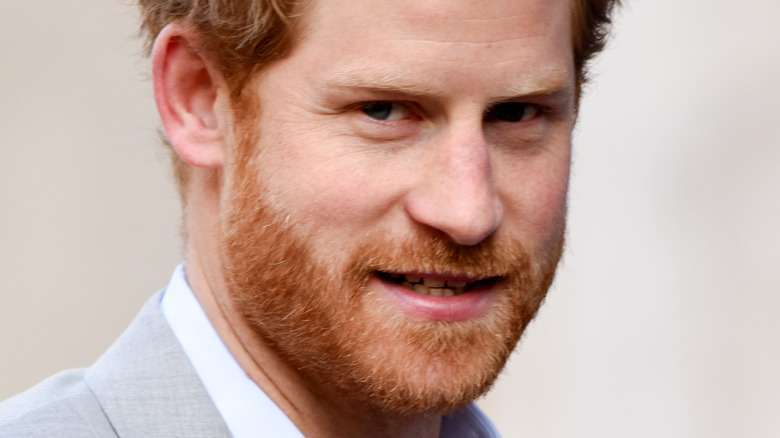 Bart Lenoir/Shutterstock
In January 2020, Meghan Markle and Prince Harry surprised many when they announced that they would be stepping away from their roles with the royal family. "We intend to step back as 'senior' members of the Royal Family, and work to become financially independent, while continuing to fully support Her Majesty The Queen," they wrote on their website. "It is with your encouragement, particularly over the last few years, that we feel prepared to make this adjustment." The pair also shared that they would be splitting their time between the United Kingdom and the United States, though it certainly seems as though they have been spending most of their time at their California home.
In March, they sat down for a tell-all interview with Oprah Winfrey, where they did not hold much back, stating that one of their main reasons for wanting to leave royal life was for their son, Archie. "We're not saying don't make him a prince or princess, whatever it's going to be," Meghan said, via PennLive. "But if you're saying the title is going to affect their protection, we haven't created this monster machine around us in terms of clickbait and tabloid fodder. You've allowed that to happen, which means our son needs to be safe."
Despite wanting to take a break from the public eye, the pair has since created the Archwell Foundation, named after their son, which also serves as a production company. While there's no doubt that we will still be seeing a lot of the duo, not everyone is happy about it. Keep reading for the deets.
Mercy Muroki is sick of Prince Harry and Meghan Markle
There are a lot of people who are fascinated with every single move that Meghan Markle and Prince Harry make, and we're not going to lie... we're definitely one of them. However, that doesn't mean that everyone else necessarily shares the same sentiments. Mercy Muroki, an outspoken British television presenter, held nothing back when speaking about the famous couple on GBNews.
"Quite frankly, I'm wholeheartedly, unreservedly uninterested in what they have to say about anything," she began a rant, adding that she simply cannot "summon da**s to give." Muroki shared that she thinks the couple is inescapable, and she's forced to listen to their views on everything, which she obviously is not pleased about. "Meghan and Harry say THEY want some privacy and space, but I'm starting to feel that it's us who need some privacy and space from them," Muroki continued. "You turn on your TV, and there they are, doing their interviews in front of millions of people, so you flip to Netflix, and there they are again, with their multi-year, multi-million dollar deal." Ouch, we told you she holds nothing back. 
Muroki also suggested a few other activities that she would prefer doing over watching Meghan and Harry, but said she would inevitably see them again. "But alas, as you reach for a book on the shelves, there they are again with their kids books, and of course, their impending tell-all memoirs."