Why Carrie Underwood Blocked This Celebrity On Twitter
Everett Collection/Shutterstock
Carrie Underwood raised a few eyebrows in August when she liked a controversial tweet about children wearing masks amid the coronavirus pandemic. Fans noticed that the star — who has previously gone out of her way to remain apolitical — liked a video tweeted by Matt Walsh, a controversial conservator commentator.
The post featured a more than two-minute long speech Walsh gave to the Nashville School Board in which he spoke out about what he described as "the cruel and indefensible mask mandate for children." Understandably, the seeming endorsement from Underwood — who is a mom of two and lives around the Nashville area – didn't sit to well with everyone and created a social media firestorm (per Independent).
Underwood hasn't explicitly spoken out regarding her stance on masks and the coronavirus vaccine, though, notably, she has been spotted in multiple posts on her Instagram account wearing a face covering. That didn't stop several Twitter users from sharing their own opinions on her activity though, including a "Parks & Recreation" and "American Horror Story" star...
Billy Eichner thinks it's 'iconic' Carrie Underwood blocked him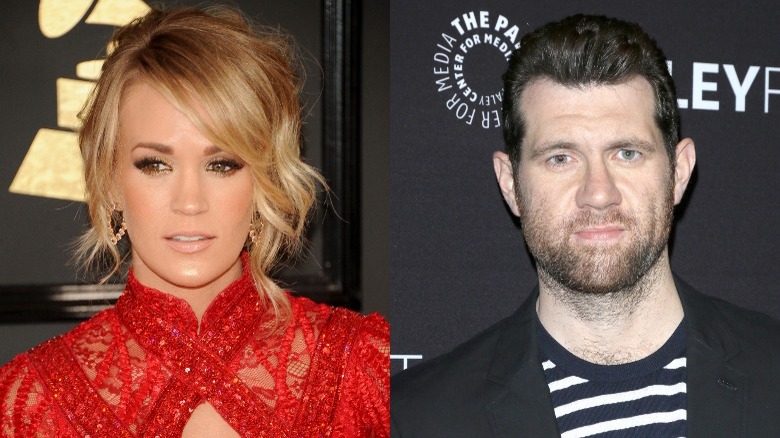 Kathy Hutchins & Tinseltown/Shutterstock
It turns out that when "Billy on the Street" host Billy Eichner headed over to Carrie Underwood's Twitter page to see her liked tweets for himself, he couldn't. Eicher tweeted amid the mask hoopla that he'd been blocked by the country superstar, sharing a screenshot of her page with the words "@carrieunderwood blocked you[.] You are blocked from following @carrieunderwood and viewing @carrieunderwood's Tweets" written across it.
Eichner captioned the post in all caps, writing "ICONIC," before sharing in a second tweet that it didn't actually appear to be a result of the mask mandate controversy. "And for the record, I didn't even tweet about her anti-mask views yesterday. She had ALREADY blocked me!" Eichner wrote on August 18. "I'm now taking a little Twitter break because honestly this is one of the proudest moments of my career and it will be hard to top. Love you all. [red heart emoji]."
As for why? Well, Underwood hasn't explicitly spoken out about her decision to restrict the actor from seeing her tweets, but a quick Twitter search likely reveals all we need to know. Eichner hasn't exactly been Underwood's biggest supporter over the years and has tweeted about the star multiples times, usually not in the most positive of ways.
Carrie Underwood blocked Billy Eichner after years of tweets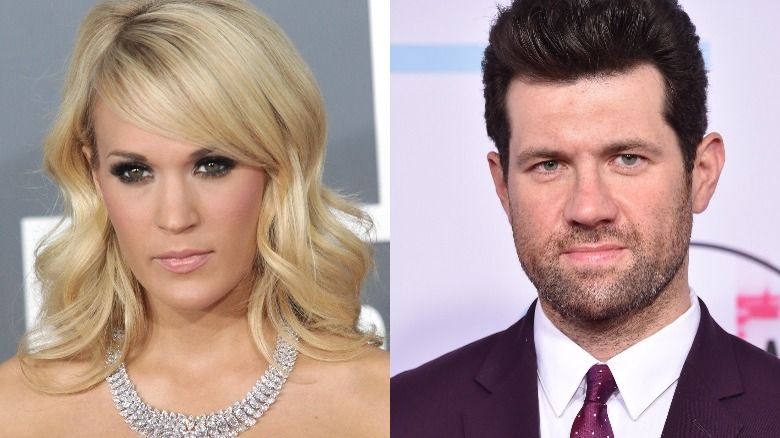 DFree & DFree/Shutterstock
In November 2012, it was announced that Carrie Underwood would take on the role of Maria Von Trapp for NBC's "The Sound of Music Live!" – and Billy Eichner clearly wasn't thrilled. He vented his frustration on Twitter, writing, "How should I kill myself?" Eichner then followed up by asking his followers, "Time for ur Friday #BillyontheSt question! Tweet me ur answer!! Which is worse, Carrie Underwood remaking The Sound of Music or dying alone?"
In September 2013, Underwood performed the Beatles' "Yesterday" during the Primetime Emmy Awards to commemorate 50 years since the band first appeared on U.S. television. Per Los Angeles Times, the moment was the most tweeted about of the night, and, of course, Eichner threw in his two cents. "The Carrie Underwood number was beautiful and made sense. Next up, Mumford & Sons will sing a tribute to the cast of What's Happening," he sarcastically wrote, after previously tweeting, "Very excited to see Carrie Underwood's tribute to HEE HAW."
The actor took another swipe at the country star in December 2013, sarcastically tweeting, "Carrie Underwood should play all the great roles," before writing in March 2015 after Underwood gave birth to her first child, "Cant believe Carrie Underwood just gave birth and named her baby boy 'Billy Eichner.'"
While this is a feud we can't say we expected, tweaking a line from Underwood's biggest hit, maybe this one's a lesson for everyone to think before they tweet.