Does O.J. Simpson Know The Menendez Brothers?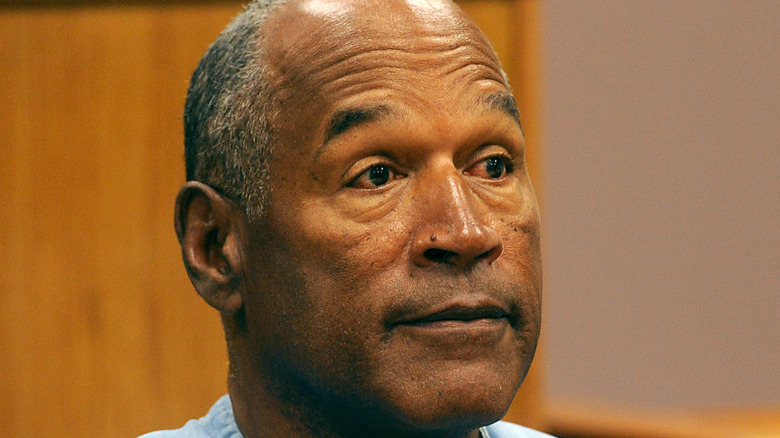 Pool/Getty Images
The following article contains allegations of domestic violence and child abuse.
Former football icon O.J. Simpson spent time with many celebrities over the years, both during his NFL days and as he lived the celebrity life afterward. Given the legal issues he's faced, he connected with some rather controversial figures as well. 
Simpson was arrested after the June 1994 deaths of his ex-wife, Nicole Brown Simpson, and her friend, Ron Goldman. Simpson quickly became a suspect in the murders and infamously led police on a slow-speed chase along freeways in Southern California while riding in a white Bronco, ABC News detailed. He eventually surrendered and faced a lengthy trial. Per the outlet, in October 1995, Simpson was acquitted on all the criminal charges he had faced connected to the deaths of Brown and Goldman.
A few years earlier, the wealthy Menendez brothers made headlines after their parents were brutally murdered in their Beverly Hills mansion in August 1989, per ABC News. According to Vanity Fair, the brothers claimed that their dad had horrifically abused them, which is why they committed the murders. It took until December 1992 for the two men to be indicted, and Erik and Lyle Menendez were eventually convicted of first-degree murder at their second trial in March 1996.
Years ago, Simpson spent time in the Los Angeles County Men's Central Jail, noted Biography — the same facility where Erik and Lyle were there awaiting their own trials. Did the Menendez brothers get to know Simpson? The answer may surprise you.
An old connection strengthened during jail stays
Author Robert Rand noted in "The Menendez Murders" that brothers Erik and Lyle Menendez were arrested in March 1990 and were still in custody in 1994 when O.J. Simpson was arrested. "Within a few hours after being booked, O.J. Simpson, prisoner #4013970, met his new neighbor, prisoner #1878449," Rand wrote. Soon, Simpson hollered, "Hey, Erik, It's O.J.!" to his new jail neighbor. This wasn't the first time the two men had met, though. 
Erik revealed during the A&E series "The Menendez Murders: Erik Tells All" that Simpson had visited the Menendez house when the brothers were young. "My dad worked at Hertz and it's at Hertz they started the campaign with O.J. Simpson and O.J. would come over to the house," he claimed (via inTouch Weekly). Erik recalled, "I remember him in the background tossing the football with Lyle." Years later in 1989, a few months before killing his parents, Lyle ran into Simpson at a Los Angeles restaurant, per People.
According to Rand's book (via A&E), the next time Lyle and Simpson reconnected was in the attorney room at the L.A. County Jail. When they crossed paths they would chat, and reportedly talked more than 100 times. Per Rand, they even discussed the specifics of murder versus manslaughter — and Lyle urged Simpson to take a plea bargain. Rand later asked Lyle if he sensed Simpson was guilty. "Absolutely," Lyle allegedly replied. "He knew Erik and I and trusted us."
Simpson regains his freedom, the Menendez brothers reunite
Author Robert Rand told Radar Online, Lyle Menendez and O.J. Simpson exchanged "dozens" of letters while they were both in jail — but when Simpson was acquitted in October 1995, the correspondence with Lyle stopped. Per ABC News, Simpson was later found liable for wrongful death in a civil suit initiated by Ron Goldman and Nicole Brown Simpson's families and was convicted in a 2008 Las Vegas trial involving felony armed robbery and kidnapping charges. He was paroled in October 2017.
Lyle and Erik Menendez received two consecutive life sentences after their March 1996 guilty verdicts, noted ABC News. Their appeals were all denied, and they were sent to separate prisons. Erik got married in 1999 and his wife Tammi told NBC News, "He's my best friend." Lyle has been married twice, as People detailed. He was married to his first wife for five years right after his conviction, and then married his wife Rebecca in 2003.
The brothers remained separated for more than 20 years, staying in touch via letters. In 2018, Lyle explained on Facebook they'd spent six years working to be reunited, and their request had finally been granted. When they reunited at the R.J. Donovan Correctional Facility in San Diego, California, they "burst into tears immediately," Rand told ABC News. Of life now, https://abcnews.go.com/US/lyle-menendez-prison-life-separation-brother-erik-menendez/story?id=44405794, "My life is a struggle [to] not to be defined by what happened." He added, "I'm at peace with my life growing up."
If you or someone you know is dealing with domestic abuse, you can call the National Domestic Violence Hotline at 1−800−799−7233. You can also find more information, resources, and support at their website.
If you or someone you know may be the victim of child abuse, please contact the Childhelp National Child Abuse Hotline at 1-800-4-A-Child (1-800-422-4453) or contact their live chat services.