Rob Kardashian And Blac Chyna Bracing For Custody War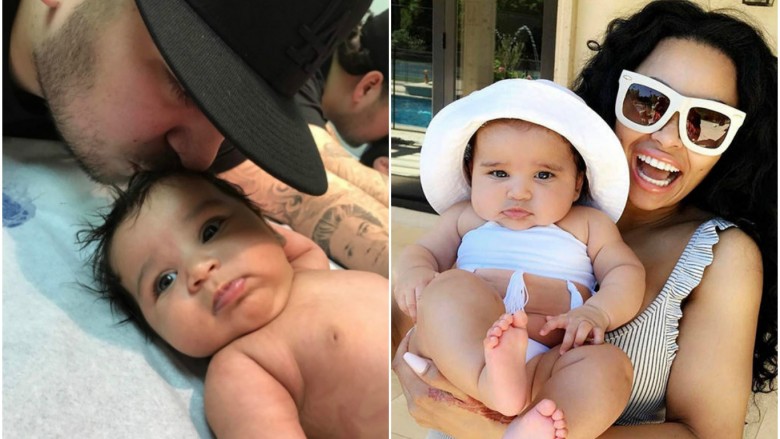 Instagram.com/robkardashian / Instagram.com/blacchyna
Even though Rob Kardashian and Blac Chyna's most recent (and to date most permanent) breakup was relatively drama-free, the calm waters won't last long: sources say that the exes are each preparing themselves for a custody battle over their 4-month-old daughter, Dream.
"Rob wants dual custody of their child and Blac Chyna is giving pushback," a source told People on Thursday, March 16, 2017. "They are still figuring things out but she will certainly do whatever it takes to have Dream be with her for the majority of the time. Kris [Jenner] is backing Rob up 100 percent and won't let Chyna get away with anything that's less than fair."
Jenner isn't the only one in Rob's corner.
"The entire Kardashian family is there for Rob as well and supports him wholeheartedly," the source added. "They are prepared to protect him in whatever way they need to...I expect things to get ugly,. Chyna wants full custody with Rob only getting visitations."
An insider told In Touch Weekly that Blac Chyna, 28, is worried about her financial situation if the Kardashian attorneys go after her in court. "Chyna has already spent over $290,000 and is in debt," the insider said. "She fears she will lose everything, including Dream, to the Kardashians."
Other sources claim that Blac Chyna has some solid reasons for not wanting Rob, 29, to have custody of Dream.
"[Blac Chyna] has evidence of him partying around [Dream], calling [Blac Chyna] names and grappling her when they've gotten into fights," a source told Radar Online. "Chyna's got the proof!" The source added, "She doesn't think Rob can ever get his s**t together. She has told him he cannot be alone with the baby. She doesn't trust him."
As Nicki Swift previously reported, despite some efforts at healthy living Rob documented on his Instagram, he's not doing too well post-split.
"Rob is a total mess right now," a source told Radar Online. "He is not dieting or exercising. He has even started drinking and smoking pot again. Of course she's going to go for full custody," an insider said about their baby. "Dream is her child and she wants to have her all of the time. She can have supervised visits with Rob but Chyna is the main parent."
Another source dished to Radar Online, "Rob is doing everything that he can right now to cover up the hurt that Blac Chyna is causing him. He is not able to be present for his daughter at all right now. It is really sad because he is relying on his family to help raise Dream. Everyone is extremely worried about him."
Still, Mama Kris may get in the way of Blac Chyna's parenting plans. "Kris thinks that the fact that Blac wants to go after full custody of Dream is just hilarious," the source said. "She would obviously never allow that to happen. Kris's lawyers are way too powerful!"