Melissa Joan Hart Reflects On Past Fling With Ryan Reynolds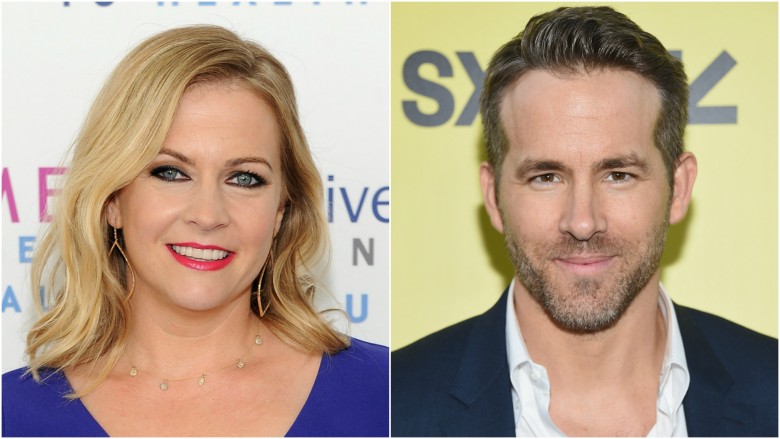 Getty Images
Remember that time when Melissa Joan Hart and Ryan Reynolds co-starred in a movie together? No?
Well, don't feel bad. It was a 1996 TV movie, and it was way before Reynolds found mega-success as an actor. But you still probably know the name of the film: Sabrina the Teenage Witch. That's right–the hugely popular TGIF staple was a movie before it was reformatted as a weekly TV show. Hart, 40, starred in both the movie and the series of the same name, but poor Reynolds, also 40, only got cast as bad boy "Seth" in the film.
While it's been over 20 years since that movie aired, Hart recently unearthed some major information about her relationship with Reynolds. In an interview with the Australian morning show Studio 10, Hart opened up about the short fling she had with the future Deadpool (2016) star.
"He was very sweet. I had a boyfriend at the time but we were smitten and cute and he was adorable," she told the hosts of the show via webcam.
"He was a really, really nice guy, probably would have been a great boyfriend," the Clarissa Explains It All (1991-94) actress continued, "and I didn't end up with the other guy, so maybe I should have taken a chance."
But this isn't the only time Hart's talked about her short-lived romance with Reynolds. In her 2013 memoir, Melissa Explains It All: Tales from My Abnormally Normal Life (via E! News), she wrote, "Nobody looked as good with wavy blond locks and a thumb ring as Ryan did. Though I was madly in love with James, my boyfriend of six months by then, Ryan and I spent plenty of time together."
However, the two didn't just hang out and talk in each other's trailers. After receiving a gift from Reynolds–a pricey Bulova watch–Hart admits she felt a strong attraction to her co-star, and, rather than keep her distance, Hart made a move.
"There's a ridiculous moment in the Sabrina movie where Ryan looks at me and says in a throaty, whispered hush, 'I think what we need is a little less talk and a little more action,'" Hart wrote. "When I opened Ryan's gift, I couldn't agree more with this statement."
Hart then described running out to meet Reynolds, demanding to speak with him. Though, she writes, she wasn't sure how to react to the gift, her instincts apparently took over, and she planted "a big, fat kiss" on him. According to Hart's book, the pair later retreated to a hotel room, where they "fooled around."
Unfortunately, things didn't work out between Hart and Reynolds, even after she broke up with her boyfriend. Luckily though, they each found their other halves. Hart married Mark Wilkerson in 2003, and Reynolds tied the knot with actress Blake Lively in 2012.