Naya Rivera And David Spade Caught Getting Flirty In Hawaii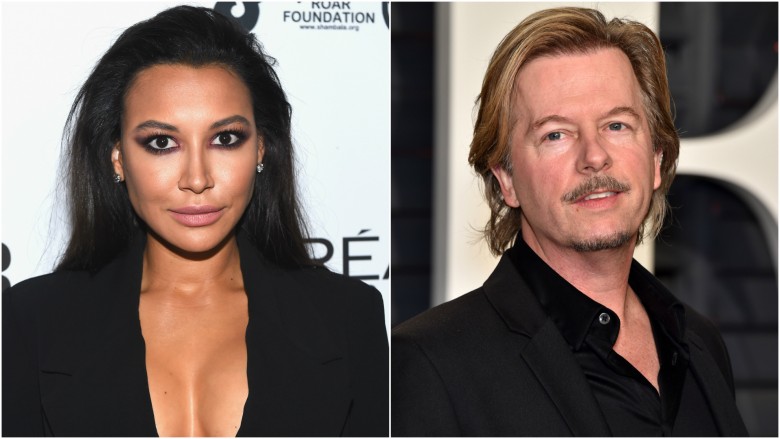 Getty Images
Are
Naya Rivera
and David Spade Hollywood's latest pairing? Well, it certainly seems that way.
The former
Glee
(2009-15) star and the Saturday Night Live (1975-) alum were spotted getting friendly in Waikiki, Hawaii. According to
Entertainment Tonight
, Rivera and Spade packed on the PDA in a pool at the Halekulani Hotel, reportedly kissing and cuddling in the cool water.
A source told ET that Rivera, 30, and Spade, 52, were joined by Adam Sandler, Rob Schneider, and their families. The comedians were all in Hawaii to perform on Netflix's Here Comes the Funny Tour.
"The pair went for a short swim, hugged and had lots of body contact in the pool. They kept to one side of the pool where there was the most covering from prying eyes," ET's insider said. "Outside of the pool, they sat on lounge chairs and talked animatedly. They spent about an hour poolside together."
"They were very happy," the source continued. "They looked pretty comfortable together."
According to People, Rivera and Spade know each other very well. "They are good friends," a source told the magazine. "She was also there with her friends, he's on a comedy tour with Sandler and crew."
While this relationship, which boasts a 22-year age difference, seems to have come out of nowhere, it may not be new.
E! News
reported that the stars have dating for a couple of weeks but have tried to keep their romance out of the spotlight. People notes that both Rivera and Spade were spotted leaving Catch restaurant in Los Angeles, Calif. in Jan. 2017 after reportedly having dinner together.
So is this relationship for real? Or is this some kind of
Jon Lovitz-Jessica Stroup situation
? We'll just have to wait and see.