Miranda Lambert Talks Heartbreak And Breaks A Record At ACM Awards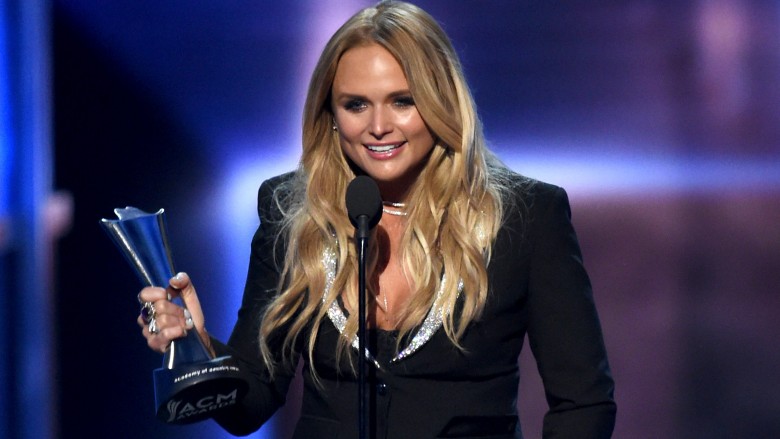 Miranda Lambert made history at the Academy of Country Music Awards on Sunday, April 2, 2017.
Lambert, 33, broke Reba McEntire's record for most consecutive ACM wins.
"Thank you for letting me use my heartbreak and sharing it with me," she said onstage (via
People
), referring to her most recent double album, The Weight Of These Wings, which was inspired by her split from ex-husband Blake Shelton. "Thank you so much guys. It really means the world to me. Carrie [Underwood] can sing me under the table. We've agreed on that. I'm just glad to see females kicking a** these days. I'm so excited to be a part of that. So cheers to all of us girls out there dreaming."
In the press room after her acceptance speech, Lambert, who was accompanied by her boyfriend of over a year,
Anderson East
, acknowledged her record-shattering feat.
"It is a record. I was tied with Reba [McEntire]. I heard that only yesterday, so it's super a lot of pressure...I'm really so thrilled that I can help lead the charge for women in this business, at any level of this business. I'm so thrilled that I can keep pushing forward and making way for other women to do the same thing, but I'll be happy when it's someone else's turn. I'm really humbled by it."
She continued, "I'm so thankful because I really used my stories and it's basically like my diary won album of the year. To me, country music is about truth, about what's really going on, whether it's happy or sad or somewhere in the middle. For me in the past couple of years, it's been more sad than happy, but it's moving to another direction. I'm really glad people can relate to an emotion like that."
While Lambert was celebrating her victories, ex Shelton was in Oklahoma with new love Gwen Stefani and her sons. Stefani, 47,
tweeted a photo
 of her sons' arms with Shelton's, showing off faux tattoos of deer tracks to match Shelton's actual ink. Looks like they're all winners in the end!