Celebs Who Treat Their Employees Like Trash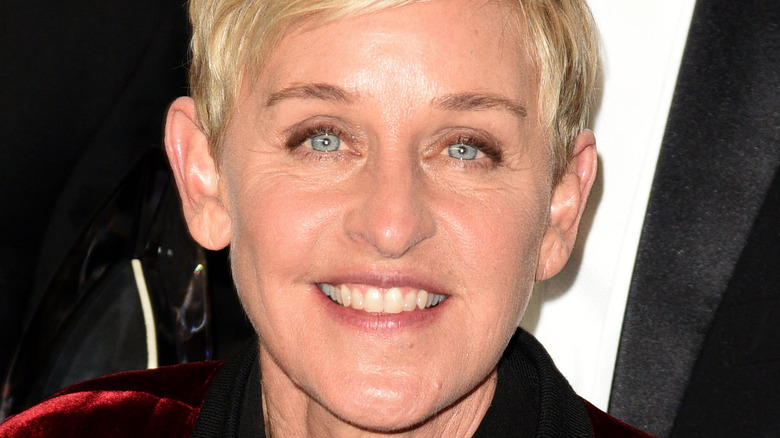 C Flanigan/Getty Images
We may receive a commission on purchases made from links.
The following article includes mentions of verbal, physical, and sexual abuse allegations.
The life of a celebrity assistant: it seems glamorous, but is it actually? The sparkling allure of red carpets, private jets, and expensive cars only goes so far — but it might just be enough for fame-chasing entrepreneurs. Any in can be an in, and it always helps to have friends in high places. Remember, Kim Kardashian started as Paris Hilton's assistant years before she amassed her estimated $1.4 billion net worth. Unfortunately, not every assistant has a momager like Kris Jenner.
According to Page Six, a well-paid celebrity assistant makes around $70,000 annually. It's a living wage for Hollywood, but not exactly enough to afford the luxury car they're probably borrowing to run A-list errands. The truth is that most celebrity assistants don't ever end up climbing into the upper echelons of Hollywood in their own right. They simply borrow the lifestyle — and they've got to put up with a lot of grief to stay there. Is it worth it? 
After reading these celebrity employee confession stories, we'll let you decide.
Staff allegedly had to pick up Christina Aguilera's 'dirrty' outfits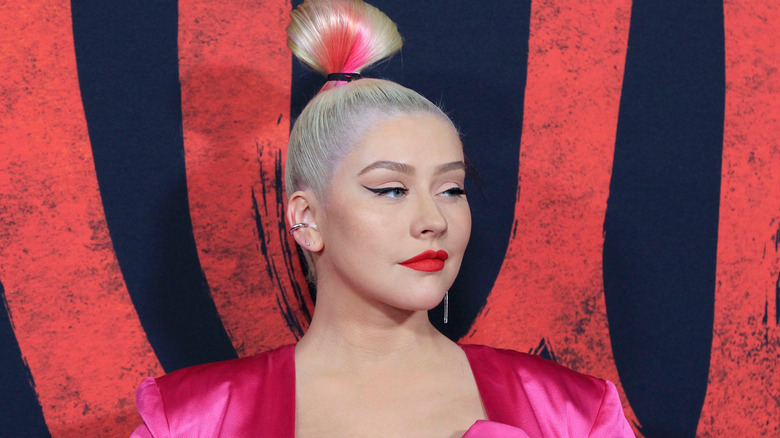 Kathy Hutchins/Shutterstock
A-listers have undeniably exciting lives — and that can include their sex lives. But their staff members may end up taking on cleaning duties, even if they're the ones playing French maid. According to one of Christina Aguilera's former staff members, who made the claims to Star (via Radar), the "Dirrty" singer would regularly leave "risqué clothing" all over the floor — including maid and nurse uniforms and lingerie. Hey, maybe she was practicing for her role in "Burlesque."
Either way, Xtina's staff were reportedly "continually" tidying up her bedroom. They also had to leave a bottle of Dom Perignon "chilling on ice for her at all times," a supposed requirement. This was back when the star was still married to music producer Jordan Bratman. A lot has changed since then.
According to People, Aguilera announced her divorce in 2010, and started dating Matthew Rutler soon after. The pair are still together today, and her "Dirrty" phase (which makes a lot more sense now) is just a relic of her iconic past. Every once in a while, "The Voice" judge still throws on a pair of her patented chaps for old time's sake (though the jury's out on whether or not they end up on the floor).
This multi-million-dollar actor gave secondhand gifts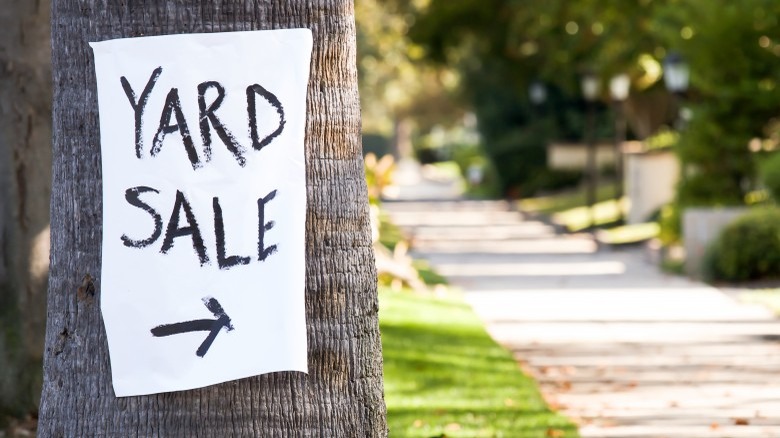 Shutterstock
An A-lister might have all the money in the world, or at least enough to land their own page on Forbes, but there's no vaccine for cheapness. The best way to stay rich is to never spend your cash, and some celebs follow this advice to a T. They shell out in places where they need to keep up with the Kardashians (since Hollywood talks, as is evident by this article) and go secondhand for their tight-lipped inner circle.
According to a personal assistant who dished to Forbes, his anonymous celebrity employer would regularly spend a ton of money on gifts for her Hollywood connections, but when it came to family and friends, she'd look for something pre-loved. "She once had me buy some luggage for her makeup artist, two bags for $5000, and yet for her best friend's birthday, she told me to find a used bike on Craigslist for under $100," he confessed.
The assistant also admitted that the same actor's mother was in need of a television. Rather than buy her one, she asked her assistant to take an old one out of the garage and drive it to her mother's house. The TV didn't even have a working remote control! Let's hope mom didn't need to change the channel.
One celeb turned her assistant into an unknowing drug mule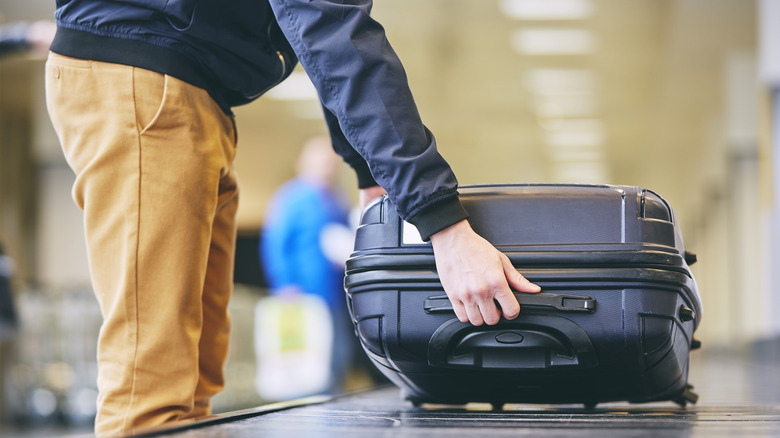 Jaromir Chalabala/Shutterstock
As a general rule, never take drugs on a plane — and if you do, at least don't do it because you're some A-lister's fall guy. This is a real thing that apparently happens. It's not uncommon for celebrity assistants to go on a drug run or two, but one poor soul became an inadvertent drug mule at their employer's whim. Yikes.
According to an assistant who spoke to The Cut (and would not name her employer, likely because she'd get sued into oblivion), the celebrity she worked for would send her to pick up "herbs." She thought it was tea (an honest mistake) — and boy, was she wrong. Her boss was having her buy drugs without her knowledge. To make things worse, her boss packed the drugs into her luggage before they flew to a film festival. "When she got in, she was like, 'Did you get my stuff?'" the assistant told The Cut. "'What stuff? 'Oh, I put some stuff in your bag.' Oh my God, I went on a f***ing plane carrying drugs for you? I could have gotten arrested! You could have at least told me so I knew what I was doing, and put it in the bag that's not checked!"
Needless to say, she quit soon after that — but not before her boss made her dump her actor boyfriend on her behalf. Celebrity assistants: they do the A-list dirty work.
Beyonce allegedly made her nanny learn her choreography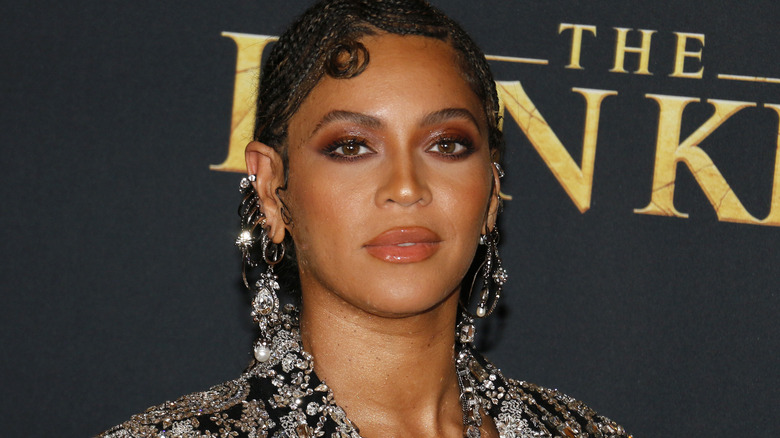 Tinseltown/Shutterstock
Queen B is successful for a reason: she brings her work home with her, literally. A former employee who nannied for Beyoncé and Jay Z (Hollywood's resident "billion dollars in a elevator") was reportedly told to learn the entire choreography to the "Single Ladies" music video. To be honest, it's basically a millennial woman's right of passage, so she kind of did her a favor.
According to Star, the reason the nanny had to learn Bey's moves was to appease the Carters' then-toddler, Blue Ivy. Apparently, "Seeing her mom sing and dance to the song was the only thing that settled her down." To some extent, that might say something about Beyoncé's work-life balance. She's clearly dedicated enough that Blue supposedly got used to falling asleep to her mama's songs (that usually make the rest of the world run to the dance floor). Let's just hope that stopped before "Lemonade," or Jay Z might have some explaining to do.
This producer's PA had to have conversations with his cats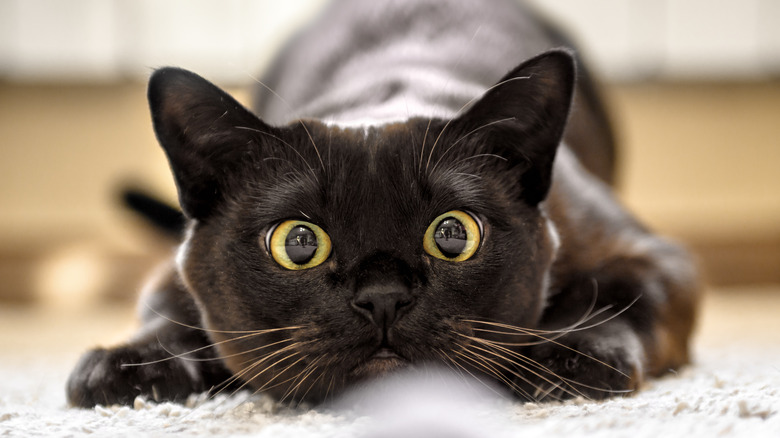 Viacheslav Lopatin/Shutterstock
Being a personal assistant can be degrading, and sometimes it requires you to dive head-first into some seriously dirty work. The situation can get hairy — or should we say furry? This assistant, who worked with an anonymous executive producer on a mainstream news show (lest they break whatever possible NDA they signed), had to keep a careful eye on his boss' cats. It's not weird on the surface. Plenty of celebs hire people to take care of their pets, but just wait until you sink your claws in.
According to Fortune, the assistant was required to have conversations with each cat and record their responses (which would have, in retrospect, been great fodder for TikTok). So what do you say to a cat (beyond the obvious cooing in a baby voice)? If cat's got his tongue, no problem. His boss reportedly gave him a script, which included written conversations and questions. Hey, there are worse things than hanging out with a bunch of cats.
Kourtney Kardashian reportedly demanded to be called 'madam'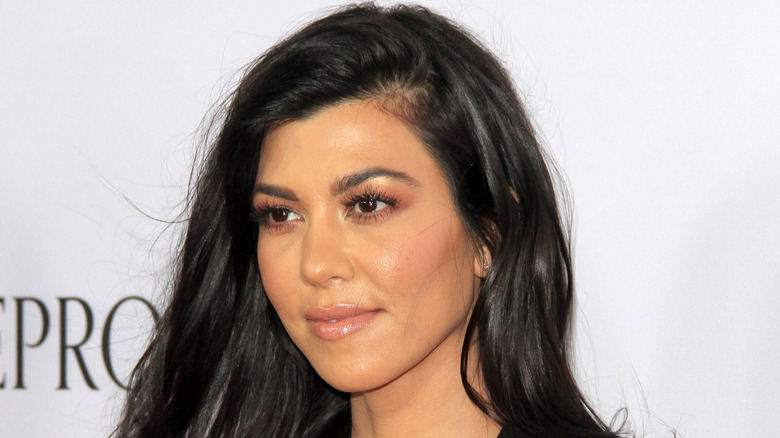 Kathy Hutchins/Shutterstock
Kourtney Kardashian might come off as one of the more level-headed Kardashian-Jenner sisters, but when it comes to how she treats those on her payroll, apparently she's not much different from her seemingly egotistical baby daddy. Or should we say, Lord Disick? A nanny who previously worked for the reality star claimed that she was told to never call Kourtney by her first name, according to Star. Rather, the former celebrity employee alleged, "She asked me to call her madam at all times." Not ma'am or Ms. Kardashian, but madam.
Unfortunately for this supposedly mistreated babysitter, she accidentally went with the wrong moniker one day and had to deal with the consequences. She confessed, "I once slipped up and called her Kourtney, and she threw a hissy fit. I never made that mistake again!" If Kourtney needs to be referred to only as madam, we can only imagine what sis Kim Kardashian forces her staff to call her, the queen of reality television!
This actor called his PA across the world for toilet paper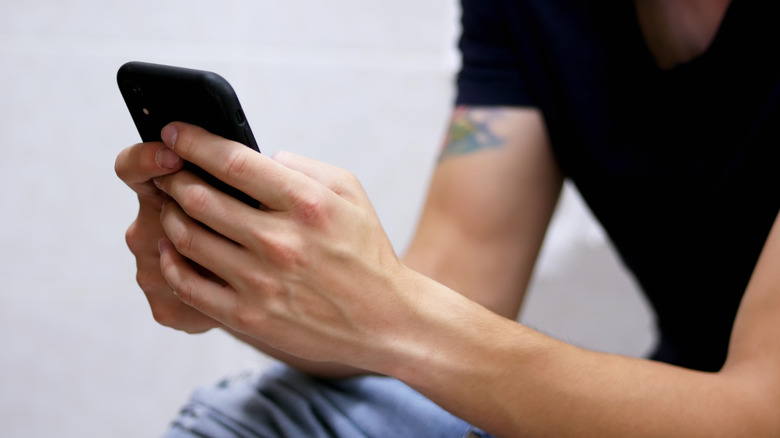 Diedov Denys/Shutterstock
We've all had that moment when we're sitting on the toilet and do our business without realizing we're running low on toilet paper. It happens, we're all human. If this has ever happened to you in a hotel, then you might feel for this unnamed actor, who apparently called his personal assistant asking her to call the hotel front desk for more toilet paper, according to the New York Post. Hotels tend to be stingy with that stuff, so it's not entirely a strange request. However, what makes it weird is the time the anonymous star apparently chose to call her.
The actor phoned his personal assistant from his London hotel room at 9 a.m., which meant it was 4 a.m. in New York, where his assistant was located. Certainly, she wasn't happy about this. What makes this request even more absurd is that he would have saved more time and energy if he'd just called the front desk himself, as he was making a phone call anyway.
This assistant was asked to shoot a birth video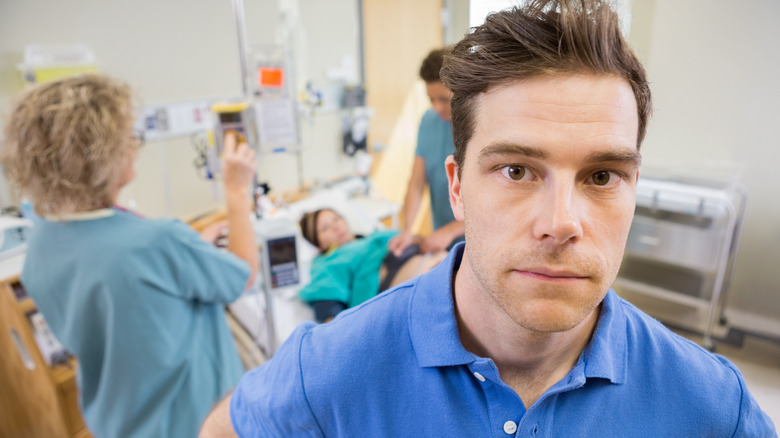 Tyler Olson/Shutterstock
It's not unheard of for personal assistants to get uncomfortably close to their employers, as they're often asked to do some seriously personal tasks. This task specifically, however, has to be crossing some kind of line. The assistant for an award-winning cinematographer revealed to CNBC that he was asked to film his boss' wife giving birth. While certainly this is a remarkable experience, it's also a rather personal one that typically doesn't include a personal assistant in the room. Of course, the PA complied with the request.
"It was requested that I watch several hours of birthing videos so I would know what to expect during the birth. Each day, I watched hour-long videos. ... I watched as these women were screaming and cursing and looking as if they were being tortured," the PA claimed. "What had I gotten myself into?" 
Not only did he manage to satisfy his boss by getting the perfect shot of the baby crowning, but when the doctor got in the way of his lighting, the PA actually interrupted the delivery to shift the position of his light for filming. Rather than get angry at him for getting in the way, his boss actually gave him a high five and said, "YES! That's why I knew you were perfect for the job!"
This Hollywood manager sent strange emails when he was high
Fizkes/Shutterstock
Working for Hollywood celebs and big wigs means you're regularly working with Hollywood-level arrogance, Hollywood's typically late-night schedules, and unfortunately even Hollywood's common vices. For this personal assistant, working for one of Hollywood's top managers meant putting up with his cocaine-inspired emails that made some of the most ludicrous demands, according to Fortune.
It seems this poor woman's email inbox would be flooded with nonsensical requests after her boss had a particularly rough night out, asking her to do things like move his lunch appointment from 1:00 to 1:03, pre-order him a yarmulke for Hanukkah, and buy him socks repeatedly. These are some direct quotes from the emails which the assistant forwarded to Lilit Marcus to use in her novel, "Save the Assistants: A Guide to Surviving and Thriving in the Workplace:" "My alarm clock rings funny — find one that's more soothing. ... Are bagels different with LA water? They seem different. Find out! ... Book a lunch with Pamela. Then cancel it two hours before. (hate her!)." 
This would be kind of hilarious, if you didn't picture this poor assistant attempting to actually perform these tedious and clearly meaningless tasks.
Ben Stiller apparently liked his iced tea a certain way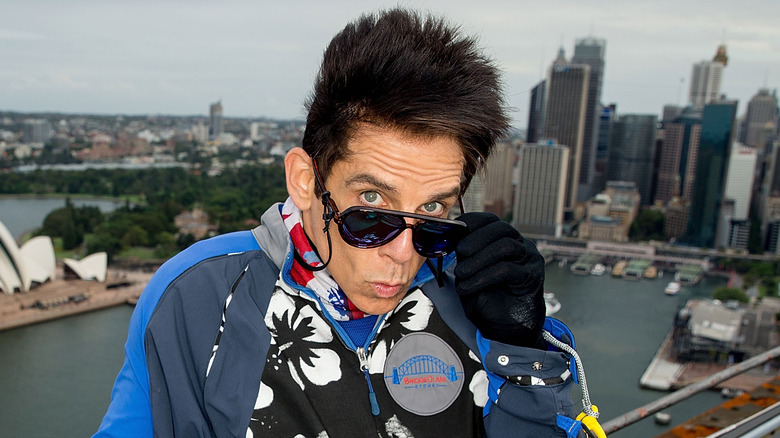 Brendon Thorne/Getty Images
Ben Stiller typically plays the nice guy onscreen, but apparently he's quite different in person — at least according to his personal assistant during his time in post-production with "Zoolander," who revealed a rather bizarre conversation he had with the star to MINYANVILLE. On his first day of the job, this anonymous PA was told the do's and don'ts in regard to handling Stiller's needs, which included specific instructions on how he likes his iced tea: "It had to be unsweetened, and I was to sweeten it with 1.5 packets of Splenda inside 16 ounces of unsweetened [Nestea] iced tea." Sounds easy enough, right? Not exactly.
When the PA brought Stiller his iced tea the first time in a paper cup, he was reportedly asked for a glass. Then he was told to put more ice in the glass upon bringing it to him. Kind of obnoxious, but the assistant obliged. After taking a sip, Stiller allegedly asked him, "What the hell is this?" He was referring to the condensation, which would have been avoided if he'd used the paper cup he was given initially. Instead, he supposedly had his assistant wipe off the condensation for him, as Stiller apparently doesn't like his hands to be wet, because if he needs to shake someone's hand, he's afraid they'll think his palms are sweating. 
The assistant only lasted two-and-a-half weeks working for Stiller.
Charlize Theron allegedly didn't allow eye contact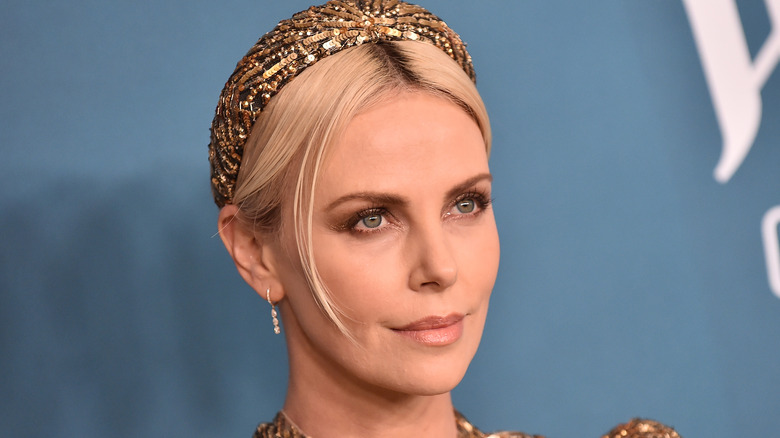 DFree/Shutterstock
Charlize Theron is an award-winning actor best known for her roles in films like "Monster" and "Snow White and the Huntsman," but among her staff, she's known for something quite different. A former staff member of the actor revealed just how strange the Oscar winner can be behind closed doors, claiming to Star that she wasn't allowed to speak or look at her employer. While her main role was to take care of Theron's two young children, she didn't explain if this was expected of all of the star's hired help, but it can be assumed that it is. Not exactly the best way to communicate one's needs, but okay.
As the star's assistant and nanny, she was reportedly forbidden to speak to Theron — even about her kids. Hopefully there was an implied exception to the rule in an emergency situation, but if she had any general issues or questions, she was supposedly required to write them in a diary. "It was odd," the woman told the magazine. Um yeah, just a little. It seems that even though Theron couldn't find the time to make small talk with her nanny, she had all the time in the world to read her employee's daily journal entries.
Meghan Markle's staff allegedly 'threatened to quit'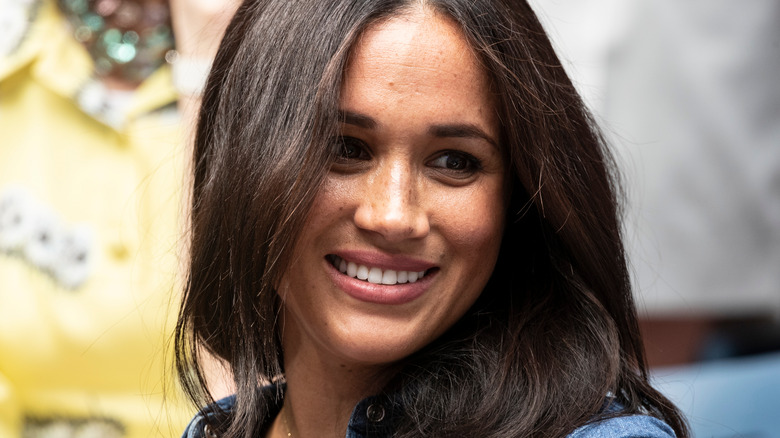 Lev Radin/Shutterstock
Meghan Markle is a polarizing figure. On this side of the pond, she's a hero — bashing the antiquated traditions of the royal family and standing up against systemic racism. Across the Atlantic, it's a mixed bag. Her bombshell Oprah Winfrey interview didn't exactly boost her popularity in the UK, and the reports about her berating staff members didn't help.
Vanity Fair's royal reporter, Katie Nicholl, told Yahoo! UK that the Duchess of Sussex was allegedly so rude to staff during an incident at Windsor Castle that Queen Elizabeth had to step in. At the time, the former "Suits" actor was tasting food for her wedding. She reportedly requested a "macrobiotic alliterative" option, and got "very upset" when she thought there was egg in the dish (there wasn't). "She said, 'No, I can taste it, I can taste there's egg in this dish,'" Nicholl claimed. "And I think there was a bit of an upset when suddenly the Queen walked in ... and she just quietly took Meghan to the side and said, 'Meghan, in this family, we don't speak to people like that.'"
This alleged incident was supposedly par for the course. According to The Sun, Prince Harry's wife reportedly "flew into a rage" at a personal assistant when the embroidered blankets she ordered for a shooting party at Sandringham were "the wrong shade of red." Per The Times, "half the staff threatened to quit" because of the Sussexes' alleged behavior.
Ellen DeGeneres reportedly fostered a 'toxic' work environment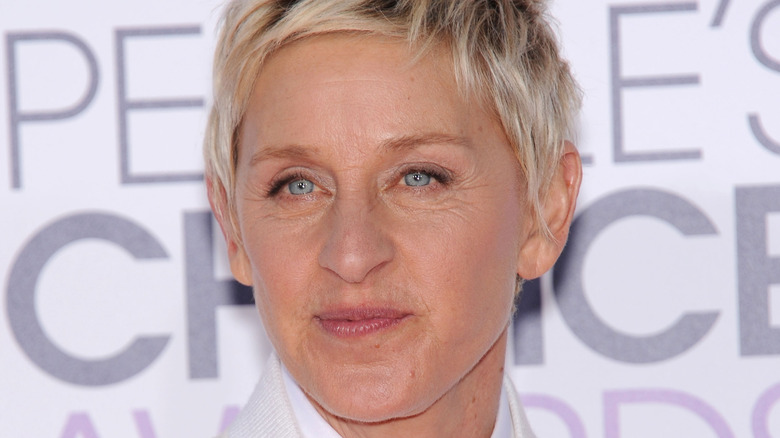 DFree/Shutterstock
If there were any whiff that Ellen DeGeneres was anything but her happy-go-lucky on-screen persona, it was probably the time she nearly made Taylor Swift cry during a taping of her talk show. This was a rare occurrence, but a harbinger of things to come. In 2020, DeGeneres was put in the hot seat over alleged employee mistreatment.
According to Variety, DeGeneres left her show's employees in the dark during the COVID-19 pandemic. Union crew allegedly faced a 60% pay cut as she used a skeleton non-union crew to film from her home during the shutdowns. Meanwhile, other talk show hosts like Jimmy Kimmel paid their staff in full — even using out-of-pocket funds. With a reported $500 million net worth, DeGeneres probably could have done the same. It gets even worse from there.
Per a bombshell BuzzFeed article that recorded accounts from numerous employees, DeGeneres allegedly fostered a "toxic" environment on-set. Employees were reportedly told "to not speak to DeGeneres if they saw her around the office." Those who needed medical or bereavement leaves were supposedly fired or their contracts weren't renewed. A Black producer even claimed to dodge regular "microaggressions" on-set from senior staff members, and DeGeneres reportedly never stepped in. Between the reports from Vanity Fair and Buzzfeed, there was so much bad press it actually triggered a workplace investigation.
According to Newsweek, "The Ellen DeGeneres Show" has since been canceled (both figuratively and literally), with its 19-season run ending in 2022.
Mariah Carey's former assistant filed a lawsuit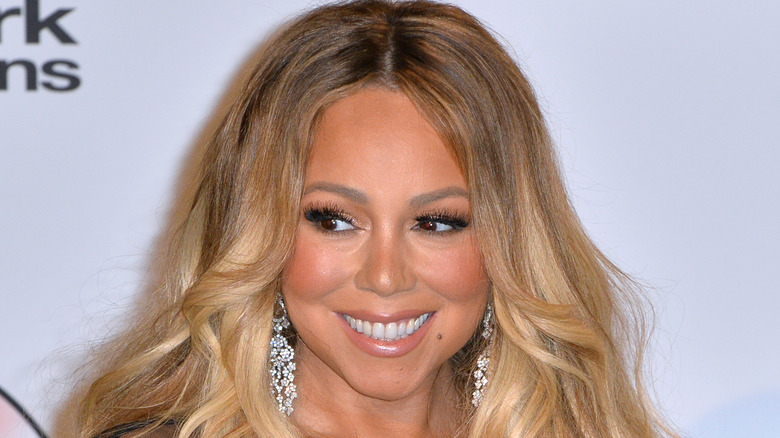 Featureflash Photo Agency/Shutterstock
If you could own the concept of throwing shade, Mariah Carey would have the patent. It goes far beyond the time she lobbed an off-hand "I don't know her" at Jennifer Lopez (which has since launched a thousand memes). Even Eminem isn't safe, and Vogue dubbed the star "the queen of throwing shade" in 2016. Basically, it might not seem surprising that Carey is allegedly difficult to work with — but there's a difference between being particular and being abusive.
Apparently, it wasn't all glitter for Carey's personal assistant, Lianna Shakhnazaryan, who filed a lawsuit against the singer in 2019. According to Rolling Stone, Shakhnazaryan worked with Carey for two years, during which she was allegedly "subjected to sexual battery and harassment." For a salary of $250,000 — later, this was raised to $328,500 — Shakhnazaryan was expected to be on call 24/7, both for Carey and her former manager Stella Bulochnikov, who was allegedly verbally and physically abusive. Per the suit, Bulochnikov "repeatedly ridicul[ed]" the assistant "about her breasts by putting iPhones, remote controls, and utensils under them." She also reportedly groped Shakhnazaryan and called her a "w**re." Bulochnikov allegedly even urinated on Shakhnazaryan — and Carey reportedly "knew about and was present for much of the alleged abuse."
As for Carey, she sued Shakhnazaryan, claiming her former assistant "turned out to be a grifter, a Peeping Tom(asina), and an extortionist," according to People.
If you or anyone you know has been a victim of sexual assault, help is available. Visit the Rape, Abuse & Incest National Network website or contact RAINN's National Helpline at 1-800-656-HOPE (4673).