Mel B's Divorce Gets Even Uglier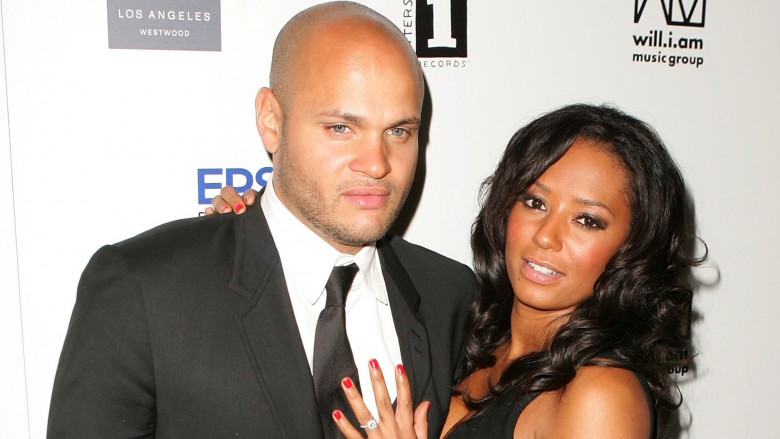 Melanie "Mel B" Brown's divorce from Stephen Belafonte keeps getting scarier.
Brown, 41, filed for divorce from Belafonte, also 41, in late March 2017 after nearly 10 years of marriage. Brown accused Belafonte of physical abuse and said, in a restraining order filing against the film producer, that he has been threatening for years to release sex tapes of the former Spice Girl.
In documents obtained by TMZ, Brown claimed that Belafonte "would regularly hold up his phone to me and point to a video file and say, 'It's just one click away,' meaning that with one click he could send out a video and my career would be over."
Lawyers for both Belafonte and Brown appeared in court on Friday, April 7, 2017, where Brown's attorneys requested to grant Brown control of "any electronic media in [Belafonte's] possession ... [that depicted Brown] in either a sexual situation and/or other compromising situation," People reported. The judge in the case rejected Brown's request, however, People points out that the restraining order Brown has against Belafonte prohibits him from disseminating the sex tapes.
However, the case gets crazier: TMZ reports that, in documents Brown filed, she alleges that the nanny Belafonte reportedly cheated with and impregnated during their marriage, Lorraine Gilles, actually has the tapes.
"He [Stephen] has admitted to me that our former nanny, Lorraine Gilles, maintains possession and control over the media such that I could never have anyone locate the tapes so as to obtain and destroy the same," Brown stated in the documents TMZ obtained. "I believe that Lorraine Gilles and [Belafonte] are acting in concert to deprive me of my personal belongings by either destroying or disseminating said belongings."
Brown claimed in these court documents that she's unsuccessfully reached out to Gilles numerous times in an attempt to retrieve the tapes, as well as 12 to 15 boxes of her other personal belongings, including Spice Girls memorabilia and photos of her late father that Belafonte allegedly took from her and "hid" in a Los Angeles storage locker.
In his own filing the same day, per TMZ, Belafonte claimed that he was "blindsided" by the sex tape extortion allegations. Belafonte said in his filing that he was close to settling financial and custodial matters with Brown, even agreeing voluntarily to avoid her ... that is, until she "surprised" him with her restraining order filing, which made her abuse allegations against him, as well as the contents of their sex tapes, public. He said in docs, "[Brown] herself put her sexual trysts and the like at issue by alleging that [Belafonte] allegedly videotaped and/or recorded such conduct and forced her to have sexual relations, etc." The filing also states that Brown, who was the primary breadwinner of the couple, cut him off financially.
An insider revealed to People that Brown's finances, until the split, were completely controlled by Belafonte.
"She never knew where her money was or how she could get to it," the insider said. "He set up the account, put the accountants in place; she literally never knew where her money was ... [Belafonte would have Brown do] anything that would earn him a bit of money."
In terms of the harrowing physical abuse allegations Brown slammed against Belafonte, the America's Got Talent judge's makeup artist insists they're legit. Sources told TMZ that Brown's longtime makeup artist claimed to have known about the abuse for years in part because Brown confided in him and also because it was his job to cover up her bruises from the alleged beatings. The artist also claimed that when Belafonte found out that Brown had told him about the abuse that Belafonte threatened him "numerous times" and would withhold payment from him unless he swore to keep quiet. The artist also claimed that he'd witnessed Belafonte being "aggressive" and "verbally abusive" to Brown and her children, often calling her "disgusting" and "ugly" and ordering security to watch her "beyond a level of safety."
Belafonte denied all of Brown's allegations, telling The Mirror, "I'm going to have to get off the phone because family court frowns on that. It is in the hands of my lawyers, My kids are the only thing that matter to me ... Someone's set me up to look like a bad guy."