Mariah Carey And Bryan Tanaka Call It Quits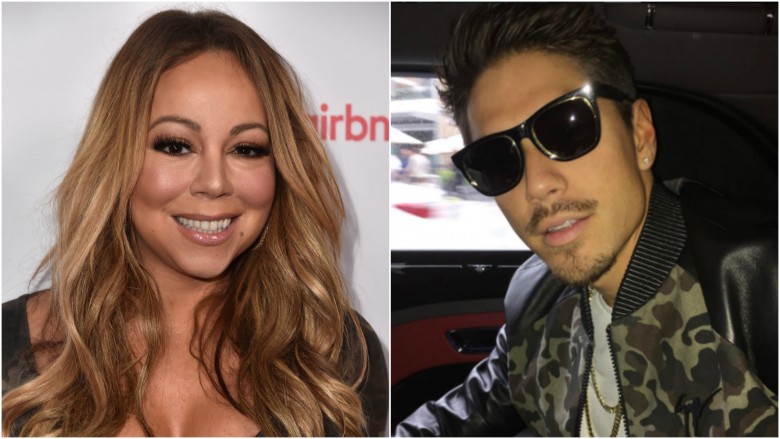 Getty Images, Instagram
Mariah Carey and her boyfriend of five months, Bryan Tanaka, have reportedly ended their relationship.
TMZ broke the story early on April 10, 2017, alleging that the split was due to Tanaka's "insane jealousy" and costly spending sprees. According to the website's sources, the backup dancer apparently felt "disrespected" by Carey's close relationship with her ex-husband Nick Cannon and would "lash back" by flirting with other women right in front of her. The last straw was supposedly Carey's appearance with Cannon and their 5-year-old twins, Monroe and Moroccan, at the Kids' Choice Awards in March 2017. People magazine documented the family's fun-filled outing, where they wore cute matching outfits and were all smiles.
TMZ's sources further claimed that Carey began to resent having to pay for her ex-boyfriend's expensive taste in bling and shoes and also suspected that he was only dating her for the perks of fame. And, as Us Weekly reported, she wasn't the only one. Even Cannon shared his doubts on the authenticity of Carey's short-lived romance last month, claiming that Carey's E! reality series Mariah's World(2016-17) was fake. The former America's Got Talent host skeptically added, "It feels like they wrote the story. That s*** is like a soap opera."
Carey and Tanaka's breakup comes only weeks after they vacationed together in Cabo in celebration of Carey's 47th birthday, as Nicki Swift previously reported. But as TMZ stated, they allegedly have not seen or spoken to each other since their tropical holiday. Neither Carey nor Tanaka—or their reps—have responded to these reports.
Fortunately, it's not all sad news today. Variety also announced that Carey has struck a new deal between her company Butterfly MC Records and Epic Records, stating that her anticipated upcoming studio album will be released sometime later this year. The singer said in a statement, "I am putting my heart and soul into making more new music."
She continued, "I am so thrilled for this next chapter and to continue working with, and for, everyone that I love." Carey later paired a tweet of the article with an emoji-filled caption: "New music ... Hope you're as excited as I am!"