Billie Lourd Honors Mom Carrie Fisher In Surprise Appearance At Star Wars Celebration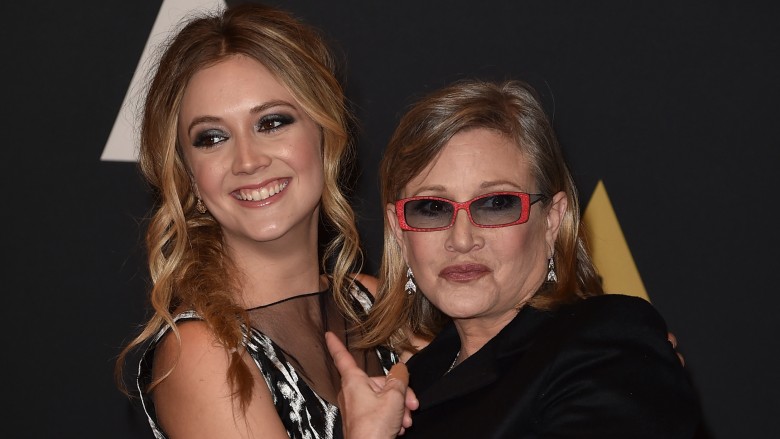 Getty Images
Actress Billie Lourd surprised everyone when she made an appearance at the Star Wars Celebration in Orlando, Fla. on April 13, 2017.
E! News reports that George Lucas and Kathleen Kennedy welcomed Lourd to the stage during the live-streamed event, where the 24-year-old paid tribute to her late mother, Carrie Fisher.
After receiving a standing ovation, Lourd, wearing a custom Tom Ford dress remarkably similar to Fisher's iconic Princess Leia gown, spoke about her mother's role in Star Wars—and how it shaped Fisher's life and career. "My mom used to say she never knew where Princess Leia ended and Carrie Fisher began. She went from being an unknown actress, the daughter of Debbie Reynolds and Eddie Fisher, to Princess Leia..." Lourd told the crowd, who was there to celebrate Star Wars' 40th anniversary. "My mom, like Leia, was never afraid to speak her mind...She loved you. She loved these movies. And she loved this force called Leia."
"In our world, Star Wars became a religion and a way of life," the Scream Queens star continued, as clips of Fisher played on-screen. "I wanted to be here with you because I know you feel the same way."
Lucas then took over to remark on Fisher's feistiness and determination. "She was brilliant, and obviously we'll all miss her, but she'll always be a princess who took command and never backed down, never was in jeopardy," Lucas said. "She was always helping the other guys get out of the messes they created. So, we'll love her forever and ever."
Fisher passed away on Dec. 27, 2017 to the shock of fans around the world. She had been hospitalized after suffering a heart attack just a few days earlier. She was 60 years old.