The Real Reason Hugh Jackman's Mother Abandoned His Family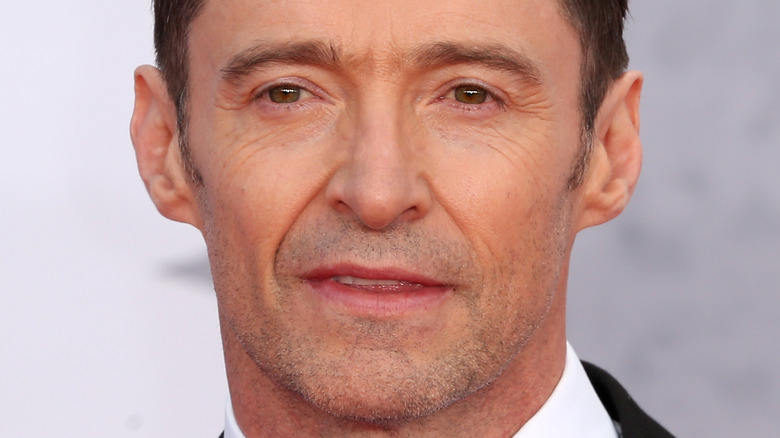 Cubankite/Shutterstock
Aussie actor Hugh Jackman is one of Hollywood's most versatile stars. His stage work is so stellar, for instance, that he won a Tony Award for his performance in "The Boy from Oz" in 2004, and he helped kickstart the superhero craze when he was cast as Wolverine in the 2000 movie "X-Men." His mutant character was a brooding loner whose temper was as sharp as his Adamantium claws and, coincidentally, there was a time in Jackman's personal life when he dealt with his fair share of anger. It was triggered by his mother Grace McNeil abandoning him when he was 8 years old.
During a 2015 interview with Parade, Jackman revealed that he became "a fearful kid who felt powerless" after his mother left the family. The experience was so traumatizing that he found himself waiting outside his home after school because he was incapable of entering it alone. "I used to be the first one home and I was frightened to go inside," he recalled. That fear mutated into anger as he got older. "In playing rugby my rage would come out, rage that I identify as Wolverine rage," he said.
In 2012, Jackman told The Australian Women's Weekly that he spent years holding out hope that his mother would return, but it had faded by the time he was a teenager. "Finally realizing it wasn't going to happen was probably the toughest time to be honest," he said. So why did she leave, and did she and Jackman ever reconcile?
Here's why Hugh Jackman's mother and father split up
During a 2020 episode of "The Tim Ferriss Show" podcast, Hugh Jackman opened up about his parents' split. He recalled how his father Christopher Jackman (pictured above) became a convert of Billy Graham after attending one of the late evangelist's rallies. Grace McNeil joined her husband at the event, but it didn't have the same impact on her. "My father was not religious at all and became a born-again Christian. My mother did not," Hugh said. "That was one of the things, actually, I think, that brought the end of their marriage."
Christopher and McNeil had immigrated to Australia from England before starting their family, and Grace decided to return to her home in Norwich when they divorced (via Great British Life). Hugh's two sisters joined her, leaving his father to raise him and his two brothers. During a 2004 interview with NBC News, he said that McNeil's decision to go back to England was also spurred by her mother's health problems. "Mum had a pretty tough time. So she went over there because her mum was very ill," he stated.
Jackman told Women's Weekly that he later learned that his mother had struggled with other issues that helped explain her behavior, including a battle with postnatal (commonly known as postpartum) depression after he was born. "And then you add five kids into the mix and the fact she had emigrated from England and there wasn't a support network for her here," he said.
What is Hugh Jackman's relationship with his mother like today?
Hugh Jackman eventually forgave his mom for abandoning the family, and they now see each other a few times a year. Grace McNeil even makes occasional appearances on his Instagram page, where fans can see the mother and son cooking together and sharing a laugh. For Mother's Day in 2021, Jackman paid tribute to her on Twitter by showing off a book of handwritten recipes that she gave him. "We have definitely made our peace, which is important," he told The Sun in 2011. "I was always quite connected with my mum. I have a good relationship with her."
Because McNeil and her son mended their relationship, she gets to be a part of her grandchildren's lives. Jackman and his wife of 25 years, Deborra-Lee Furness, have a son named Oscar and a daughter named Ava, who might benefit from their grandmother's wisdom. 
She passed on a piece of knowledge to Jackman that really resonated with him. "I always remember her saying — she says it to this day: 'Everyone needs to feel appreciated. It doesn't matter what they do, it doesn't matter who they are, that's a need in everybody,'" he told "The Tim Ferriss Show." So, even though Jackman missed out on many years with his mom, she passed on to him a valuable life lesson that shaped him into the caring, considerate — and forgiving — person he is today.