Meghan Markle's Ring Might Be Getting An Upgrade. Here's Why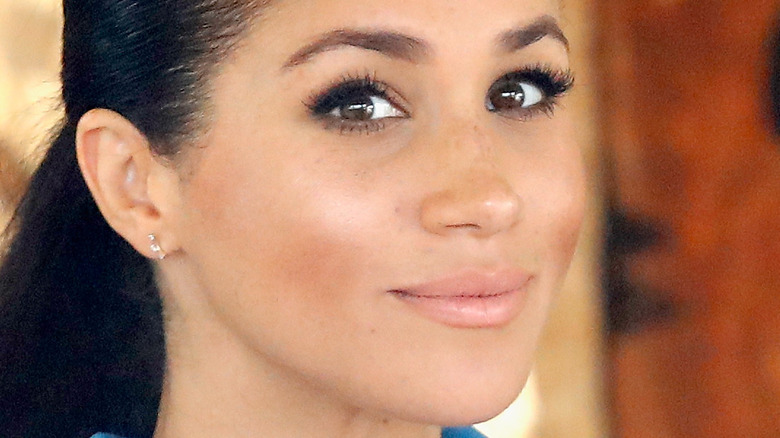 Chris Jackson/Getty Images
Prince Harry proposed to Meghan Markle in November 2017, presenting her with a stunning engagement ring that he thoughtfully designed. The couple got engaged at home at Frogmore Cottage, just the two of them, on a cozy night in. Harry got down on one knee and presented his future wife with the ring, which was designed by royal jeweler Cleave and Company, according to Brides. Harry picked out a sizable center diamond sourced from Botswana, a country that is very near and dear to both he and Meghan, as they traveled there together just after they met, according to Observer. The center stone is flanked by two smaller diamonds from Princess Diana's personal collection.
"The ring is obviously [set in] yellow gold, because that's [Meghan's] favorite, and the main stone itself I sourced from Botswana, and the little diamonds on either side are from my mother's jewelry collection to make sure that she's with us on this crazy journey," Harry said during his engagement interview with BBC News (via YouTube). "It's beautiful," Meghan said, looking down at the bauble. "And he designed it. It's incredible," she added. 
In 2019, however, Meghan's ring looked a bit different. Keep reading to find out more.
Prince Harry upgraded Meghan Markle's engagement ring in honor of their son, Archie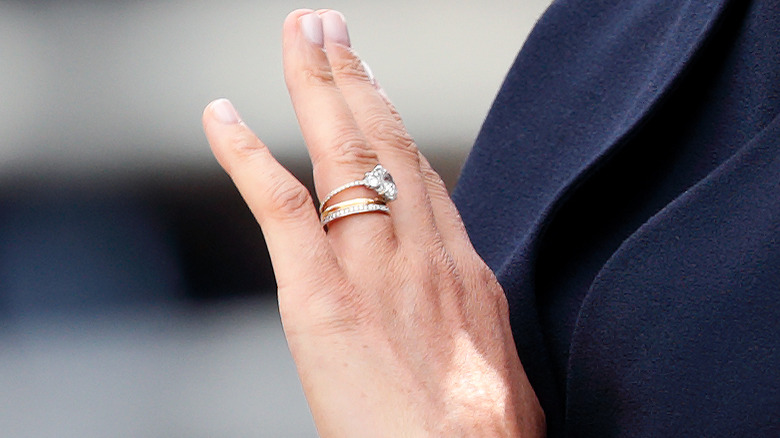 Max Mumby/indigo/Getty Images
In 2019, just after Prince Harry and Meghan Markle announced that they were expecting their first child together, some royal watchers noticed that Meghan wasn't wearing her engagement ring, according to Brides. As the site points out, many brushed it off as "pregnancy-induced fluctuations in ring size." Swelling, amirite? However, the world would soon learn that Harry actually made some adjustments to the ring, giving it a bit of an upgrade. When Meghan stepped out to the Trooping the Color Parade in June 2019, the newly-changed ring was visible. So, what did Harry have done?
Harry decided to have the original yellow gold band replaced with a thin, pave-diamond-encrusted band, according to Hello! magazine. Harry enlisted the help of celebrity jeweler, Lorraine Schwartz, who took the sparkler to the next level — but there's more. Harry also gifted Meghan with a special eternity band, according to Harper's Bazaar. "The conflict-free diamond eternity band paid homage to the family of three with Meghan's, Archie's and Harry's birthstones (peridot, emerald, and sapphire, respectively) on the underside of the ring," royal authors Omid Scobie and Carolyn Durand reveal in the book "Finding Freedom" (via Hello!). 
With the 2021 arrival of the Duke and Duchess' second child — their daughter Lilibet Diana was born back on June 4 — there are rumors that Meghan's ring might get another upgrade.
Meghan Markle's ring may be altered to include Lilibet's birthstone
It seems fair to assume that Meghan Markle and Prince Harry will want to add Lilibet Diana's birthstone to the eternity band, so that all members of their family are represented. While it hasn't been confirmed just yet, there are already rumors that Lili's birthstone — which could be Alexandrite, Moonstone, or Pearl — will be added. According to Express, however, it's unclear if there are plans to alter the ring further.
Meghan wears three rings on her ring finger; her diamond encrusted engagement ring, a thin, yellow gold wedding band, and the eternity band that Harry gifted her in 2019. Of course, it's entirely possible that Harry could gift Meghan a fourth ring to add to her stack. Harry seems to always make sure his gifts for Meghan are special and sentimental, after all. In fact, jeweler Lorraine Schwartz revealed that the Duke of Sussex is "so romantic" and "so thoughtful" when discussing the creation of the eternity band, according to Cosmopolitan.
In early August, however, Meghan shared a video for her new 40x40 initiative. In the video, the Duchess of Sussex chatted with Melissa McCarthy about the new project, and her rings were visible in various shots. If you take a close look, there appears to be one ring missing; her eternity band. Could this suggest that an alteration is being made? Only time will tell!