The Role Britney Spears' Boyfriend Had On NCIS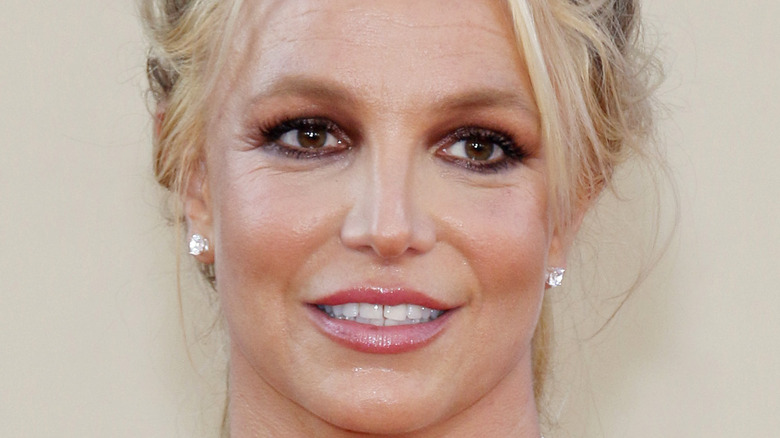 Tinseltown/Shutterstock
Most high-profile celebs date other high-profile celebs. But ever since her highly publicized breakup with Justin Timberlake, Britney Spears has opted for men who fly a bit more under the radar. There was her 55-hour Vegas marriage to her childhood friend Jason Alexander (no, not that Jason Alexander) followed by her marriage to Kevin Federline, with whom she had her two sons.
Now, Spears is dating a relatively unknown actor named Sam Asghari, whose credits include "Black Monday," "Hacks," and "The Family Business," per his Instagram bio. According to IMDb, Asghari has also appeared in Fifth Harmony's "Work From Home" music video featuring Ty Dolla $ign, the Snoop Dogg-led "Star Trek" parody "Unbelievable!!!!!," the 2019 film "Can You Keep a Secret?," and an episode of "The Family Business." But he and Spears actually met when he was featured in her music video for "Slumber Party" in 2016, according to People. And the two have been inseparable ever since.
And in 2019, Asghari also booked a part in one of the most popular, longest-running shows on television: "NCIS." What was his role? Keep scrolling.
Sam Asghari's first co-starring role was on 'NCIS'
According to IMDb, Sam Asghari appears as Security Guard Russell in Season 17 Episode 10 of "NCIS," called "The North Pole," which aired on December 17, 2019 — just before Christmas. Asghari shared a photo of him on set, holding the slate, to his Instagram. "Such a pleasure to do my first Co-star Role on a Badass show like @ncis_cbs on @cbstv season 17 episode 10 'the North Pole' AKA one of the biggest shows on the planet," he wrote in the caption. "So far one of the best sets I've been on! I'm very blessed to have such hard working/kick ass people on my team."
In the episode, "Gibbs [Mark Harmon] and the team help Ziva [Cote de Pablo] with the one thing' she said she'd take care of before returning to her family," per IMDb. And in addition to those two actors, Asghari starred alongside big names like Wilmer Valderrama, and other "NCIS" regulars such as Maria Bello, Emily Wickersham, Sean Murray, and more.
This was the season's fall finale, per IMDb, meaning it was the last episode to air before the show's winter hiatus. So "NCIS" fans had Asghari's chiseled jaw and studly figure stuck in their heads for weeks. What better way to spend a break is there?
Sam Asghari isn't just an actor
Aside from acting, Sam Asghari has plenty of other side endeavours to keep himself busy. He owns a personal training business called Asghari Fitness which boasts over 23,000 followers on Instagram and was featured on Access Hollywood, with Mario Lopez joining him in the gym for a training session.
He also has an intense fascination with expensive cars, frequently posting pictures with them on his Instagram. This summer, he's been rebuilding his Jeep Rubicon, which he actually crashed back in July, reported Page Six. A few weeks prior to the accident, he shared an update with his followers. "We're not even half way done," he wrote. "What do you think?" On August 9, a few weeks after the accident, he shared another update, this time with a new front and rear bumper, suspensions, glide protectors, and tube doors. "Any other upgrade ideas?" he asked his followers, to which one replied, "A beautiful blonde will look awesome in the passenger seat! #freebritney."