The Strange Beef Aaron Carter Has With Jesse McCartney
Kathy Hutchins/Shutterstock
The following article contains mention of drug addiction.
Every generation has its fair share of heartthrobs. For the Gen Zs of today, it's the likes of Timothée Chalamet and Jacob Elordi. A decade ago, teens were gushing over Justin Bieber and the members of One Direction. But in the very early aughts, everyone had the heart eyes for no other than Aaron Carter.
Aaron used to only be known as Nick Carter's cute little brother, but he managed to make a name for himself when he launched a singing career. Responsible for hits like "I Want Candy," and "Aaron's Party (Come Get It)," he sent fans to a frenzy, and at one point, found himself stuck in a love triangle involving Hilary Duff and Lindsay Lohan.
One might say that early 2000s Aaron Carter was the blueprint for the perfect pop star — talented, charismatic, and oh so charming. He even believes so himself. This belief is precisely the reason why he has quite a distaste for the others that came after him, specifically pop artists like Jesse McCartney.
Aaron Carter physically threatened Jesse McCartney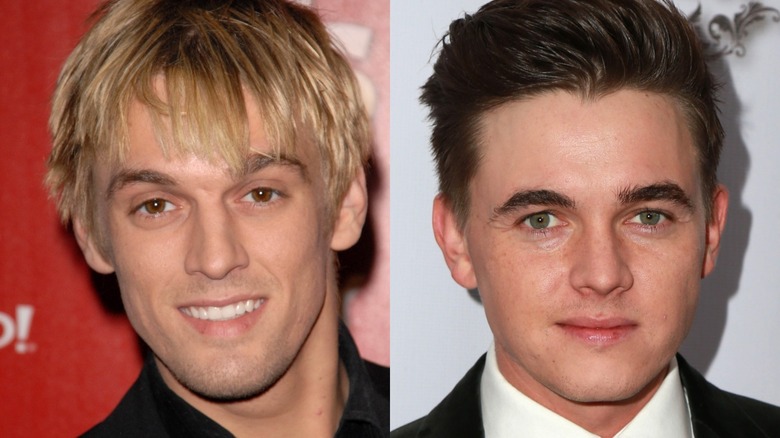 Kathy Hutchins & s_bukley/Shutterstock
Jesse McCartney is still releasing music, but there's no doubt that starting in 2004, the "Beautiful Soul" singer was a pop sensation and an even bigger heartthrob, especially to teens. Like Aaron Carter, he also released chart-topping songs and was affiliated with Disney. Both of their careers had the same trajectory, to which Carter took offense. He started beef with McCartney because he thinks the singer copied his act to achieve success.
In a June 2020 livestream, Carter called Jesse "Jesse McFartney," and underscored how he "copied everything [Aaron] did," even going as far as threatening him with physical violence because of the fact. "That f**king butterface f**king kid copied everything I did," he said. "And he went around all the f**king radio and people and said 'Aaron Carter is a meth head, Aaron Carter is a crack head.' ... Jesse McFartney was the first f**king f**ker to do it." (Aaron has been open about dealing with an opioid addiction, though as of February 2020 he took a drug test free of opioids.)
He even went on to say how he was going to physically hurt McCartney physically should they cross paths. "Jesse if I ever f**king see you and you get three feet in my space, I hope you're ready ... I'll f**king break your jaw in 10 places if you ever violate my space," Carter said. "I'll also take away your trachea from you." Yikes.
Aaron Carter also has a bone to pick with Justin Bieber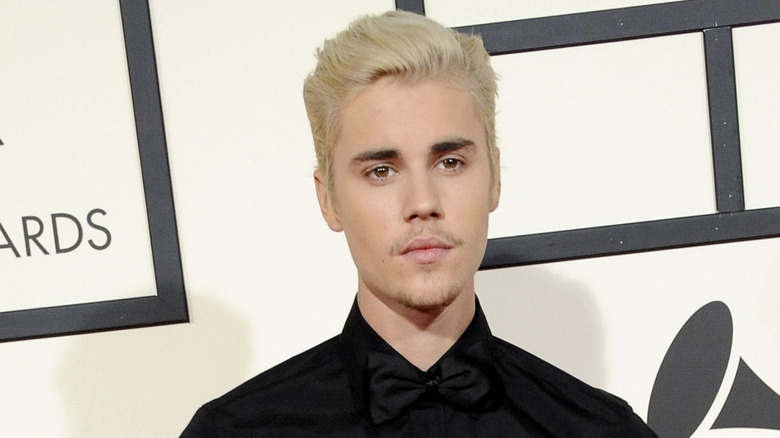 Tinseltown/Shutterstock
Jesse McCartney isn't the only former teen heartthrob Aaron Carter has a one-sided beef with. In 2018, he shared his frustration over how today's new artists like Justin Bieber never took the time of day to pay him homage. " ... I've been born in this industry before he was born," Carter tweeted in response to a fan who asked him why he never managed to "level of success" of Justin Bieber. "I've had harder times and always bounce back. No I'm not Justin Bieber, I'm Aaron Carter. I'm also in construction," he added. "I paved the way. These kids have NEVER paid me homage."
Unlike Jesse McCartney, who stayed silent throughout the entire ordeal, Bieber chose to respond with kindness to his idol. Bieber was a fan of Carter's, even offering to be his hype man. "Aaron carter i had your album when I was little. And bumped the song Aaron's party," he wrote on Twitter. "I was like 7. if you need a hype man I got you." He also said that he always has Carter's back. "All love over here Aaron. You got my support."
Carter seemed to clarify his comments when he said Bieber's music served as inspiration for his 2018 album "LØVË." "No bro it's all good. ... People just come at me sideways and I'm just doing my best I've also been a big supporter of you since your start," he said. 
If you or anyone you know is struggling with addiction issues, help is available. Visit the Substance Abuse and Mental Health Services Administration website or contact SAMHSA's National Helpline at 1-800-662-HELP (4357).