Which Famous Star Did Donald Trump Encourage To Run For Senate?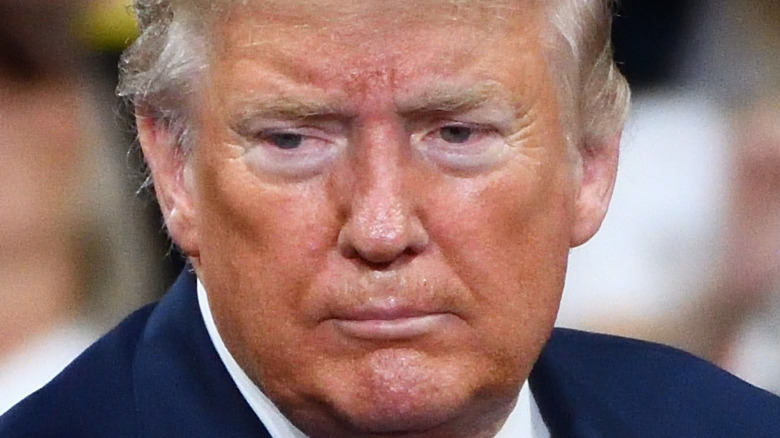 Evan El-Amin/Shutterstock
Former President Donald Trump has been encouraging a famous star to run for U.S. Senate. But it appears not everyone is happy about the celebrity Trump is backing. According to CNN, Senate Minority Leader Mitch McConnell has "privately expressed his deep concerns" with Trump's potential candidate. CNN reported McConnell is afraid the celebrity Trump encouraged to run "will implode if he ran and could cost the GOP a winnable seat."
The former president's pick for a key Senate seat is more fuel for the feud between him and McConnell. On August 11, Trump lashed out at the Senate GOP leader, calling McConnell the "most overrated man in politics" and blaming McConnell for "working so hard to give Biden a victory." Trump was angry with McConnell for letting the $1.2 trillion infrastructure bill pass the Senate. Trump and McConnell were never best friends, but the two fell out after the January 6 insurrection at the U.S. Capitol. Right after Trump left office in February 2021, he slammed McConnell, saying, "The Republican Party can never again be respected or strong with political 'leaders' like Sen. Mitch McConnell at its helm." Trump criticized the Kentucky Senator in a letter on the Save America PAC's website, per Business Insider.
Keep reading to find out which famous star Trump encouraged to run for Senate and why it might not be great news for Republicans.
Former NFL star Herschel Walker has had a 'turbulent' personal life
Steve Limentani/isi Photos/Getty Images
Former President Donald Trump has encouraged former NFL star Herschel Walker to run for Senate. NBC News reported that Walker filed paperwork with the Federal Election Commission to run for Senate as a Republican in Georgia on August 24. The filing allows Walker to begin raising money for a 2022 Georgia Senate race that NBC News predicts "will be among the most competitive in the country."
There are major challenges facing the candidate. Walker doesn't live in Georgia; he's a long-time resident of Texas. The former NFL player was a star at the University of Georgia, but he's been living in Texas for many years. But there are other reasons that other Republicans may fear Walker as a Senate candidate. While Walker is a successful business owner and a Black conservative backed by Trump, in July 2021, the AP reported details about Walker that indicate he has a "turbulent" personal life.
The outlet reported disturbing accusations, including that Walker allegedly "repeatedly threatened his ex-wife's life," while exaggerating claims of his financial success and "alarmed business associates with unpredictable behavior." Walker's ex-wife Cindy Grossman filed for divorce in 2001, citing "physically abusive and extremely threatening behavior." Four years later, Grossman had to get a protective order against Walker. The AP also reported that the 59-year-old Walker has been open about his being diagnosed with dissociative identity disorder and wrote a book about his diagnosis in 2008.
If you or someone you know is dealing with domestic abuse, you can call the National Domestic Violence Hotline at 1−800−799−7233. You can also find more information, resources, and support at their website.